By: b2011
Bhabho wants to remind Sandhya about Teej when she overhears Suraj booking a mehendi person for Sandhya and believes they remember it. Suraj tries to remind Sandhya about Teej fasting but gets diverted and assumes Sandhya remembers it by seeing the Teej date marked on the calendar. Sandhya goes to college to get UPSC forms and Chotu's school for parents meeting, returns back home, cooks and has totally forgotten about Teej and fasting that she even returns back the mehendi person that Suraj had booked for her. Suraj comes home but is busy going out for delivery of sweets. Sandhya packs his lunch and Suraj could not remind her again in a hurry. Sandhya eats her lunch and starts studying. Suraj returns back and is confused to see Sandhya not ready for the pooja. He asks her to get ready for Teej pooja and Sandhya is hell shocked. She goes to check the calendar and panicked how she could forget this important festival of suhaagan. She tries to inform Suraj but in vain. Chavvi's in-laws and Dilip come and request Rathis to arrange the wedding. Bhabho asks them to wait for shubh muhurat. Emily's parents visit Rathis on this occasion. Sandhya informs Emily about missing fasting who advises her to not reveal anyone and do the pooja as Bhabho would get angry but Sandhya informs about missing fasting in front of the neighbors. Daisa taunts Bhabho for this. Bhabho is angry on Sandhya on missing out the vrath for long life and well-being of Suraj. Suraj comforts Sandhya as she did not do it deliberately but Sandhya herself could not forget or forgive this and asks if there is any way to correct this. Suraj says there is a way.
Maha Episode
Suraj comforts Sandhya and asks her to forget whatever happened. Sandhya says she cannot forget this one and wonders if there is any way to correct it. Suraj says there is a way.
Dilip's mother convinces Bhabho to forgive Sandhya saying nobody knew Sandhya ate so she could have just kept quiet without admitting it but she is honest enough to admit her mistake. But Bhabho remembers Meena's words of impending danger to Suraj and calls Meena. She asks Dilip's mother to be seated and she and Meena go to the pandit. Bhabho requests pandit to find a way to correct this. Pandit asks Bhabho to send SurYa to him and he will conduct a pooja. Bhabho is relieved and says she just wants Suraj's well being. Pandit leaves from there. Meena instigates Bhabho saying will she go and tell SurYa about the pooja and scares her saying SurYa will have upper hand in the 15-day challenge if she does so. Bhabho says she does not care and she is the mother of Suraj and wishes for his well-being.
Suraj tells Sandhya that she needs to go to Savitri Maata temple, climb the steps and get some ice for herself and then her mistake would be forgiven. Sandhya is anxious to go to the temple immediately. Seems like Suraj was teasing her and she did not realize it. Suraj asks her she would find the Savitri Maata temple but from where would she get ice in Rajasthan. He says there is no way to correct whatever happened and he said this to just divert her attention from her guilt. He further says she did not do it deliberately and she has always stood beside him as his support and cares for him and she need not prove it by fasting. He then asks her to complete other rituals of the pooja. Bhabho standing at the door is listening all this. Suraj takes the sattu and bangles from the pooja thali. He makes Sandhya sit down and feeds her sattu and wears her bangles while saying some poetic phrases (don't know if it is said during this pooja or he is just praising Sandhya by saying this). Sandhya too says some phrases admitting Suraj's support for her. Bhabho is hurt listening all this. She thinks she is too much worried for Suraj but SurYa are careless.
The next day, Rathi aangan. Emily is washing vessels and Mohit getting ready for office. Bhabho comes there calling Meena whether she ground dal. Meena comes with kanha and makes excuses of Kanha crying but he is not. Bhabho taunts her for fooling in the name of Kanha and asks her to wash vessels. A neighborhood lady comes there and tells Bhabho that her daughter-in-law has helped her and she is very happy. Meena thinks what has Sandhya done and that lady says it is not Sandhya but Emily. All are surprised and that lady explains that some relatives had come to see her daughter who was looking beautiful by Emily's makeup and the alliance is fixed now. She gives the first shagun to Emily who hesitates but Meena forces her to take it and not refuse. The lady leaves from there. Meena opens the cover and sees 500 rupee note and both Meena and Mohit are pleasantly surprised. Meena keeps the money with her and blabbers. Bhabho taunts her to stop blabbering and do work. She also takes the money from her.
Vikram comes in calling for Bhabho. Bhabho comes there and Bhabhasa also joins them. Vikram says their neighbor Agarwal is moving to Mumbai and is selling his shop. He says since they are in a hurry, it is a good opportunity for them to get the shop at lower price. Meena is all happy and butters up Bhabho who says it is a good chance but what to do for money. Meena says they would arrange some 40-50 thousands and if everyone contributes, it would become very easier. Mohit who is upstairs now thinks why should he contribute for Vikram's new shop. Bhabho says Meena is correct in saying if everyone shares the expenses, it is not a burden and says now she is relieved as Chavvi has three brothers who would share her marriage expenses. Meena and Vikram are taken back. Bhabho reminds them Dilip's parents wish to arrange for the wedding soon and asks Meena to give the 50,000 rupees she has for buying Chavvi's jewels. Vikram requests Bhabho to consider this again and speak to Suraj regarding this. Suraj enters the house with oil tin and asks what is the problem. Bhabho tells him they have no problem and he need not bother. Suraj tells he came to keep shop materials in the storeroom. Bhabho does not allow him and he takes it back to their house. Bhabho asks others to do their job and leaves.
Sandhya is peeling ridge gourd incorrectly. She has peeled half of the vegetable along with the skin. Suraj comes there to keep oil cans and other bags. Sandhya is worried whether Bhabho is still angry for the Teej mistake. She asks some doubts regarding cooking and Suraj clarifies it. He leaves from there to pay for the rickshaw.
Vikram-Meena in the shop. Meena persuades him to buy the shop at any cost and gives example of how Bhabho threw out SurYa and what would happen if she does the same with them. Vikram is worried about money. Meena says Suraj is there to help them. Vikram is hesitant thinking Bhabho's warning but Meena urges him to take benefit of mother-son rift as Suraj would definitely help him and solve any other issues also and finally, she is there to set everything right.
Sandhya has finished peeling ridge gourd and remembers Bhabho feeding the peeled skin to cows. She then thinks of keeping the oil tins and other bags in the balcony. She carries them up and places them in the balcony.
Mohit comes back home halfway from office and goes to his room. He reminds Emily about the shop which Vikram was talking and tells her to ask Bhabho's permission and get the shop for themselves. Emily is confused and Mohit explains her about opening a beauty parlor in that shop and also says there is no parlor in Hanuman Galli and its nearby streets. Emily reminds him about Bhabho's warning to Vikram and how would she agree for them. Mohit escapes saying it is her job to convince Bhabho if she wants to help Mohit and leaves.
Sandhya is waiting outside their house and looking for cows. Bhabho and Daisa and others are returning from temple. Daisa asks her why she is standing and Sandhya tells the reason. Daisa sees the peel-outs and mocks Sandhya for wasting vegetables. Bhabho is fuming. Daisa adds fuel saying Sandhya is finding new ways everyday to do different things and cause loss of the household. Sandhya is sad and Bhabho leaves from there saying she has some work in the house. Sandhya goes in sadly.
Emily sees Bhabho coming in and brings water for her. Bhabho sits down and starts feeding Kanha. Emily slowly tells that her friend who owns a parlor had called her asking for help and asks whether she can work in the parlor. Bhabho refuses saying there is no need. Emily further requests saying she would help Mohit with this. Bhabho says it is more harm than use by working now as she is pregnant. Emily says what if they buy the shop for Emily's parlor and then she can work at ease and also there is no parlor nearby. Bhabho agrees it is a good idea but they have Chavvi's wedding expenses overhead. Chavvi interrupts them as she is ready to go to jewelers shop. Chavvi says about a new jeweler's shop where they get new designs. Bhabho wants to buy in their customary shop as it is a guarantee for quality. Chavvi requests Bhabho to consider the new shop as she is going to wear them. Chavvi is trying to manipulate and Bhabho taunts her to not act like Meena. Chavvi requests Bhabho to visit the shop and see the designs. If Bhabho does not like it, she would agree with Bhabho. Emily is helpless by Chavvi's interruption.
Precap: Vikram and Meena in Suraj's shop asking his help to buy the shop.

By:
ramasuresh78
Emily saying jo insaan aapka poora zindagi khayaal rakhthaa hai, uskeliye yeh vrat rakhna achcha lagtha hai
there are two perspectives in this dialogue
mohit has never cared for emily and emily is not sure whether he will in future but still believes in her love for mohit ,doesnt bother about his carelessness towards her and sticks to the ritual happily
whereas suraj cares for sandy and sandy too is well aware of it . she knows he will never let her down , both love each other but still sandy forgot it
when emily said this dialogue sandy was shown seeing suraj with guiltiness
i still cant get why cvs made sandy forget this ritual which she did with sincerity in singapore last year( they didnt even confess at that time)

By: Liebe
COTW
is none other than our
Superstar,
for his natural acting.arrey wah.he is best in dabh now.when meena shown her hands to kanha,the way he looked at her mehendi,then gave naughty expression to meena later he messed up her mehendi was highlight.so the
COTW goes to our beloved superstar-Kanha.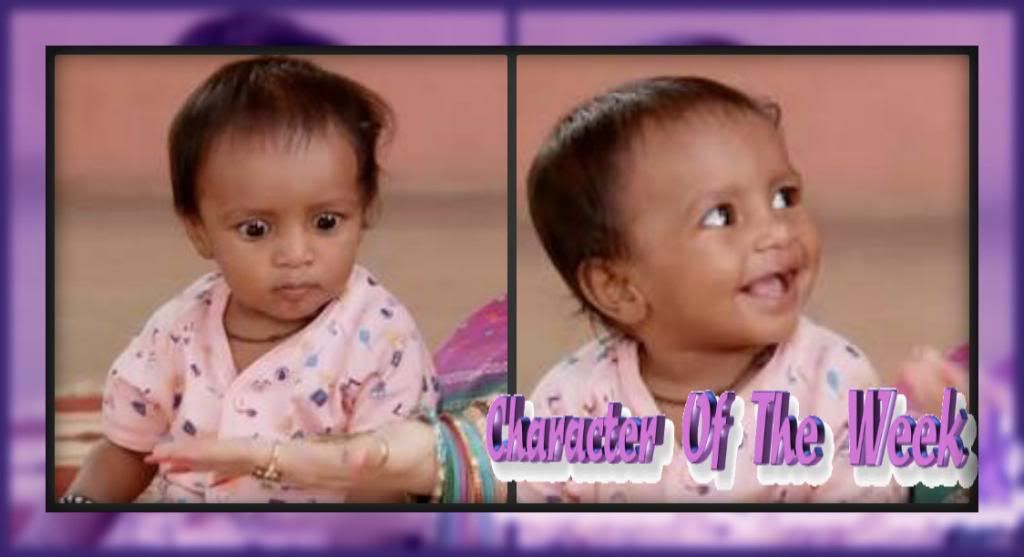 By: Amor.
Mina without any competition

By:
ramasuresh78
HG ladies making a big issue of dhaisa's DIL wearing maxi in front of men folk and making fun of dhaisa, and her DIL. this maxi issue was dragged for two weeks only for this mega show, bringing personal issues to the streets is irritating, when dhaisa was teasing bhabho's DILs, bhabho's thought of taking revenge on dhaisa by revealing the maxi issue was not expected from bhabho at least. bhabhasa rightly said that women make a small issue look bigger

By:
ramasuresh78
Suraj consoling sandy : suraj saying to sandy that she has done this mistake unknowingly but sandy says its not a normal mistake its attached to the well being of suraj and how come she forgot such an imp festival, moreover instead of helping him in getting back bhabho 's vishwas, she is making it more difficult for him
thought it was an emotional scene it was a very good scene



By: Liebe
When sandy got to knw abt that she forget teej and she was heart broken and how she felt guilty.also when emily and her mom talking to each other abt teej that exact moment how sandy felt was HT.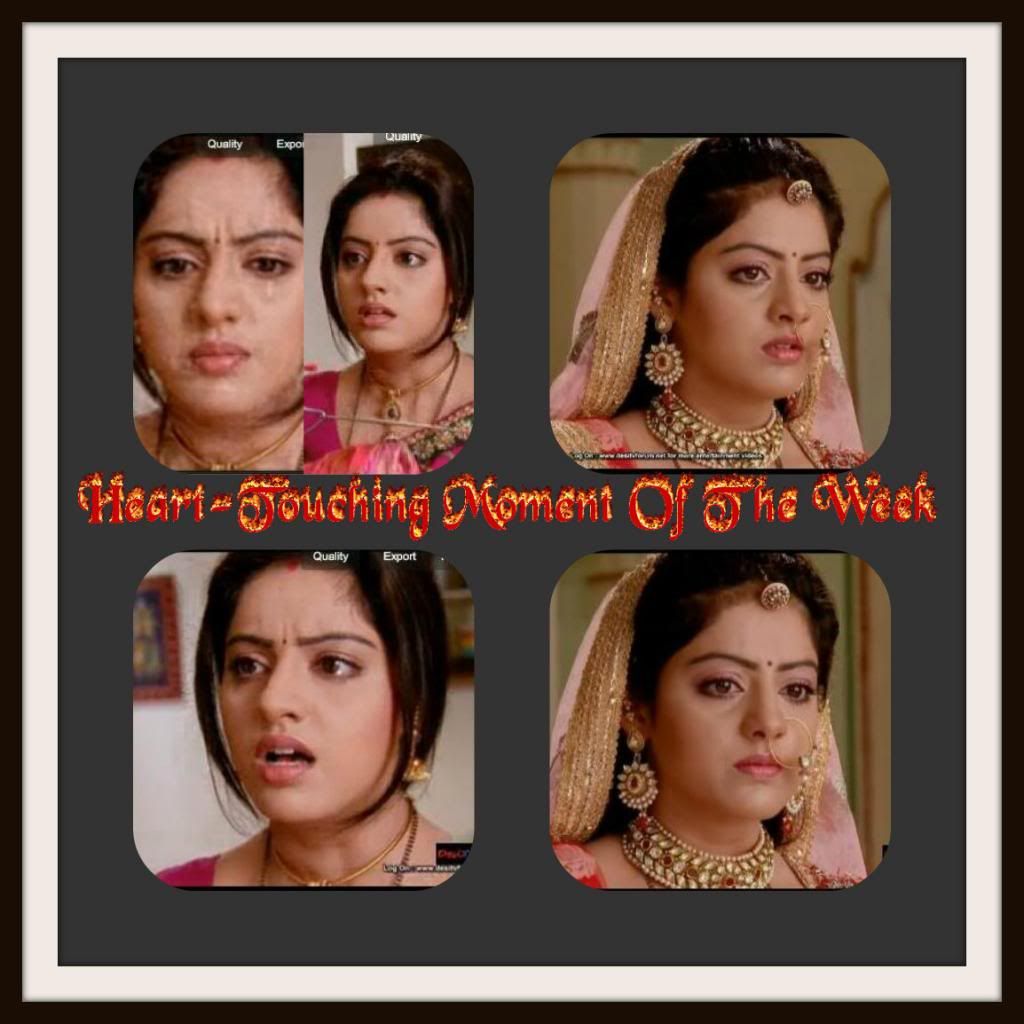 P.S thank u anusha ji for helping me.
COTW pic s formed from banner pic.so credit goes to that person.

By: Amor.
When kahna spoil mina's mehndi

By:
ramasuresh78
kanha spoiling meena's mehendi :it was the best scene, a child artist of age around one giving such wonderful expressions was too good, cant say how many takes it took but the end product was so natural, kanha spoiling the mehendi and then laughing when everyone laughed with him was icing on the cake. kaana( kanha meena) chemistry was superb
emily saying to her mom that she is fasting for mohit: Being a lady from another religion , she has slowly adapted herself to the religion of her husband. emily is pregnant but still fasts and the reason she gave to her mother was touchy, she is fasting for the person who will take care of her for whole life ( but she knows he hates her like anything), it shows her belief in the ritual and her love for mohit
sandy declaring she cant participate in the pooja: in front of the whole HG sandy boldly declares she has not fasted and didnt hesistate to admit it knowing that bhabho would be furious and its a shame( according to HG) for not fasting on teej, inspite of emily prompting sandy to lie she sticks to truth

By: Amor.
Dn't know y but sandy lives in the same hanuman gali, she can see RM from her window, when the whole gali was preparing n decorating it, she dnt even pay attention n moreover there's a scene when she came back after drama there window was decorated. n she dnt came to know that sum1 came to decorate her window, although from outside but still, is sum1 standing n doing their, sandy dnt pay attention