You Know Me Like No One Ever Can
Love at first sight, does it exist? Maybe... Maybe Not. Well the answers don't matter much, for the facts remain that you very much did fall in love at the first sight. The day you opened your eyes for the first time into this very world, you looked into the eyes that looked upon with the most pure form of love there could ever be... She held you ever so gently... Who knew this very angel would be your love at first sight... She would be your 'Mother'.
A Mother herself is a poem ... so difficult that none can recite or memorize... one can just revel in the beauty of the poetry that a mother is.
A mother is the metaphor for unconditional love... For she loves without any ifs buts whens and whys... she just loves... whether it be her child... or any little kid. A mother's heart knows only one thing... Every child should have a mother... So she reaches out even to the ones who have none to call as mother'. So true when they say, "A mothers love is like an abyss"... so deep that none can fathom it. She surely must be a pleasant surprise to her creator... the God almighty himself.
Another beautiful poem is the bond of a mother and son.
His tiny fingers that curl around her soft caring finger on the very first day in this world; his wobbly feet as it tries to balance itself while reaching for her hands that beckons him; his eyes that search around for her eyes to give courage when he faces his fears; his ears that wait for the soft voice of her that soothe him to sleep; his nose that tingles with the aroma of the warm delicious dinner she prepares; All of these... ... even his heart... he owes to her... His mother.
Then there will come a day when he grows in the eyes of the world... He will no longer need her fingers to hold on; he will be standing with his head held high, steady at his foot; He will have made peace with his fears; Lullabies and dinners together will become a thing of past; His heart will now be engulfed by love...as another woman walks into his life... For the world he may be a man... But for her he will stay the one who gave her the joy of motherhood... He will always be "Her little boy".
A son grows to a man... the principal catalyst here being his Mother... and that he can never forget. As the wheels of time spin... and the once soft hand now wears wrinkles; the once bright eyes now seem bleak; once soft voice now sounds faint; The change is huge...He sees what was once and what is now... and yet his heart knows... His first love will live forever... safe in his heart... For the world she may be just anybody... But for him she will stay the sole reason of his existence...
She will always be his "Maa".
...
People say a good upbringing always reflects in ur child...the same can be said about the way Cadet Ali Baig conducted himself in adverse situations. Though not much had been said about his relationship with his mother in the show the way he respected women and behaved infront of them did shed a lot of light on the relatiobship he shared with his "ammijan". He had the respect for his parents and their dreams ...dreams which were woven for him...dreams which would make his "ammi" proud of him...dreams which meant more than anything in his life...
*******************************************************************************************
It wasn't the very first type that viewers were served with an ideal mom-son relationship on tv. The concept followed those trends which were very much popular in television those days. But as there is a say that concepts could be similar, storylines could coincide but there r very few characters, bonds which remain intact in viewers' minds for ages.
Such a bond was what Prem Juneja and his " Stepmom" Gaytri Juneja shared onscreen.
In every religion people abide by the rule that a child's paradise lies in his mom's feet, and that's what exactly we explored and depicted throughout the journey of kis desh and journey of the relationship of Prem-Gayatri to be precise.
He was barely five years old, when he got Gayatri as his mom, and since that day he chose to worship her instead of the goddess. Not only that, Gayatri herself inherited three of her own children, but for her it was always Prem be it left right or centre. I might sound like a typical HC fan when I say that I still cannot forget the episode of 5th may 2008 when Prem confronts Gayatri about her love for him. But still who can change the fact that the bond itself was portrayed so beautifully onscreen that its hard to erase the mark it had on us. If Prem never performed the last rites of his biological mother only becos he always believed his mom was alive in the form of Gayatri and he cannot commit anything like that, then Gayatri also was ready to leave all her children behind, her husband behind, and go with Prem when Prem's dignity, honesty and his love for his mother was questioned by Gayatri's own children. I bet every mother who watched the episode on 10thSeptember 2008 cried buckets, yes sometimes dramas can seem a reflection of human life too. Even though, there were qualms in Gayatri's mindset later, and she had a changed notion on Prem being her only dear son, but she never tried to harm him. In her context whatever she did was only for his happiness, be it trying to get him remarried, or get him his daughter's custody, in Gayatri's perspective that was what she felt was right for her son irrespective of what Prem's perspective was. She had her own anger, arguments and clashes with Prem, but then again which mom doesn't have that ?. If she could love him more than anyone, if she could give him a new life by helping him to recover the handicapness he suffered with his hand, if she could go mentally unstable for him after he suffered form a major accident and went missing, then being angry with him at her own son's death was very much justified. Prem not only worshipped her, but breathed her blessings, her teachings, her orders, her demands. For once he could go against his father but he just hated to go against his mother. Who can forget that how heartbroken he was when he knew that his mom was the one who tried to take his daughter's custody ?.. It wasn't because she lied to him or deceived him, it was only because he couldn't believe that his mother could go to that extent in the name of his happiness. It was memorable when he followed his mother's order and proposed his lady love in front of the whole world, in front of his father who was against this affair, he just chose to walk the path his mother suggested him to.
Some bonds cannot be explained in few words, not even in thousand words, its better to cherish them forever and get some learnings and believe that these were the characters, the relationships which had a great impact on our lives. Obviously, it will be always an incomplete feeling if we remember Prem-Gayatri bond and not mention Harshad Chopda and Shama ji. Had they not be so perfect and impactful in their respective roles, we all wouldn't be lucky enough to still remember their onscreen characters and moments. We all do wish to see them once again enacting a mom-son duo onscreen, one of those few wishes which all Prem juneja fans wish for.
*******************************************************************************************
A mother understands her child the most. Yes, that was exactly how the relationship of Anurag & Nilanjona was. Being dominated by Anurag's dad, both Anurag and Nilanjona somehow lead a where they had to face situations of accusals and blame game. Perhaps, Anurag had to get separated from his mother when he was 16. Yes, his mother tried a lot, went against her husband's decision of not sending her son to foreign, but when she failed to stop it happening, all she had to do was have faith and trust in her son and his abilities. Anurag on the other hand, who was always depended on his mother, being her laadla, was definitely shattered to stay away from her and his siblings for his adulthood, but it dint went unnoticed when he ensured his mother that one day he will make it big, make her proud and take her to stay with him. Anurag indeed had a dual life as a son, he believed he had two mothers, he even claimed to love his laboni maa more than his biological mother, but then at the end of the day we look back, we realise that how he could keep his heart only in front of his Neelu maa. Neelu inspite of hearing it from Anurag's mouth that he loves some other girl and not the girl whom he is already obsessed about since childhood, never believed his words. Being a mother, she could very well read her son's eyes and heart, she could very well understand the complex situation Anurag went through. She was d one who always had faith in his capabilities, despite being criticized by his father. Anurag not only used get motivated but he regained his self confidence when his mother blesses him after he choses to leave his home and earn his own bread and butter. Her blessings and support made him believe that he was not wrong in his decision. Their bond was yet much stronger than what we could see. This mother-son relationship had a very motivating essence, Anurag was not vulnerable instead he used to feel emotionally confident with the love his mother used to shower on him.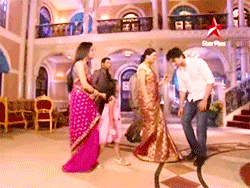 *******************************************************************************************
This has to be one of the most loved mother-son duo amongst all Harshad shows. One of the best thing of the show was the bond between Anurag and his Laboni maa, who happened to be Taani's biological mother, but he loved her more than his own parents, and so did she. This bond wasn't only loved because of the love between the two characters, also because of the pampering acts between these two. During every episode, unless we would get a dose of some cute and funny pampering scenes from Laboni maa and Onu or some emotional scenes of them, the episode would seem incomplete. In short Laboni maa could be said as Onu's only source of help and support when it came to eating and getting saved from shekhar's scoldings . Indeed she was the only one whom Onu would open up and cry his heart out and even be angry at her foolish acts. It sounds insane, but its also true that Onu dint even bother to return to kolkata for seeing his own parents but did return when he had to save his laboni maa's shop , the shop which was a kind of memory of her late husband. Onu could even go against his siblings to save Laboni maa's selfrespect and pride. He chose to settle Taani's life and career first before his one, only because he couldn't see Laboni maa losing her challenge to his mother. For once Onu could even ruin himself if that meant to give happiness to his beloved Laboni maa and Taani. Laboni maa on the other hand was loud, but she tried and support Onu at his bad times, not only she tried to save him from Ritesh but also went against her own son and supported Onu, not because he was her would be son in law, but because she always accepted Onu as a son and loved him more than her own son. On of the best and most heart touching scene was when Onu meets her aftr 8 long years near her shop, her anger which she had against the whole ganguly family instantly vanishes off and she cant help but hug her son and cry in his arms.
One can easily say that they enjoyed and loved Onu-Laboni maa more because of the beautiful chemistry and portrayal of the characters by Harshad and Supriya mam, it wudn't be wrong to say that they indeed proved to be the best mom-son duo onscreen amongst all HC shows, and thus we fans were rejoicing and celebrating when we got another chance to watch our favourite mother and her son onscreen once again in Dharampatni and this time as real mom-son.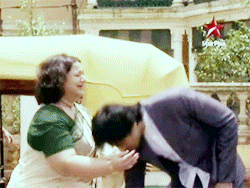 *******************************************************************************************
One of the finest mother-son duo on telly, more because the actors playing these roles were also thought to share a much similar bond in real life too. One of the finest bonds also because, we explored how a mother struggles and goes through all the hurdles to secure her son's future. Mohan was the closest to his mom, and the most beloved son for her. Not only that, for him also, his mother stood first than any other person in his life. Being brought up in a very restricted family, Mohan was one lucky boy as his mother made sure that he could study wherever and however he likes and achieve his set goals.
If his mother was his biggest strength then she was also his biggest weakness. To be able to see a guilty and torn Mohan, was not what we would get to see usually. Indeed, there was something very deep which used to remain hidden in his cool dude attitude, the attitude of being not vulnerable. It was only the guilt and frustration of being lying to his mother and failing in his attempts to fulfill her dreams. There were various moments where we saw Saroj could go at any level, for once she could also support the wrong only to save Mohan from Baapji's wrath and anything that would prove him wrong. Her not accepting Mohan's wife because of her low qualifications was also very much justified from her perspective. This bond was more of a reflection of any common person's life, we could just see any of us in Mohan's place and actually connect that why both these mother and son were so fond of each other. One of the happiest and memorable moment was when Mohan asked his mother to innaugrate his shopping store, it wasn't just a formality but more of a showing of grattitudeness for all the hurdles and sufferings she had gone through to see him at that stage of his life. No wonder, many of us always loved the show and still loves it more because we had got to see Harshad Chopda and Supriya mam playing the characters of Mohan and Saroj respectively. They were indeed excellent in their portrayals and still makes us cherish their onscreen characters.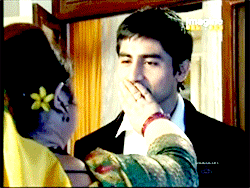 *******************************************************************************************
The relationship initiated with a mystery and curiosity and later turned out to be one of the major reasons some fans would watch the show. Indeed, it was something new for HC fans, as this was d first time we were exploring a bitter relationship of mother and son unlike the previous HC shows. If Gayatri was feisty, responsible, intelligent and stubborn, then it wouldn't be wrong to say that Raghav her younger son was simply a carbon copy of hers. Here we weren't in for a show of a crying mother and an ideal son rubbing off her tears, but on the contrary, here we were treated with major showdowns between this mother and son, who kind of have the similar POV towards life, but not so similar ways of achieving the right things. Raghav was rebellious, fiercy, he was the one who could make rights thing happen if if it meant to do it by taking a wrong path. But Gayatri unlike Raghav who always gave a benefit of doubt to the law, had dislike for the path taken by Raghav. What made them more similar was that both mother and son had respect for women and they kept their self conscience above everything dear to them. Here we had a son who was ideal in himself, but never hesitated to raise his voice against his mother when he felt that she was wrong in her judgements, and here there was a mother who dint even stopped her son once when he was thrown out of the house for his mistakes. Now its not something we get to see everyday in hindi serials !!!
Something that makes this relationship of mother and son more beautiful was that the mother could forgive her son for his mistakes but she couldn't forget them, the son could go to any extent to win his mother's trust but dint let her lose her trust on her own philosophies and self respect. Gayatri not only felt happy but proud of her son who loved and married a victim of domestic violence, she not only supported him in his decision but also ensured that Sia gets her justice and leads a happy life no matter she marries and accepts her son or not.
It is not always necessary that mothers have to be lovable onscreen to make an image of a loving mother, because we all know when the reality strucks, yes mothers need to be strict too, to a point where they are sure enuff that their child is in the right path. It is more important that he believes in his own and always tries and makes his accept that he was right, just the way Raghav always did . Yes, he had to go against her at times, but only to prove to her that he was doing the right thing and for the right reason.
It was always a pleasure to see two great actors performing such strong and unique characters onscreen, and yes Harshad and Sumukhi mam never let their viewers disappointed, they had it all in them, the chemistry, the feel of the the characters of Raghavendra and Gayatri ... and thus makes their characters memorable and most cheered for.
*******************************************************************************************
Credits:
Banner & Siggies : Sugi
Avis: Vandy
Writeup :Sneha,Sundas & Vandy
2 rare pics...which kept us motivated to trust google chacha
and never lose faith in him
a special mention to our research and development team...Nads and Sugi


Edited by -vandy- - 24 September 2013 at 10:41pm