1. There is a lot of difference between Karan and Naitik , but while shooting for particular sequence did you feel that the was Naitik reacted was right even as karan you would react the same way?
Yes I do feel that there is similarity in both characters in certain scenes/situations.Depending on the situation Karan would or would not react in the same way.
2. If given chance to be a Creative of your show what changes will you make in your role as well as in Akshara and why?
I would not like to change anything. Naitik & Akshara are perfect for each other.
3. We all know half of your day goes in shooting but post shoot what do you do daily? Your daily routine post shooting?
I go to the Gym, SPA, unwind myself and also try to spend quality time with my loved ones.
4. Tell us about your friendship with Hina , how does it feel to work with co-star who is a new comer in this industry ?
We have a professional relationship. Despite being a new comer Hina's adaptation to her character has been very good.
5. We know that you are cleanliness freak so do you carry on that even on set?
Yes of course I do. I am very particular about the cleanliness of my make up room on the sets.
6. We have seen many beautiful & lovely romantic scenes of Naitik & Akshara. So who is the most shy person out there during the shoot of these scenes you or hina? And which romantic scene of Naitik-Akshara is your favourite ?
I guess we both are thorough professionals & we have been doing this for quite some time now so we understand the comfort zones for such scenes. Rest the chemistry speaks for itself.
7.Any funny incident that took place while shooting the romantic scenes between you & hina. Any one incident which you would like to tall us in description?
When we do romantic scenes or songs there are so many moments like these. Rain sequence or other romantic songs sequence in room with fans & blowers. Our director comes up with these funny instructions at time & we would all start laughing.
8.What was your first reaction on finding out your nomination in SPA 2013?
Umm...my first reaction, well i was Shocked.! since its our 5th years with Star & still we are getting nominated with increase of categories each year so it really feels great when we get nominated , a satisfied feeling comes in that we have justified our roles.
9.Who is your most favourite member onscreen & your closest friend from co-actors?
Well, I Love my mom i.e Gayatri maa & she is my favourite. My closest friend onscreen is Mohit played by Ayush & we have a good bonding as well.
10. So which is your most favourite scenes so far from show?
Well, its been 4 & half year now & as far i remember that I actually Loved the scene of My Entry in the show & when Naitik & Akshara dated each other in show before marriage , the romance in it & at the day when Naksh was born , that scene. So many many scenes are my favourite actually.
11. What do you think is the USP of show & how its special for you?
Well, according to me USP of our show is relationships & without negativity in it & romance between a couple has been portrayed very well in it. Its very special for me since just like you told that its been dubbed in soo many other languages with different titles & people relate their life with it , & they admire our show very much , so its just a Blessing for me that ,that i'm the part of very good show which is admired by all over world.
And i feel lucky to be part of it.
12. Is there any particular thing about you which we dont know?
Well, i have almost transferred all my related things into Naitik but i think there is hardly anything left about me which is unknown. umm...well, one thing is there , that is i'm very particular about things around me.
13. Then we have a queation related to bani, as seen on new segments that you & Bani(small duggu) had an awesome time with each other on sets. so do you miss her?
Aaa...when Bani
was here , she was very very lovely kid...aah she used to be very happy when i used to care along her
& ofcourse i miss her. She was so cute & natural in her own way that she can never be erased from my memories.
14. What is the best compliment youhave ever received?
oh..well there are alot of compliments but one was that i have a great smile.
15. Are you a person who frames opinions about others immediately?
No, no i take my own time to make any opinion about others. I actually make friends very hardly since i already have my circle of friends & i'm happy with them so.
16. So i was asking you consider Yeh Rishta a miracle or God's blessing?
well, A God's blessing actually .
I never knew that the show would reach heights of success & the way i met Rajan Shahi so i never knew how my role will shape up & so it is the God's blessing you know, requires Luck & combined with our efforts which is really paid for us so Thankyou God...!.
17. How do you maintain such an awesome onscreen chemistry with Hina & some of your fans even watched Udaipur patchup scenes more than 25 times atleast so, whats mantra behind it?
oh my god...well we both are truely professionals & we help each other alot in any scene like romantic , emotional & even normal scene...it comes out naturally . We just do whatever is told to us.
18.Your favourite actor is Aamir Khan though Shah Rukh Khan keeps mentioning Naitik's name in every award i think ehh! and so what will be your 1st reaction when suddenly you will meet him?
I have met Shah Rukh in Star's function & it was really nice experience . Both are super stars , ofcourse he is one of favourites but i always liked aamir.
Pre-birthday celeberations -
We would like to share some of Karan Mehra's childhood memories with all -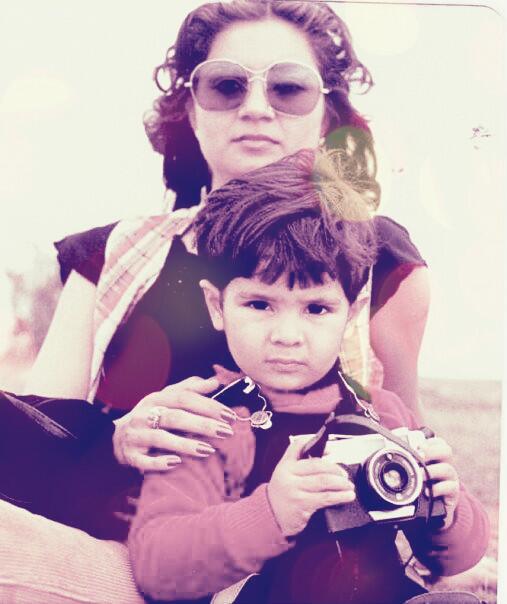 Some more cherishing memories -
When two Cute people meet
-


Edited by *Dev.* - 10 September 2013 at 12:39pm