Sushant Singh Rajput: I am still the same nervous man who can't express himself!
Mon, September 2, 2013 1:36pm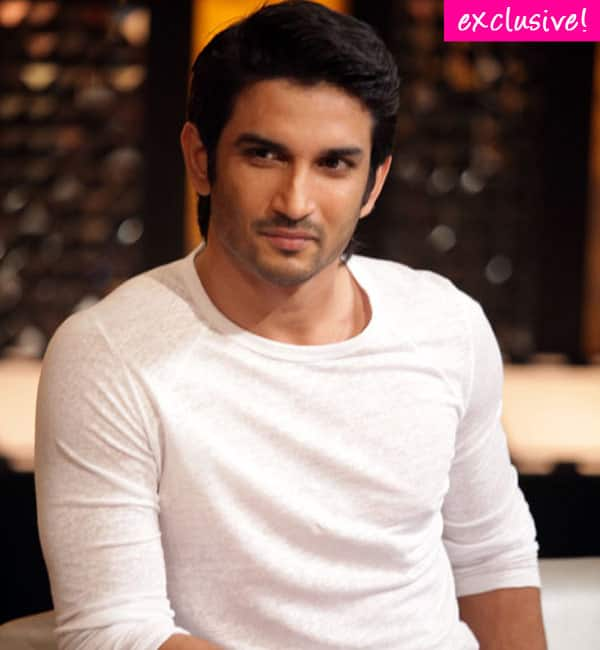 We caught up with the Shuddh Desi Romance actor to know more about his fabulous journey from the small screen to the silvercreen
Sushant Singh Rajput has come a long way since his Pavitra Rishta days. After impressing audiences with his fabulous performance " and his chiseled to perfection bod " in Abhishek Kapoor's widely acclaimed Kai Po Che!, he is now thrilled about his new romantic drama Shuddh Desi Romance. We met the young actor recently to find out about his transition from the idiot box to the big screen...
From being an engineering student to now a rising star " you discovered your true calling...
I discovered acting only after I started doing performing arts when I was studying engineering. I have this inability to express myself in front of complete strangers, which was very painful for me. And this happens to a lot of people who can't express themselves in their normal lives. But somehow once they get a medium, they are willing to make fool of themselves in front of many people. They suddenly find a voice. Acting was that voice for me.
So how does it feel to be a known face?
This is the most exciting phase of my life for the obvious reason that I am getting to work with some really good directors. I think I feel responsible " at times I worry that I could disappoint my fans " and at the same time there is this excitement in my heart. I never anticipated this stardom and since I did not aspire to become a star, there's no insecurity. But yes, even now I am the same nervous man who can't express himself very articulately.
Has the definition of stardom changed for you now?
We have this belief in India that silver screen actors are bigger than television actors or theatre actors. In Hollywood, you won't see actors being differentiated as TV actors or film actors. At the end of the day, they are artistes and their talent is measured by the performances they deliver. Unfortunately, here in India, if you are projected on the big screen, suddenly you are made out to be a bigger star.The Hollywood actors in comparison treat both television and the big screen " both media " equally.
Which one you enjoy more " TV or film acting?
As far as my understanding of acting goes, I can only tell you what I feel. I think as an actor I have to convince myself and give myself that authority to be the character I have to portray. At the end of the day, you have to be truthful to your script, to your environment and to your co-actors. You can play around as per the need of the medium " whether you are performing for the extreme close up for a film, or television, or in front of a live audience, you have got to make those changes accordingly.
While our films are breaking conventional barriers, unfortunately television is becoming regressive...
The problem with television is not the medium itself, but the content. Because of the demands of the medium we sometimes repeat ourselves and come up with not so convincing, at times completely illogical plots. As a television actor you are paid well, you get to know your character because you tend to repeat yourself and at the same time you become famous. So you are trapped in a comfort zone. Therefore acting for television can become very dangerous.
What can be done to bring about that much-needed change?
I think we should take a cue from what is happening in America. TV is big there because there is a limit to which certain series run. And because they work on the basis of seasons rather than just churning out episode after episode, the content become diverse and therefore interesting.
In Kai Po Che! you had no heroine, but you are romancing two babes in Shuddh Desi Romance...
True, but this movie is not a conventional love story. We are trying to show how romance is in real life..It is very quirky, intelligent and humorous. So when you see us on the screen you will relate to us easily, because that's how romance is in real life.
So how real will romance be in this movie?
I think right from the time when you are infatuated by someone, your romantic equation with that person you are spellbound by goes through various stages. Our film talks about the conflicts between the point when you start liking someone to the point when you decide to spend your life with that special someone. Generally, our love stories become a form of escapism. Normally, ek baar hero ne heroine ko bol diya ki main tumse mohabbat karta hoon, bas kahani khatam. Humari kahaani starts exactly from that point.
You have always been very open about your relationship with your girlfriend Ankita Lokhande. Did you face the same conflicts anyone experiences in a relationship? If yes, how did you deal with them?
I think everybody deals with these conflicts in some form or the other and we have our own ways of dealing with these conflicts and confusions in our own unique way. I think most of the time it' a matter of choice. If you want to be in a relationship, you work on certain points, but if you want to walk out of a relationship, you will keep finding excuses or faults in the person. I think conflicts are universal, but how you deal with them makes or mars any relationship.
Today the lines between love, sex and intimacy are blurring. So what does Shuddh Desi Romance stand for?
This film is not about pure' romance, as the title might suggest. The film is about the pure or raw emotions one feels when in love. It is also about confusions one may face when in love. Shuddh means we are showing the changing definition of love in our evolving society, as it is.
You are working with Parineeti Chopra, who is an effortless actor and is always at ease. You said you are a nervous soul who channelises his energies into acting. Did you have to raise the bar higher because you were working with Pari who simply reacts spontaneously?
At the end of the day, I have a job to do. The calibre of the co-actor is there at the back of your mind, but you just have to be alert about it. You can't keep thinking about the co-actor's potential all the time. Your chemistry with your co-star has to look very organic and honest. For that you just have to respond to the way your co-actor improvises, or vice versa!