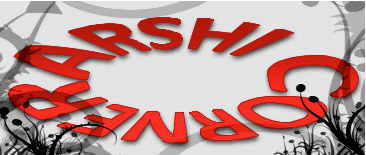 DISCLAIMER:DON'T COPY MY WORKS AND CONCEPTS WITHOUT GIVING ME CREDIT
YOU HAVE SEEN MY HUMBLE SIDE. TRUST ME YOU WON'T LIKE THE OTHER...
EPISODE 172
Love .An unrest feeling
Love is an unconditional passionate commitment or more precisely just a powerful feeling. Without the commitment, it is mere infatuation. Without the passion, it is mere dedication .But with both its a lethal sense on which you have no control as "It doesn't have any facial expression but a soft tender feeling which can be explored by souls only.and when souls open its avenue to it,it becomes permanent attachment and a divine one.
Episode starts with the needy one sided love which shows an attachment from Anjali side only.She puts herself in trouble to remove Shyams trouble and a over protective brother does the same.He gives up his room and throws the theory of rituals in the dustbin to keep her safe.I wish he knows this giant scorpion is way dangerous than the small one who still had some shame and respect as he kept his ego chin up before he bid bye to all
Symbolism and connection: This scene is depicting future as Anjali will indeed put herself in trouble for saving him and she did I can't forget her stepping on glass pieces just to save this creep and then slipped at the end and lost her child...
Arnav is giving up his rest ,his belongings for her.as he will be giving up his Love,his passion aside for her and will marry Khushi in misunderstanding hastily .At the top he will be having a Will to leave everything for her after him which put him in trouble at the end.I am happy CVs didnt forget to connect these two things later.
Family's love and affection with each other is developing slowly and at the same time the tussle in between Mamiji and Payal is taking a new shape of love which I have no name if u have let me know.But one thing is sure the tug of war is getting its grip...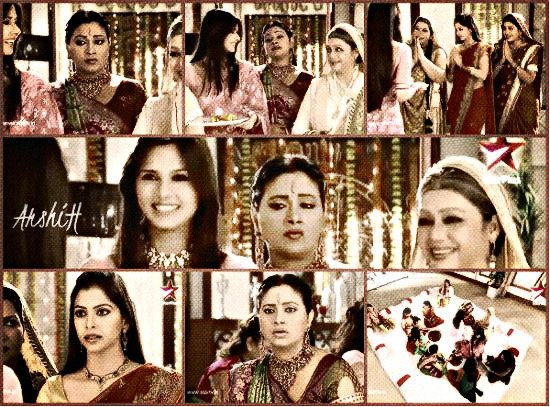 Shyam's suspicious lusty eyes over Khushi are making him losing his control as her interests in siting Arnav is raging his anger.His un calculated moves in this desperation is providing clues over clues to NK.I must say CV forgot everything later to connect this during its dragging time Shyams character in these epis is too dry or may be the focus was just the lead yet this is my feeling as his character is coming on the surface to bring a rift so they want to show more developing strong Love and attachment in ARSHI.Shyam's infatuated Lust which he calls his Love is just his dirty desire and nothing else..The way he looks at her and the camera shows us really boils my blood in my veins...[This is the first time I don't wanna take all shots...so disgusting...
]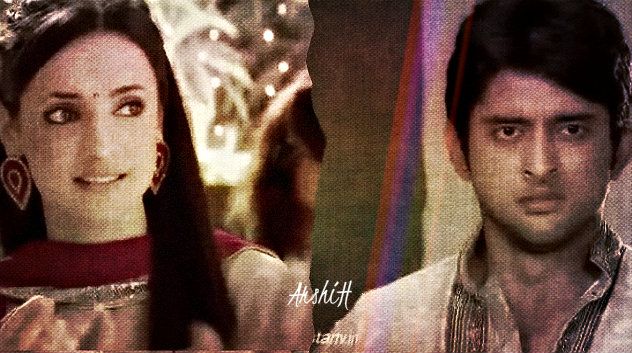 Bromance Love is awesome.Love Akash desperation here for seeing Payal and NKs manipulations over that couldn't stop smiling.He is so cute and indeed looks lovely in red saree with Payal Jhankar.Nice connection as he is taking message to pyayal or Is it a warning sign as an alarming one for him after Shyams clues? I wonder why didn't they connect this later.
Symbolism and connection: He is rapping saree and hiding face which Shyam couldn't see while passing through as He will be joining Khushi later as a team mate right under Shyam's nose during Kidnapping and revelation.
There are 12 women sitting ..#12 is a cosmic # by completing cosmic connections.NK comes and joins em and now there are 13 ppl.13 as in Egypt ,thirteen steps of ladder meaning attains spiritual completion.Acc to Zeus[greek god] it is associated with completion and attainment.There are 13 moons and moon symbolizes feminity.Connection is simple..allis connecting to ARSHI completion through all powers in which NK will play a big role in expressions of their desires towards each other.
My fav part.NK's Love got unwrapped not only in front of Buajis Nand Kishore but all the desi gals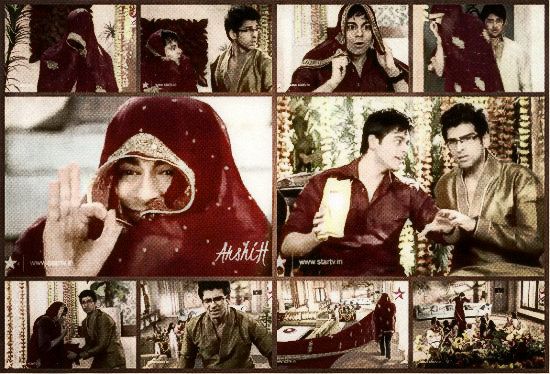 A nerve wrecked Khushi with her brooding agonizing thoughts of Arnav, walks in towards the RM main door.She is trying to alleviate her rising turbulent emotions with her sugar pill Jalaibi but in vain.. She tries trust worthy resource, Devi Mayya to vent out her pressure as she always pursues DM's intervention in the matter of trouble .She beseeches protection from her Love...her brave heart.How can DM refuse her child's request and in return sends the ' gust ' of wind to assure her his protector is here and that speeds up Khushi's Dhak Dhak process.She knows he is here around her. She takes a big bite of Jalaibi as a tonic of courage in her quivering state and gathers all her shaking nerves to move forward.
Arnav is coming to close the door and here she is in front of his resuscitator.Arnav, who is the reason of her wrecking nerves by creating havoc in her emotions without sparing a moment . The Man of her dreams, her conscious thought is standing right in front of her...And here she is his goddess, his divine Love right in front of him..
Both are surprised to see each other throwing off guards yet getting intoxicated in each others presence.Arnav throws an interested look at her nervous ,quivering state.A gentle,sensuous"Hi" .send her tingling sensation which brings a stammering" Namaste "from her mouth and that rages his hormones into playful mode.
Hes keenly enjoying her nervousness.Her almost empty Jalabi box is reflecting her restlessness emotive state which exuberances his delightful look with inner peace.He mischievously decides to play with his lady love.He asks her innocently with his sleek smile ,saman daine aye ho[ Are you here to deliver the packages?] Khushi in her shaky state first denies and later realizes her mistake answers in acquiescence in her palpitating state.Her fidget state lights up his face with amused smile.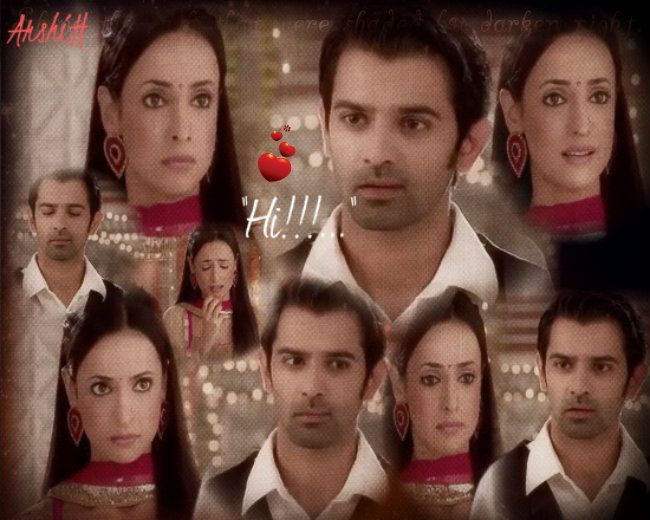 He is enjoying every bit of his lady love and her antsy ,fearing with her unstoppable racing heart beat which is provoking him to go further.Such a considerate lover he is...Yummilicious!!!

Khushi passes him nimbly and walks into RM,His delightful eyes never leaves her sight and he halts her by his Husky voice,Khushi"
Khushi's heartbeat begins to race as she stop , turns around slowly ,reluctantly and looks at him. Her open book face is mirroring the tempestuous emotions running through her violent panting.A shrewd and incisive Arnav makes his moves towards her under his constant radar piercing gaze without leaving his contact on her.He comes right in front of her visage , without showing any of his plait of emotions escaping through his sharp eyes.He curls his lips with slight motion of his neck sheer amusement is reflecting through his face seeing his undeniable effect on her...must say what a predatory move before throwing his next ace.
Arnav in his relaxed mode ,holds up a closed palm without showing the content to Khushi. He slowly takes the bag from her hands to grab what he is holding in it with an illustration of such a cogitative move.He does not let his gazes down from her as he wants to see the effect of his touch now.He knows his Lady Love very well...either she can pant up his anger or she can melt which she is doing since last night .If her touch mellows him down till raging desires, His touch burns her to awake all the sensuousness in her.Arnav holds her hand without breaking his gaze from her articulated face which is eloquently expressing her state over his melting touch.
Arnav hands back the earring which she had lost last night.Khushi in enchanted state by his spell stands there staring at him dumbfounded while Arnav delves for the reason of her innocent starring at him by keeping such an impeccable innocence in his expression...What an artful predator he is ?..He decides to back down from his torture after seeing her convoluted and bewildered state .She indeed is lost in his orbit circling around over his beats.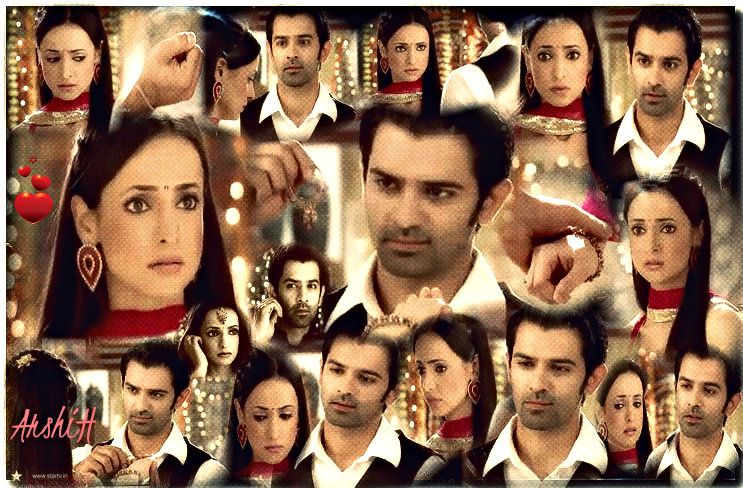 There is only way to revive her from this compelling state is strating sparring her , challenging her, altercating her and that's what The loving, considerate lover Arnav is doing here. He gains her senses back to normal by reminding her about the bet ,"Tum jeet gayein sirf meri wajhe seShart abhi puri nahin huwi".[You won because of meso bet has no meaning]...This rejuvenates Khushi in no time.She rapidly begins to gather all of her missing gadgets and fires back by declaring that since the Natraj statue is with her and that stands to logic that she has won clearly.She continues in irritation,"aapko kya lagta hain aapke hine na hone se humain farak padta hai"[What do u think ,your presence matters].Arnav is just getting his gears up for this show and The very next moment brings all the happiness and peace of the world to his mischief heart which was impatient to hear this for a long long time from her...She retaliates irately ,"aap humain itna satate hain keh khabi khabi hum DM se parathna karte hain keh aap humain nazar hi naa ayein.".[You torment me so much that I pray to DM that I never get to see you ..]...Her confession that he is residing in her mind ,in her thoughts, and her heart is not more than a treasure to cherish for his life.He has complacent satisfaction with these words to his ears like a sweet Jalaibis which she munched on and he got the double taste after kissing her...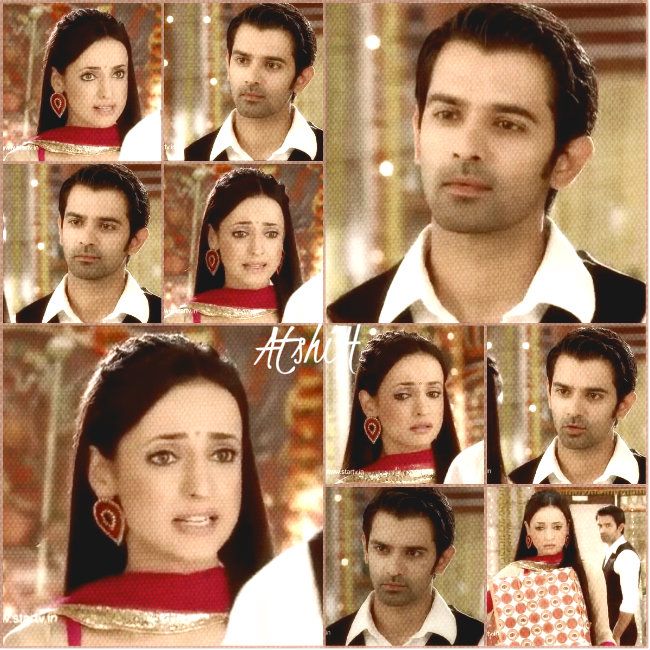 A panicked Khushi being unaware of the effect of her intoxicated words on him sprints in .being unable to pull her off from his magnetized attraction gives him a turn look one last time just to increase her Dhak Dhak..as he is stirring it along with her.by leaving an averted and engrossed Arnav with her Visage in his mind and heart
PONDERING CONNECTED DOTS:Arnav tells her the same words after yelling at Las dress,"tumhain kya lagta hai mujhe tumhare hone na hone se farak padta then forget it"..They both really had indeed covered a milestone.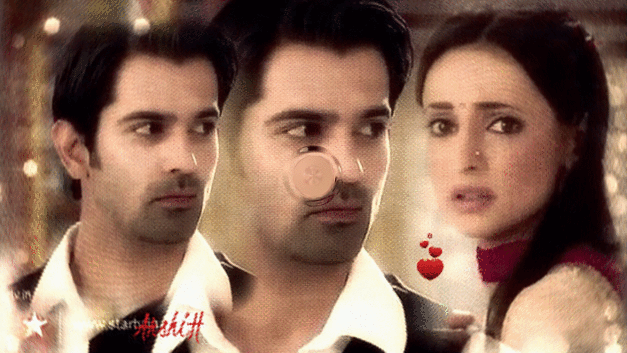 During mehendi , she appears to be happy but preoccupied by her Maharajno wonder she didnt call him LG today ,not even once. Her heart is searching out for that man who never leaves a stone to trouble her..either physically or mentally.The moment Anjali utters Arnav's name,Khushis longing eyes begin to sweep the hall automatically for a glimpse of him.She misses his flitting eye contact, his gazes,his admiration for her just like he does. ..But Arnav seems set on tormenting her further for he does not make an appearance ...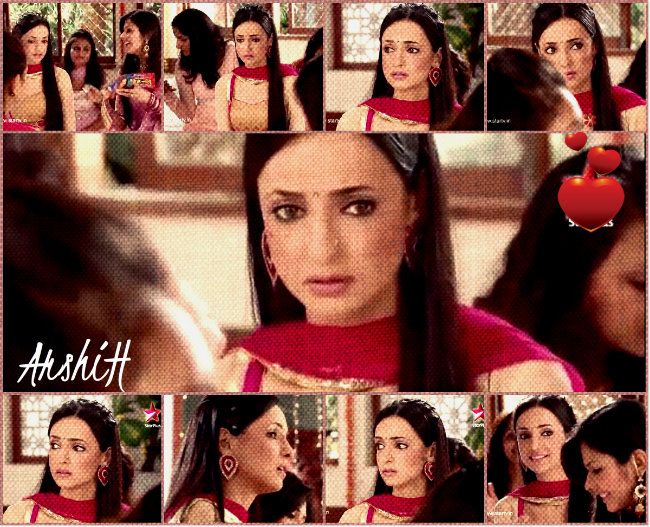 But Buajis Sanka,Parmeshwari, Paagals eyes constantly keep searching only her Parmeshwar, Maharaj, Natraj who is fulfilling her wish "Hum prathna karte hain keh aap humare samne hi naa ayein"...as it seems he sets his mind on tormenting her further without his appearance as she always did to him which made him wish for.."yeh tadap keh rahi hai mit jayen fasle jo tere mere darmiyan hai yeh sare.."..[This intensity and longing just wants to diminish all the distance in between us]
The non stop and real dance of the Natraj has indeed begun...for eternity...
Two divine souls with one heart beat...
MOMENT OF THE DAY


Edited by ArshiHamesha - 26 August 2013 at 9:32pm