Originally posted by ArshiHamesha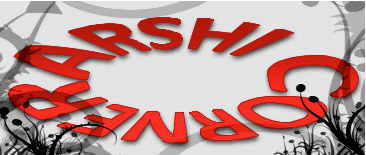 DISCLAIMER:DON'T COPY MY WORKS AND CONCEPTS WITHOUT GIVING ME CREDIT
YOU HAVE SEEN MY HUMBLE SIDE. TRUST ME YOU WON'T LIKE THE OTHER...
EPISODE 170
TERI MERI SPECIAL'...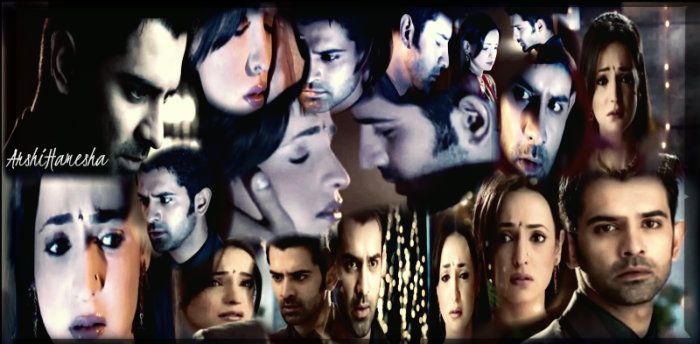 A night when two people shared the most intimate moment by pouring their longing and yearning desires at each other ,forgetting their surroundings'...yet one got distracted because of his tempting and ambiguous feelings which had no meaning for him and had no place in his life.Those scared feelings shook one innocent soul that night who just got acquaintance with these new rising desires without knowing the name of em and the very next moment she had been told to suppress em for her own good'...as these had no meaning for someone'...someone who she thought is her strength, who she can look up to call her own'...Trust was shattered that night brutally and needs to be amended tonight to move forward'The same soul is standing alone tonight and ready to give in against her will yet her voice is not only heard by DM but also by someone else who is ready to take her in his strong embrace securely and safely'...by distracting all the ambiguity in her'...
CREDIT TO TUMBLR
Khushi is standing without her Partner in deep convulsion and thought of relinquishing the contest against Mighty ASR was demeaning against Shyam's brutality.She closes her eyes with the pain he caused her on her body and soul and only one name she remember to recall HER mother Devi Mayya..Anjali's concerns, NK's disappointed words and guests provocation makes ASR to step forward for his Love as ASR can never stand to see his Khushi defeated or crippled and above all in tears.Lights turns off while NK misses Nanav and Anjali leaves Khushi alone.Khushi all alone, cut off from all is in total darkness, moving away, defeated and desolated when suddenly her dark world is illuminated by bright light , totally unaware of who brought light into her world as he is in shadow..when suddenly spotlight brings him on the surface and everyone looks at the stage with open mouth'.. Arnav comes from darkness to light '..to acknowledge her love for him..to rescue her from losing'..Indeed she is his pride'..his Maharani'..
Khushi looks at him obliviously and uncertainly while he looks at her lovingly..They both share a moment before her Maharaj,her Rajkumar appears in between lights towards her with determined proposal"Tumhara akhri performance hai Khushi'.."[This is your last performance Khushi'] 'Pause..while Khushi looks down in confusion'..and he continues with a winning smile because he is asking permission to dance with her,"pura nahin karogi'.."[ will you not complete it?'..] This is interesting part..Khushi does not make a move, It is Arnav who walks towards her..softly tells her to complete her performance ..Khushi looks at him astoundingly'..and so do the others..with "O" face..
it is like you are describing a fairy tale
Appropriate song for depicting their inner turmoil...as The Music begins and the dance starts ...Khushi turns and seems she is ready to leave but Arnav holds on to her hand not letting her go with determination and anger and she responds her turning her face"teri meri ,meri teri yeh kahani hai mushkil"...He makes her twirl into his arms wants her to lean on him... .."ek ladka aur ek ladki ki yeh kahani hai naye'do lafzoon mein yeh bayan na ho paye"...Khushi follows and a small smile seeps on his face...Khushi avoids him and his desires and tries to move away...
CREDIT TO TUMBLR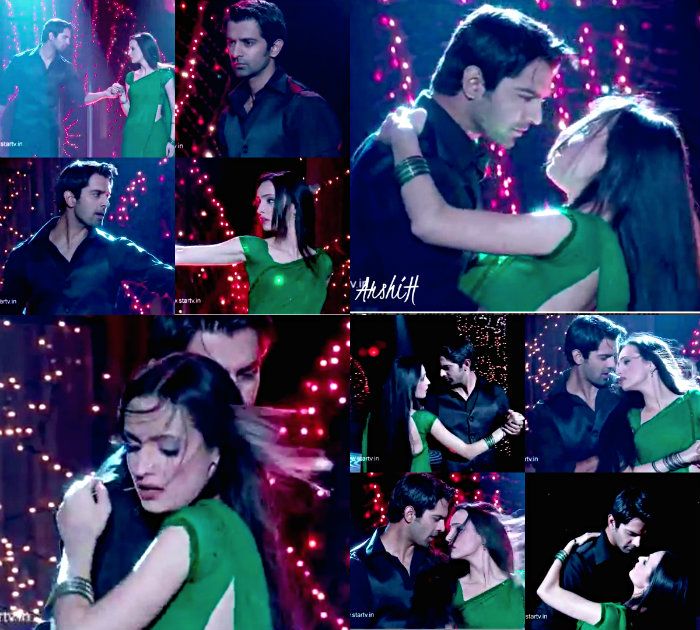 While Arnav is determined, continuingly expresses his state of mind openly pouring his yearning desires at her by caressing her bare body and holding her in his arms securely trying to awake her trust in him and she does put her hand on him"sara din beet jaye..sari raat jagaye..bas khiyal tumhara lamha lamha tadpaye..Yeh Tadap keh rahi hai mit jaye fasle mere tere darmiyan jo hain sare." His yearnins and longiness since from the beginning made him restless and today he can't stop expressing em.
He guides her and she glides her hand on his face as this is hard for her too...she gives in for a moment when he picks her in air and then glissades her body against his hard visage...Their cravings for each other are burning both of them ..
CREDIT TO TUMBLR
But Khushi has been incinerated once,[Diwali] she walks away from him singing "Ek Duje se hue Juda jab ek doje keh liye bane "..but Arnav is trying to stop her from leaving , yet amazingly Khushi does not see that but responds back to his unsaid desires with raising hand..as she can't walk away from the magnetized pull of true Love ..The love which keeps calling out to her,pulling her in its center...She walks back to him and holds his hand gazing attentively into his longing eyes while darkness prevails holding their yearnings only in between em away from the world,
"teri meri baton ka har lamha sab se anjana..." to Arnav who has been waiting patiently with overwhelming desires for her, remembering every moment when they were in each other's proximity ...
But the unbelievable events of past are making it hard for her dance peacefully meaning she can't follow his moves blindly...,"har ehsaas main tu hai ..har ek yaad mein tera afsana.." she is shaken, distracted, scared,concerned,and ambiguous about his feelings and her place in his life because he did hurt her badly...as this whirlpool is pulling her down way deep but he holds her hand first keeps it all the way down to pull her out of it assuring her he won't allow that as this is another sign he will never let her go..or fall..[I must say they both are awesome at this step]
She walks away again... and He does not stop her...gives her time to decide..She is standing in dark and he is under the luminous light and is waiting for her to join her...
Lights luminous her heart and She turns back, eyes full of questions seeking out answers from Arnav ...from her Maharaj...with a certain RIGHT..along with Raba Ve...but this is the same moment when Arnav steps towards her...before the dance and now she is doing the same...
Khushi was the one who had turned first to walk away from Arnav at the temple , now walks towards him and remembers that it was he who held her unflinchingly and didn't let her fall when she tripped from the ramp and took the brunt of the fall ..She who had held out her hand with his key"key to his heart" and he who had placed his heart in her hands trustingly , only for it to be shattered but now offers it again , This time he accepts hers and want to be accepted , twirls her, into his arms, into his life...just like the that rainy night...The hands which had let go of her is now steady as they pull her back up..Arnav's who had grabbed and pinned her not allowing any freedom, always trying to sway her about her status is now appeased to give her the freedom and respect she wants and gazes serenely while she twirls around him ...
Whatever happened ,This does not mean he has forgotten her as they are still bound together while she is roaming around...Their palms held on tightly as their bond is unbreakable..meaning she can still rely on his shoulder..The very same way the night her heartbeat got entangled with his...
The doubts, the raging uncertainties, the million questions, the pain and many sufferings that he caused her ,...her eyes seeks to find answer in him, Arnav understands her hesitation , the reason why she is pulling herself back ..He knows he has a lot to redeem and there is only one way , by apology and seeking forgiveness..He is attritional ,he looks at her with eyes of no mask ,just a tinge of genuine and sincere apology ...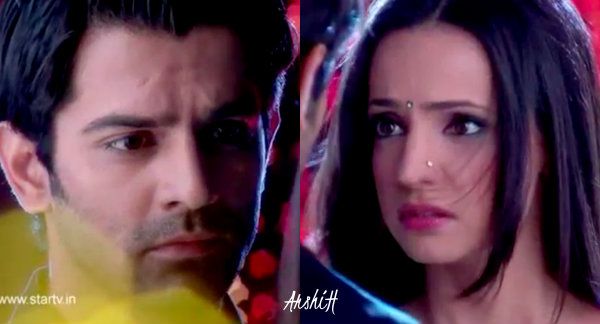 He moves towards her seeking another chance .. The moment a beam of light bursts through her by dispersing all the clouds of scruple, mistrust, dubious feelings and..She remembers his kindness and tenderness and With that her passive feelings , which were ruthlessly suppressed leaps forward and catches her in the vortex of her emotions ,Khushi with complete trust ,places herself in his hands again by closing her eyes in an absolute, complete faith and trust knowing that she can rely on him ...just as Arnav closes his eyes too for the subtle and elusive happiness. The evasive serenity that he had been seeking and longing for is finally in his arms in the form of Khushi ..Arnav has glimpsed his paradise ,his peace in Khushi as Khushi has sensed her strength, her support in him !!
CREDIT TO TUMBLR
This is the moment where two bodies are merging with one soul...The moment which made him to carry her to break her fast with the shunk to announce they are one is reaching to the next level... At that point they became one body and soul. they let go of their egos and decided to take each other's support. they became one by mind and heart fully.
[formation of heart in between em at both times...merging one heart ,one soul, 2 bodies ]

Both become aware of one another's longings, neither of them let go off each other at this point . Khushi lets go as she leans down by placing her entire trust and belief in him and Arnav does not allow her to fall this time, He gently pulls her back up..Places her hand on his shoulder as if providing her the support and gently holds her other hand as the yearning memories of Diwali Night brushes to the surface ..They share an intimate moment which is too intense and private ..A Moment all of their own !! ...during the dance it just became them and no one else existed or matter...alll that mattered was that they are together
CREDIT TO TUMBLR
I loved your description of the dance you described the memories, the turmoil of emotion and everything
But among the others around em..as soon as this reality hits, Khushi steps away from Arnav to stand under the spotlight, hesitantly accepting the recognition and applauds while her Rajkumar, her pillar of strength stands in the shadows watching silently, scintillating in pride relishing their moment of victory as she glances back at him shyly, acknowledging and acquiesce him quietly !! Khushi i think realized that she always needs his help when in need. and Arnav wanted that moment to last forever, i don't think he was ready to let go of her to the world just yet
I must say...The Dance setting and routines was absolutely brilliant with smooth transition and intensity to notice any flaw..A hand of applaud to the entire TEAM..
Arnav and Khushi walks in between guests receiving praises while my grabber is he is cool while walking behind Khushi.Payal embraces Khushi while praising Arnav which takes Khushi's attention towards his Rajkumar who looks at her relaxed without all the burdens...
Everyone is baffled about the situation yet Naniji and Anjali smiles seeing her Chote in this avatar...while "dushman" is busy in twitching...Anjali asks someone to pinch her as this is a dreamy moment for her.. Akash is delusional about his Bhai..while his mom ,James Bond ki Nani is being astrologer for future..They all gather around Arnav with questioning eyes...and he acts so well with his eye brow lift with confidence to make em fool..."What"
Anjali answers confoundly, "What nahin'What the"...But Naniji is more interested in knowing about behind curtains, Yeh bataeye..keh who ka ka raha..."[Tell us what was it actually all about?]
Arnav is so adamant ,"there is nothing to tell.."Akash remind him of his non interestong habits of dancing and Mamiji inquires him for losing over Guptas...Anjali and NK reminds him his bet" We have to have win at any cost" Arnav leaves everyone bewildered with new challenge to cope with "waise bhi har chees haar jeet keh liye nahin hoti..."[ After all not everything is for winning or losing] I hope they all can handle new and improved Arnav... I love the new and improved arnav...we have seen it for a while and so has khushi. but for the raizadas it if just WHOA...i hope after they get rid of the initial shock and realize that Khushi brought light into his dark world
Love the way they used NK, as first he acted as a catalyst in this chemical reaction who pushed Arnav into partnering Khushi evenly and , Second his Khushi fanaticism almost deflected Shyam's suspicion away from Arnav ... but he awakes the demon within Shyam by telling him..."Nanav and Khushiji were looking too good together"...Dude the whole world knows that...
I love this picture...if looks can kill arnav would have been dead like a 1000 times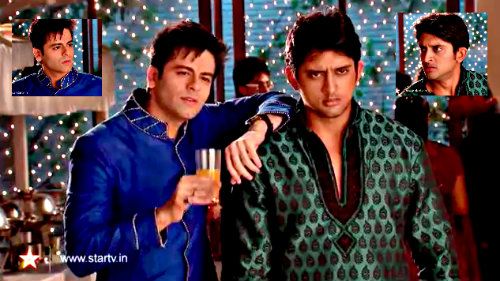 Khushi's vigorus Dhak Dhak has come back and whenever Khushi calls on DM, her Rajkumar and his sensuous touch reels in front of her eyes to increase her heartbeat with uneven breathing by awakening her hankering desires...His open confess of how he feels about her and how she is his part is making her restless with her brimming yearning..For a while khushi's dhak dhak has been kept under control because she had other things on her mind and arnav did not do many things to make her heart go Dhak Dhak but not her Dhak Dhak are worst than ever and now she has nothing holding her back to be with him
Arnav sharp eyes and ears on to look out for Khushi and the moment he finds out her whereabouts, he rushes over there ...Arnav is Yummilicious here as he remains standing by leaning in his serene avatar with His smirk while his temptalicious is on her laad gavarnor trip in her non stop car, stating decisively that [koi Fadak nahin padta...] , his partnering makes no difference and pauses with surprise finding him looking at her lovingly ...which melts her all delusional and distinctive thoughts...
loved your words to describe arniekins
"ek ladke aur ek ladki ki yeh kahani hai naye, do lafzon mein yeh bayan no ho paye..."
The Journey Begins...today~~~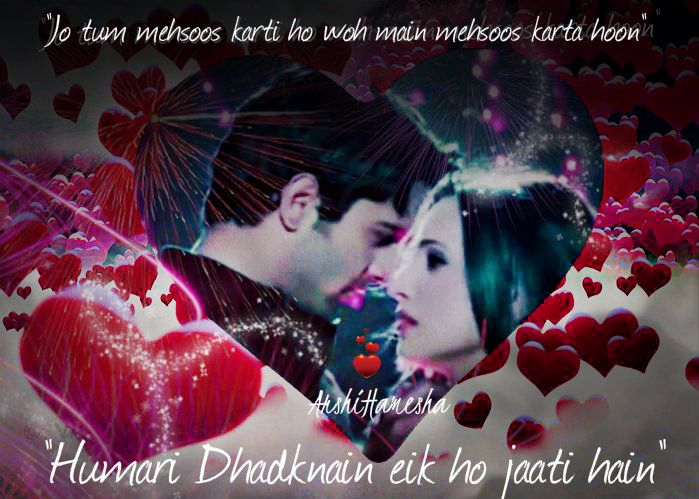 Symbolism &Connection: He is ready to sacrifice his ego,his pride,his winning for Khushi or he is taking her winning as theirs...joining their souls and hearts today...Is this the indication of future where he will be doing that...?He will be putting his ego and pride aside by sacrificing his love for his Di and will marry Khushi forcefully...
Second he will always be there for Khushi for helping directly or indirectly, in light or dark ,hate or love, doesn't matter.Yet Khushi needs time to differentiate Shaitan and Rajkumar[darkness and light] loved it
PONDERING CONNECTED DOTS: He will dance with her on their honeymoon'dilli ma Bali..He is going to dance on his Sangeet on Salman Khan's song for Khushi and later on Karva Chauth.
On mun Dikhai he stands for her...and Later in Amezing when an employee called her item'he slaps him as he can't let anyone disrespect his Khushi... nice connection
MOMENT OF THE DAY