Part 23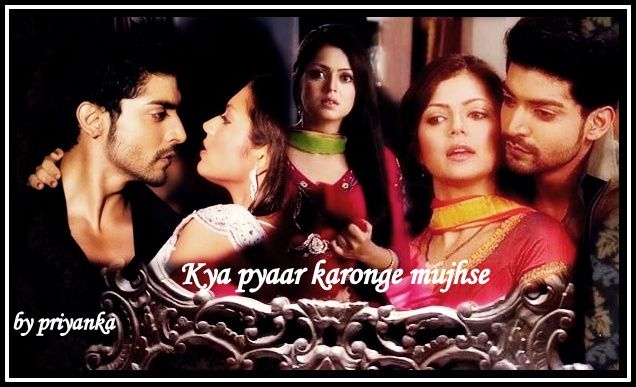 Time flew so fast... time give wounds...so time also cures too.
One Months passed, Maaneet relation becoming good day by day... now, he start trust on her... geet make soft corner in his heart...
For geet, maan words, his smile for her is enough, for her its positive signs in this relation...
But other side, for sam.. Time stops for her...
Sam : Ali ab aur nhi
Ali : relax yaar
Sam : Ali jb door thi maan se
Yaha nhi thi
Toh hi thik tha
Mein jb bhi usse kuch baat krne ki koshish krti hu ...wo..waha se chla jaata hai
Usse kaise btayu
Why I leave him alone
Kaise usse kahu
Mein usse khud ko kho dene ka dard nhi dena chahti thi
He cupped her face...
Ali : sam mujhe best photographer ka kal award milenga
Kyun na hum wha maan ko invite krle
Waha tum mauka dekhke usse baat kr lena
Aur waha toh koi office ka member bhi nhi honga
Sam : maan waha kyun aayenga
Ali : jis hotel mein ye program hai
Waha ke manager ki maan ko talaash hai
Sam : matlab
Ali : matlab tum bhut jald jaan jayongi
Sam : phli mein baat mt kro
Ali : sam kuch din phle Maan kissi se phone pe baat kr rha tha
Toh us waqt uske hath mein ek photo thi
Sam : toh kya huya
Ali : toh ye sam... jis admi ki photo uske hath mein thi
Aur wo jisse dund rha hai
Usse meri mulakat hotel mein huyi
Aur jb maine uske baare mein staff se pucha
Toh pta chala
Usne kuch din phle hi yaha join kiya hai
Sam : pr woh hai kaun
Ali : itna toh mujhe bhi nhi pata
Par hum ye baat Maan tk puchayenge
Lakin bs function se kuch der phle
**************
Ali came to maan home and give the invitation card...
Ali : maan apni family ke sath aap jaroor aana
Maan : Ali
Daadi : maan bte
Ali : namastey daadiji
Daadi : namestey bte
Aapko maine pechana nhi
Ali : daadi mein aur Mr. Khurana aajkal ek project kr rhe hai
Daadi : hmm
Ali : kal wo mujhe award milne wala hai
Toh ussi ka invitation card dene aaya tha
Yaha mein kissi ko jaanta nhi hu
Toh socha Mr. khurana ke sath itne waqt se kaam kr rhe hai
Toh jaan pechan toh ho hi gyi hai
Aap sb aayenge na
Daadi : kyun nhi bte
Ali : thanks daadi
And sorry Mr. khurana
Mein bina bataye aapke ghar aa gya
Daadi : it's ok bte
*************
All sited and doing dinner...
daadi : maan bte aap kal jaayenge fir
geet : daadimaa kaha jaane ki baat ho rhi hai
daadi : wo Ali aaya tha
usse koi award milne wala hai
wo yaha kissi ko jaanta nhi hai
toh hum sb ko invite krne aaya tha
geet : ye toh achi baat hai
Maan hum jaayenge na
Maan : nhi
Geet : par kyun
Usne hum sbko kitne pyaar se invite kiya
Aur hum nhi jaayenge
Toh usse kitna bura lagenga
Maan : geet
Ek baar maine mna kr diya na
Geet : pr maan
Maan : bs geet
Ab mujhe ispe koi bhs nhi chaiye
************
Next day
At 5 pm
Ali : now plan B ke execute krne ka waqt aa gya hai
Sam :pakka ye work karenga
Ali : ofcourse
Maan jaroor aayenga
************
Geet doing work in kitchen...
Geet : nakul tum coffee kiske liye bna rhe ho
Nakul : chothe sahib ke liye
Geet : maan aa gye
Wo bhi itni jaldi
Nakul : hmm
Geet : tum hato mein bnati hu
Tum tb tak ye vegetables cut krdo
Nakul : thik hai
***********
She make coffee and take cup and go to his room..
Geet : aaj itni jaldi
Kaise aa gye
.
Jaroor koi file rh gyi hongi
She enters into room and see the time its 7 : 00 clock..
Geet : maan toh khi dikh nhi rhe
Kaha gye
Washroom door opened, he came out wiping the hair... he not notice her presence in room.. .. he throw the towel on bed...
Maan : nakul
She seeing him constantly... His voice came out for drooling session..
Geet : maan'
He turns and sees "she stands near door taking tray..."
Maan : geet tum kb aayi
Geet : wo mein
He comes towards her...and she going back...
Maan : geet stop
She stops.
Maan : geet tumhari problem kya hai
Maine tumse pucha tum kb aayi
Aur jb mein coffee lene aage aa rha hu
Tum piche jaa rhi ho
Geet : wo mein
Maan : aage kuch bolna hai ya nhi
Geet : wo mein bs abhi aayi thi
Aapki coffee dene
Maan : hmm
He take the cup and take the sip of coffee...
Geet : aap aaj jaldi ghar aa gye
Maan : kyun mein jaldi ghar nhi aa sakta
Geet : nhi
Maan : nhi
Geet : wo mere khehne ka matlab tha
Aap aur din jaldi nhi aate na
Koi kaam tha aaj
Maan : hmm
He open the wardrobe and searching something...
Geet : aap kuch dund rhe hai
Maan : meri dusri wali watch nhi mil rhi
Geet : mein deti hu
She came near him.
Maan : geet mein khud dund lunga
Geet : mein de deti hu na
Maan : geet
Geet : maan aap rhehne dijiye
She placed her hand on his...
Maahiii...
Precap :- new entry and twist...
am not able do pm regularly... so bookmark the update thread


Edited by priya_21 - 04 December 2013 at 5:42am