Part 25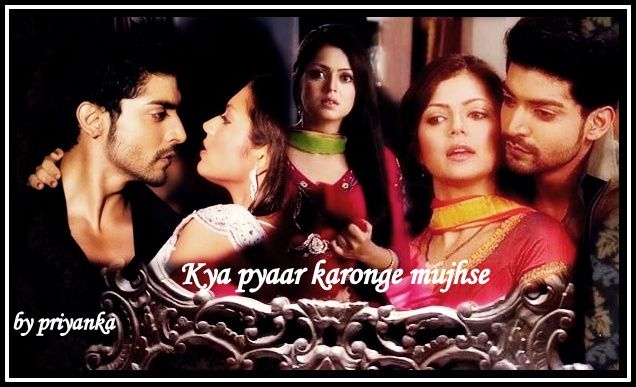 Both sited in car and lost into own respective thoughts.
Jo Bheji Thi Dua, Wo Jake aasman (Movie - Shanghai)
[YOUTUBE]http://www.youtube.com/watch?v=sshhK1IuOl8[/YOUTUBE]
Geet looks towards maan, many question roaming into her mind, how she ask from him, why is it so...
Ek waqt tha jb khamoshi bhi baat kiya krti thi
Aur aaj hamare beech bs khamoshi hi rh gyi hai

Kise poochun, hai aisa kyun
Bezubaan sa, ye jahaan hai
It felt like world became mute because for me, my all world around him...
Where I find moments of joy, now all lost into darkness, even time is like without a sign...
For maan, why this moment came into his life...it's so painful ...
Khushi ke pal, kahan dhoondhoon
Benishan sa, waqt bhi yahan hai
In His husband life, someone try to take her place and his life... his maan has no problem with this...
She closed her eyes...
Sam hugged maan from back...
Sam: maan please don't leave me
I love you so much
.
I know, I hurt you, par mein us waqt kya karti
He turns and wipes her tear...
Sam again hugged him, and he also hugged her back...
There are many complaints on her lip...life or time creates distances between both of them...
She wanted to ask from her babaji "why do the dreams dampen into her eyes", if god know her dreams, her hopes, her wishes, her heart always shattered into pieces...
Continuously tears following from her eyes...
Jaane kitne labon pe gile hain
Zindagi se kayi faasle hain
Paseejte hain sapne kyun aankhon mein
Lakeer jab chhoote in haathon se yoon bewajah
Maan see towards her, and sees she slept ...
(From maan side her tears not showed to him...geet face to the side of car window...)
Why life is so complicated, from past three years he thinks wrong about sam, sam left me, only for me...
Aaj jo usne kaha wo sch tha
Ya fir jo phle kaha tha
Sam: Maan se mein pyaar krti hu
.
Never
I only want use his name..
Bade logo se naam jodne ka fayda jo milta hai
This day, sam talking on phone with someone... I not accept this truth after hearing from own ear...
But she confessed in front of me... her going US forever... She gets modeling assignment and not wants to come back here...and she going to marry too in US...
I have never problem with her carrier, but she only using me...
Jo bheji thi duaa, woh jaake aasmaan
se yoon takra gayi ke aa gayi
Hai laut ke sadaa
I always prayer for him to you, please give me my maan back... he get memory back...
But today I felt, the wish I had sent not reaches to you that collide to the sky...
Jo bheji thi duaa, woh jaake aasmaan
se yoon takra gayi ke aa gayi
Hai laut ke sadaa
Both reached to the house, and both not realize this...
Driver: sir
.
Sir..
Maan : hmm
Driver: ghar aa gya hai
Maan : hmm
Maan opened the car door and realize geet sleeping...
He tries to wake up her, but she is in deep sleep...he come her side and scoop into his arms...
His touch on my shoulder, break my thoughts, but I don't want to move, he take me into own arms, its felt medicine on wounded heart...
She want to open her eyes and cherish this moment, she feel his warmth after so much time, she have fear, if she open her eyes and if its only dream , so don't want this... she snuggle more close to him...
He placed her on bed carefully, he loose her grip on his neck and tucked her into duvet...
She don't want to leave him, she want, he reside to me...but it's not possible now... those tears dried few seconds ago, again highlighted ...
He turns to go, but stop on spot & see tears flew from her eyes...
He left...
*************
She opened her eyes, and not sees maan here... she wants to talk with maan now... she stands from bed...
Geet : mujhe abhi maan se baat krni hai
Ab aur intzaar nhi kr sakti
Unhe mujhe jwab dena honga
Sam se unka kya rishta hai
********
She goes into his room and sees he is not here...she go outside for searching him and heard some voices came from gym room...
Maan : sam
She stops on spot after hearing sam name...
Geet (think) :- is waqt sam kyun call kr rhi hai
She heard something broken voice and see maan phone lay on floor...
He starts his exercise, her anger sees in his dangerous moves...
He broke the ice slab from his hand moves, he going towards another ice slab, one piece of ice stab into his foot...
But he not stops and moving into his direction, geet sees him from far...She came near to him and placed her hand on his shoulder, but he jerks her hand and angilry said "stop it sam"...
Precap : song continue...


Edited by priya_21 - 06 February 2014 at 5:30am