Part 18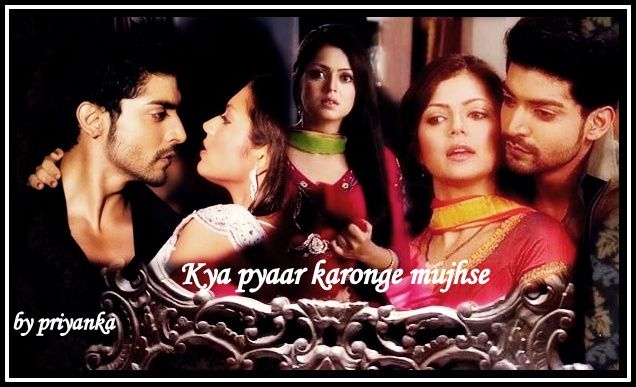 Maan (think) :- how she know her.
Geet : maan
Wo mujhe in papers pe aapke sign chaiye the
Maan : geet tum sam ko kaise jaanti ho
Geet : maan aap ye sb kyun puch rhe hai
Maan : geet jitna pucha jaaye utne ka jwab do
Geet : maan aap kya sam ko phle se jaante hai
Maan : geet sawal ke badle mein sawal nhi
Jwab diya jaata hai
geet : maan aap gussa kyun ho rhe ho
He came close to her, held her hand & pulls her towards him.
Geet : maan
Maan : geet jwab do
Geet : maan wo mein usse Mall mein milli thi
Maan : kb
Geet : jb hum sb shopping pe gye the
Usi hi din mein phli baar usse milli thi
Maan (think) : mera andaaza shi tha
Mujhe laga tha us waqt bhi
Geet :maan mera hath chodiye
Maan : aur ek mulakaat mein tum usse aaj ase mil rhi thi
Geet : maan kyi baar kissi ko jaanane ke liye ek pal hi kafi hota hai
Aur kyi baar puri zindagi bhi km pd jaati hai
.
He looks into her eyes & sees tears in her eyes, then he realizes he held her hand so tightly, he loosen the grip.
Maan : wo mein
Geet : maan in papers pe read krke sign kr dena
.
.
In geet cabin
Geet : babaji aapki bachi thode dino mein pagal ho jaayengi
Mujhe na inka kuch smjh nhi aata
Bina baat mein gussa krte hai
.
Kitni mushkil se ye dust danav se insaan bne the
Apne fir inhe phle se jyada dust danav bna diya
.
Ab kya kare aapki bachi
Babaji
.
Maan : geeettt
.
Few minutes ago
Maan : geet se aaram se bhi puch sakta tha
Yuhi uspe gussa ho gya
.
He goes towards her cabin talking to her, but here he listen her complains.
.
She closed her eyes and mummer " babaji mere sath hi asa kyun"
Maan : geet
She open her eyes and nervously said " maan aapko koi kaam tha
Kuch chaiye tha
Maan : geet tum abhi mere baare mein kya kh rhi thi
Geet : mein ...kuch bhi toh nhi
Maan : jhoot mt kaho
He dangerously came towards her. She goes back, her back hit with wall, she try to move, he placed hand this side, she turn to move from other side, he here also placed the hand.
Maan : ab bolo
Geet : ase bdi bdi aankhen krke ...darake puchonge toh koi bechara kaise bolenga
She sees his angry eyes and realizes she again said wrong words in front of him then she closed her mouth with dupatta , and see upward towards her favorite babaji...
Geet (mummer) : babaji
He sees her antics and lightly smile, before she notices he again looks her angrily.
Before maan again asking same question to her, adi enters into her cabin and take her name.
Adi : geet who Noida
He stops in mid, maan turns and geet not meeting eyes.
Maan : adi
Kissi ke cabin mein jaane se phle knock kiya jaata hai
Adi : soo...rrr...yy sir
Maan left the place.
Geet : adi sir
Adi : sorry geet
Wo mujhe pata nhi tha maan sir yaha hai
Geet : sir aap bataiye na
Koi kaam tha
Adi : ha geet woh mujhe noida wale project ki file chaiye thi
Geet : hmm
**************
Ali : kuch baat huyi tumhari maan se
Sam : hmm
Ali : Usne kuch kaha
Sam : out
Kaha usne
Ali : patience se kaam lena honga
Sam : hmm
Ali : hum jo charity hospital open krne jaa rhe hai
Uske liye mein ek party through krne wala hu
Jisse hume fund bhi mil jaayenga
Aur
Sam : maan to waha aayenga hi na
Ali : right
*************
Time passes out, but maan & geet relationship not moving forward. For him, she is wife in front of world, but for him, he not accepts her as wife.
********
Geet : maan I want to talk to you
Maan : bolo geet
Geet : maan apne ye hospital wala project ke liye mna kyun kr diya
Wo toh balki ek charity hospital hai maan
Uske liye hume bhi
Maan : geet jo mujhe shi laaga wo maine kiya
Geet : maan ye shi nhi hai
Maan : ab tum mujhe batayongi kya shi hai
Geet : maan mere khehne ka wo matlab nhi tha
Maan : Now leave
************
Maan talking some clients in hotel, here sam came.
Sam : hello Mr. Khurana
I want to talk to you
Maan : miss Kapoor
Yaha abhi meeting chl rhi hai
Sam : maa
Maan : firstly listen carefully
Mujhse ydi baat krni hai
Office mein call krke appointment lo
And second thing tumhe dikhta nhi
Yaha meeting chl rhi hai
Now out.
************
Daadi : bte aaj aap dono ka din kaisa gya
Maan : thik tha daadi
Mein abhi aata hu
Daadi : hmm
Aur geet aap itni chup kyun ho
Geet : daadi ye maan itne ajeeb kyun ho
Daadi : ab kya kiya inhone
Geet : daadi pata nhi phle toh inhe hospital wale project se koi problem nhi thi
Balki ye only cost charge krne wale the
Zero profit pe
.
Fir pata nhi
Jbse meeting huyi hai
Uske baad inhone mna kr diya
.
Aur kuch pucho toh gussa krte hai
Daadi : bte wo log sayad thik nhi honge
Geet : nhi daadi
Asa bhi nhi
Mujhe toh dono thik hi laage
Daadi : hmm
.
Someone enter in hall and said " hello daadi"
Daadi : are bte aap
.
Please hit like button and do long comment...
Guess kro kaun aaya hai?
previous part part 17 on page 22
next part 19 on page 36


Edited by priya_21 - 01 October 2013 at 6:29am