Supriya Pilgaonkar: I never have high expectations of any TV show!
Sun, August 18, 2013 1:00pm UTC by
Letty Mariam Abraham
Add first Comment
Tags:
Amrit Zoravar Shergill
,
Bharat Jadhav
,
DJ's Creative Unit
,
Ek Nanad Ki Khushiyon Ki Chaabi...Meri Bhabhi
,
Kanwaljit Singh
,
Nach Baliye
,
Radha Ki Betiyaan
,
Sachin Pilgaonkar
,
Sasural Genda Phool
,
Shaileja
,
Shriya Pilgaonkar
,
Star Plus
,
Supriya Pilgaonkar
,
Tu Tu Main Main
,
Welcome Baazi Mehmaan Nawaazi Ka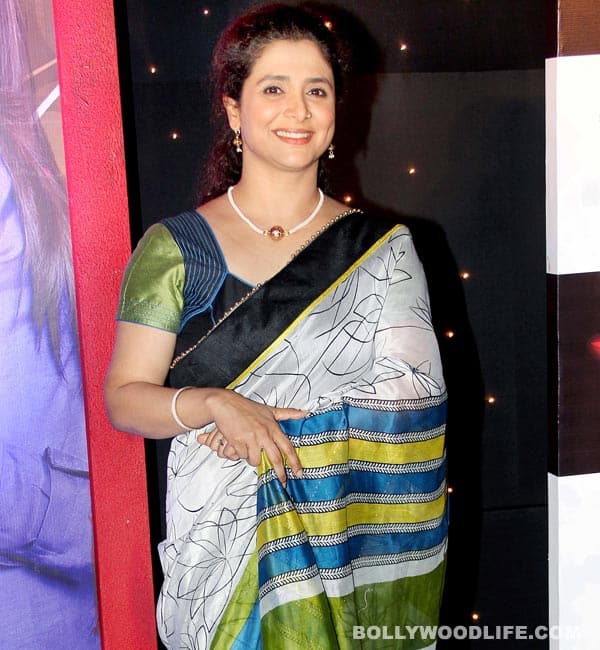 The versatile actor says she misses comedy, but her fans' love makes her want to play mother in TV shows, the latest being Ek Nanad Ki Khushiyon Ki Chaabi…Meri Bhabhi
Supriya Pilgaonkar talks about Tu Tu Main Main, her idol in comedy, her expectations with her new show and more
Why did you opt to do Ek Nanad Ki Khushiyon Ki Chaabi…Meri Bhabhi?
I prefer doing show that depict positivity. When a daily soap displays good things, it affects people and their thinking. Goodness should be infectious. This show will teach a lot of good things. I have learned so much from my earlier show Sasural Genda Phooland my character in it, so obviously people will learn from this too. That's why decided to take this one up.
Is your character similar to Sasural Genda Phool's Shaileja?
It's not similar. Shaileja was something else completely. This character has layers. She is a conventional mother, but doesn't deflect from the usual to fight anyone. Amrit Zoravar Shergill is an intelligent and sweet woman. She takes care of her family. There are several twists in the pipeline, which will give dimensions to her character in the future.
Was that your only reason for choosing this one?
Star Plus is like family to me. The channel has given me a lot and vice versa. In addition to that, I have worked with DJ's Creative Unit before with Radha Ki Betiyaan, so knew they wouldn't be offering me anything non-important. It was a logical decision.
What are your expectations with the show?
You never know how a story turns out. TRPs change the game drastically and one has to mould oneself accordingly. I hope the show does well, like all my other shows, but that's in the hands of the viewers. I have been lucky so far that most of my expectations have been met and I have been satisfied to a great extent. But in this medium one should keep low expectations. It depends on the viewers. If they do not like it, we don't get enough TRPs. And if the commercial aspect is not met, the show will obviously be pulled off. It's a business, after all.
You are very good with comedy. Any plans to come back to it?
Tu Tu Main Main came during the golden era of television. Things were very different and good then, but times have changed. While I would love to do a comedy show, I doubt I will get any such roles at this juncture of my life. In addition to that, nowadays the shows are not funny; it's the characters who come in, crack a joke and leave. There's not much potential in that. I miss comedy, so I use theatre to express that.
Does doing television satisfy you creatively?
Frankly, I change the medium according to my requirement. I do TV to connect with the audience. TV is a commercial reason. I want to be a working woman, want respect and whatever comes with it – for that, TV is best. I get creative satisfaction when I do theatre; I do Marathi movies to find a bigger appeal.
What about reality shows?
I did Nach Baliye, which was a unique concept. We really didn't know how to dance then. It was a task; the first four days I never let anyone see me dance, I was that conscious! I love expressing myself through dance, but I am not cut out for what people do today. No more dances for me… the effect of Nach Baliye still hasn't worn off.
Were you offered other shows in between?
I was approached for Welcome Baazi Mehmaan Nawaazi Ka. Fortunately, my house was under construction, so I couldn't take it up. But after watching the show, I am glad I didn't.
You took a long break after Sasural Genda Phool; what prompted you to come back?
Frankly, I worked very little during the golden period of TV 'coz my daughter Shriya was just a kid. Now she's grown up and is busy with her life, so I have all the time in the world. I try to keep myself busy with as much work as I can.
How was it working with Kanwaljit Singh?
He was a friend from before, so it was very comfortable working with him.
Any plans for a new Marathi film?
As soon as I get settled into the groove of this TV show I will find some free time to do a Marathi film. As for theatre, I usually do that in between two serials. Last year after Sasural… I did Time Pass – a dark comedy play with Bharat Jadhav. It was a beautiful play and I did about 150 shows.
Who is better in comedy: Sachin Pilgaonkar or Supriya?
He is my director. Whatever little I know about comedy, I learned from him. I have done everything under his guidance. Comedy is about the most difficult thing to do. He is obviously better than me!