Originally posted by MSmyworldMS
Originally posted by charmee_sammy
Originally posted by MSmyworldMS
Originally posted by charmee_sammy
This shirt of Arjun is like Mohit's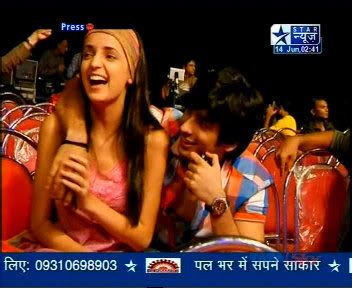 See Arhit's bhaiyo wala dostana kitna gehra hai
Sorry this was d 1st thought stricken.. after all relates Mohit
All the pics are cute... They must be having fun :P
So Nikki how do u feel abt ArNeha n their honeymoon?
First i was like ye shirt AB ne pehle kahi pehna hua hai ab pata chala AB ne nahi MS ne pehna tha but thoda difference tha
Correction charmee Bhaiyo wala dostana nahi hai asli wala dostana hai i pity on sanaya and neha
Nikki is feeling out of the world
Radhi sharam kar tu Mohit ka shirt bhi nahi pehchanti
Arhit ka dostana.. woh MJHT din yaad aa gaye...
Yaar don't talk abt it now.. bechara Arjun HM pe gaya hai, neha ne read kar liya toh raat ko desert n full course nahi milega arjun ko
out of d world nikki? itna sadma laga kya nikki ki duniya ke bahar hi chali gayi
haye re nikki ki kismat... usee hi Arneha ke HM pics post karne pade
dekh agar uska shirt kabhi utara hota to yaad rehta
Lol sach me unn dono ka mere ko dostana type rishta lagta hai personally or professionally bhi
Abt Neha wont give full course to AB no comments warna Nikki khush ho jayegi
Lol ye to trailer tha bey wo to puri FILAM post karne wali hai
behaving like a despo fan...shirt utara hota toh grrr
professionally bhi?
isiliye sochu ye Arhit baaki shows me zyada tikte kyu nahi hai
obviously dono ko ek dusre ke alawa aur koi comfortable nai lagta hoga ahem ahem
Nikki mann hi mann deset n full course ka menu padh hi chuki hogi... woh koi kum nahi hai
puri film post karegi??? woh black film hogi ya blue??
p.s- by blue i meant sawariya types... don'tt hink beyond it