Now, as we are about to celebrate 66 years of our Independence, we pay our tributes to all those people, who had laid down their lives in an attempt to liberate India from the clutches of British imperialism, specially our very own BAPU...i.e. Mahatma Gandhi
Great men and eminent men have monuments in bronze and marble set up for them, but this man of divine fire managed in his life-time to become enmeshed in millions and millions of hearts so that all of us became somewhat of the stuff that he was made of, though to an infinitely lesser degree. He spread out over India not in places only, or in select places, or in assemblies, but in every hamlet and heart of the lowly and those who suffer. He lives in the hearts of millions of and he will live for immortal ages.

In ages to come, centuries and many millenniums after us, people will think of this generation when this man of God trod the earth and will think of is who, however small, could also follow his path and probably tread on that holy ground where his feet had been. Let us be worthy of him. Let us always be so.
Aainak Pakde Laathi Pakde Chalte The Woh Shaan Se
Zaalim Kaanpe Thad Thad Thad Thad Sunkar Unka Naam Re
Kad Tha Unka Chhota Sa Aur Sarpat Unki Chaal Re
Duble Se Patle Se The Woh Chalte Seena Taan Ke
Bande Mein Tha Dam Vande Mataram ...
Bande Mein Tha Dam Vande Mataram ...
Vande Mataram...
The Dandi March...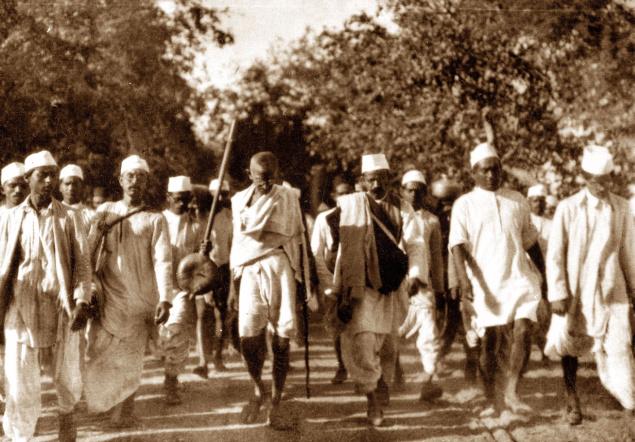 Satya and Non violence...
We love you Bapu...


Edited by aakriti18 - 15 August 2013 at 2:44am