@sonu-monu
ok my sonu-monu hear i am to answer ur ques

1 What is that one thing that you love to do? Why?

reading books,cause it always increases my imaginations.
now a days watching DDEJ and visiting IF.cause these two things cheers me up and makes my day.
2 If you could go on a dream holiday, where would it be?
well if in INDIA then any hill station in himalay.kashmir,simla,darjeeling,gangtok..anywhere.
in outside country i really wish someday i can visit EGYPT. pyramids and their mystery.the old hystery of egypt is always my fascination from childhood .so i wish to visit egypt once in my lifetime.
3 Who is the one person you hate in DDEJ forum ? :P

no one...i love all of them.
.but if a random person visit in our forum to make bashers post i don't like that person ever.
4. if you had one wish what would it be?

well not any spacial wish actually. but sometimes i wish if i can be the part of my fav childhood fairytells cinderella or beauty and the beast.in my childhood day i imagined myself as cinderella and belle..
5 whats the best day of your life?

when in my 7th standard in my school i came in between top ten list in our class and showed my result to my parents their glowing face made my day.
6 Is there something you would like to change about yourself?

well i think i am too mody,if i am not in the mode to do anything no one can make me do any work.thats i want to change in myself.
7 Which famous person would you like to be?

no one actually. i am happy what actually am i. i love myself as am i. like kareena kapoor said in jab we met, "main apni fav hoon"
8 If you could go back in time and change one thing you regret, what would it be?
well in my 12th standard my result was not as good as i expected. so i really wish sometime if i can syudy a bit more i can score a little more.so i wish to go back at that time and to study more harder for the result.
9 What qualities in anyone attract you most?
intelligence,understanding and honesty.
10
What's your favorite sports car?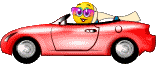 i am not at all interested in sportscar. i love my bycycle so much
.so not at all knowledge about sportscar thing.
11 your most fav food ?

i am not that much foody person.and not much choice about my foods. but i like home made simple food rather than reach,spicy foods. my mom's rice and fish currry is my most fav.but ocassionally i won't mind to taste pani puris.
..i also like south indian foods like dosha and idly. and has a keen weekness with dominos pizza..
12 What is your favorite childhood memory?


my 8th b'day. there was a huge party in my house wheere i get a bundles of books as gift.i love books.
13 Are you a negative or positive person?

i think each and every person has some ammount of positivity and negativity in nature,if u ask me..i think i am 90% positive and 10% negative.