Hello frnds!!! I am soumya...today is 67th INDEPENDENCE DAY of INDIA..so I am here to salute all those people who helped INDIA to get independent...i.e Gandhiji,rani Lakshmi bai,bhagat singh n many more..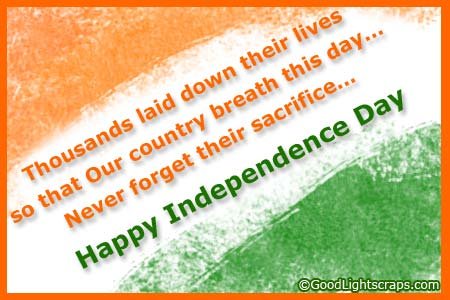 so I am wishing a HAPPY INDEPENDENCE DAY to all of u,...
n one more thing I want to say to my mom n dad..
"HAPPY MARRIAGE ANNIVERSARY" mumma papa..
may get all the happiness n luv u want n strength to cross the obstacles in ur life
(I know choti hu..pr I really want this wish to be fulfilled)
Luv U Mom n DAd..muahh!!!
P.S.-thanx for opening dis post..i jst want to salute those soldiers who r always there on borders to protect us..so that we can sleep in peace..


Edited by soumiluvztaarey - 14 August 2013 at 11:19pm