Starry nights in Kashmir as Bollywood casts its spell
Local boys excited about their role in Haider, Vishal Bhardwaj's adaptation of Shakespeare's Hamlet
Bismah Malik
tribune news service
Srinagar, November 18
Sameer (22), a Valley lad, is on a high these days. The young engineering student and an ardent Bollywood fan is rubbing shoulders with the likes of Shahid Kapoor and Shraddha Kapoor and getting acting tips from none other than maverick filmmaker Vishal Bhardwaj, who is camping in Kashmir for his latest project, Haider.
After creating Maqbool from Macbeth and Omkara from Othello, Haider is the last of the director's trilogy based on Shakespearean tragedies. An Indian adaptation of the Bard's revenge tale Hamlet, Haider will be set in Kashmir.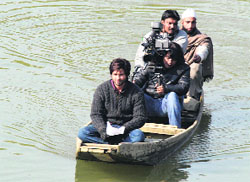 Shahid Kapoor during the shoot of Haider in Srinagar. Tribune photo
The first leg of the shoot is on and like Sameer many youngsters have been roped in by the film unit for small roles. Sameer, who is being paid Rs 900 per day for his role, says he is having the time of his life hanging out with big actors. "It's a dream come true. I had never imagined that one day I would be acting in a Vishal Bhardwaj's film," says Sameer, who doesn't have any acting background.
Sources said it is for the first time that more than 50 locals would be a part of a Bollywood film. Bhardwaj has reportedly been quoted saying, "Every character is Kashmiri in my film. It is the story of the people of Kashmir." The director, it is learnt, is personally training the local actors, who were picked after auditions conducted in various colleges and schools across the Valley in August this year.
Shahid, say sources, is playing the lead protagonist, while Shraddha Kapoor will be seen in a role of local journalist in the movie. Tabu would also be seen in a key role.
Line producer, Khawar Jamsheed, who is part of the local crew of the film, said: "Haider is going to be all about Kashmir. Perhaps for the first time, we will have such a huge supporting cast from the Valley. You will see a number of local boys in the movie. 13-year-old Ainain from South Kashmir has already bagged a a major role in the film." The actors are receiving hearty welcome wherever they are going. "The shoot has taken place in various locations, including Srinagar's boulevard, Sonamarg and Pahalgam. The next leg of shoot will happen in Jan-Feb," said Khawar.