Once Upon A Time in Mumbaai Dobara movie review
[ Updated 14 Aug 2013, 15:22:42 ]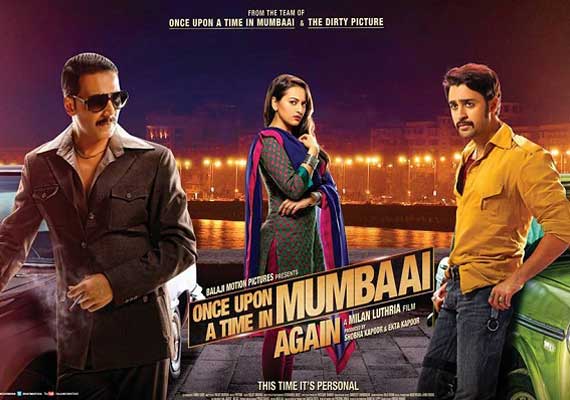 PRINT
FONT SIZE
'Agar main hero ban gaya to meri pehchan bura maan jayegi! Shoaib's line to never betray his own identity might have a deeper meaning but for many it left their head's tickling.
There are other such one-liner dialogues that compliment the 80's era where gangsters used to be filmy. Their shades never used to ditch them and formal suits used to be the dress code. What Milan Luthria expected was that the dialogues and portrayal of the similar era will be welcomed by its viewers.
With Akshay Kumar, who isn't a Khiladi anymore but is a 'complete game' as he says in the film, is worth watching. Everything in the movie is more or less a show off and minimal attention is paid to criminal activities.
Like its prequel, the director has brought in the narration which portrays his inspiration from the 80s era. He wants his characters to be filmy; he wants his actors to overact and to 'maro lot of ishtyle'. But that doesn't go overboard. Akki isn't a hard core villain in the flick as Luthria hasn't narrated his character as such. Akki is gentle and womanizer like he was in his last negative act in Ajnabee.

He plays a flirtiest Shoiab who walked over Mirza to rein over the underworld. He loves to be evil and never expects wise things from himself. But his power is stalked over by his foes namely Vardha and Varun who want to destroy his existence. But it isn't a cakewalk as Shoaib's resourceful companion Javed is with him, looking after his business.

Shoaib also has a friend named Aslam (Imran Khan), whom he picked during a visit in slums where he used to live earlier. But sooner their friendship takes an ugly shape when a beautiful emerging starlet Jasmine (Sonakshi Sinha) enters their life. So, now it's personal in 'Once upon A time in Mumbaai Dobara'.

The screen play is predictable though, but that is not a concern. Love-triangle concept isn't new in Bollywood, but how Luthria deals with it is what kept at the core.

Thanks to the cinematographer Ayananka Bose, Luthria has paid keen attention to the ambience of the 80's, be it cars, the cabaret and other settings. Director brings out of the captivating filmy appeal through his artists, though partial, but ascends to the required expectation.

Akshay Kumar despite playing a villain turns out to be the real hero of the flick. He charms you as a gentle stalker and you solemn when he is serious. After 12 years since Ajnabee, the actor has done a brilliant comeback in a negative role.