Megha decides to leave chawl as she want RJ to away from all. Ruku's father tells her that he is working under them since last one year and Vasu is good at heart also can help her if she resolves her issues with Vasu on which Megha refueses. Ruku orders Megha to come and meet Aai. As Megha says no, two goons come inside and forcefully brings her downstair. Meanwhile Ruku locks RJ inside bedroom. One of the goons grab Mohan's sketch from Megha's hand and tears it into pieces. An upset Megha sees Vasu arriving while picking up d pieces, goes n slaps Vasu in anger. Vasu controls himself and let her go. Later he collects the pieces and sees eyes and his ganpati locket drawn on it. Megha decides to meet Aai after soothing a crying RJ, on the other hand Aai is all angry on Megha, but Vasu tells her that it wasn't Megha who called police.
Megha comes to seek apology from Aai and Vasu and Aai forgives her but says that she has to bring her daughter here only then will it be full justice and Megha looses her cool at this and Aai reminds her as to how no one in the chawl can dare to speak like that with her. As things get worse Vasu drags Megha outside & RJ is there and is overwhelmed to see her papu and hugs Vasu who looks all angry and leaves and later on as RJ insists on meeting Vasu again as he is her papu but Megha explains to her that he isnt but is her papu's look alike. Aai and Ruku question Vasu abt saving Megha and ask whether he is in Love with her?
In room Vasu arranges the pieces and wonders why RJ called him papu. Megha-RJ wait a long for bus/auto at a bus-stand as it rains heavily. Ruku sends her father to return Megha's deposit. Vasu met him and take the money with him, goes in search for Megha-RJ. He met them and seeing RJ's contidition brings her to his home, Megha follows him. Aai gets angry seeing Megha there.
Aai is all angry as its first time Vasu is going against her, she doesn't allow Megha inside, while Vasu takes RJ to room. Ruku comes to see Mohan-Megha pic as Megha drops her wallet by mistake. She does some try here n there to question further abt it, but all goes in drain. In room Vasu takes care of RJ, Megha watches them from window. Vasu mixes raw ingredients with brandy
, Megha in shock/surprise. Vasu brings hot tea as Megha was sitting outside all night that too wet, he questions her abt that sketch wala guy being his lookalike! Megha tells him about Mohan's goodness-kindness. Vasu says that he knows his face troubles Megha sometime, so he picks up a brick and suggests to ruin his face himself, Megha stops him.
Vasu tells Megha that he would help her with whatever she came to Mumbai for. Megha asks for RJ and Vasu says yes she will be back to her once she gets cure. RJ wakes up and Vasu comes inside, She adresses him as Papu. Aai is still angry, Vasu takes RJ out to Megha and Bala-Ruku-Ruku's father folloelws them. RJ hugs Megha, and asks Vasu to come with her. Vasu comes forward confused n both walks, Megha asks where they r going? RJ replies home. Ruku is suspicious over Vasu-Megha past affair. In home, Vasu puts a asleep RJ to bed, Megha takes care of her, Vasu starts leaving threating Ruku's mothwmer not to trouble Megha in anyway. Megha comes outside to say thank you to Vasu. Downstair Ruku directly confronts Vasu about his relation with Megha, Vasu disagrees and leaves. Ruku vows not to let come Megha come in between her n Vasu's.

People out there might disagree when I say these scenes were romantic (even I will not call it R-scenes
). But there were really cute scenes between MeSu.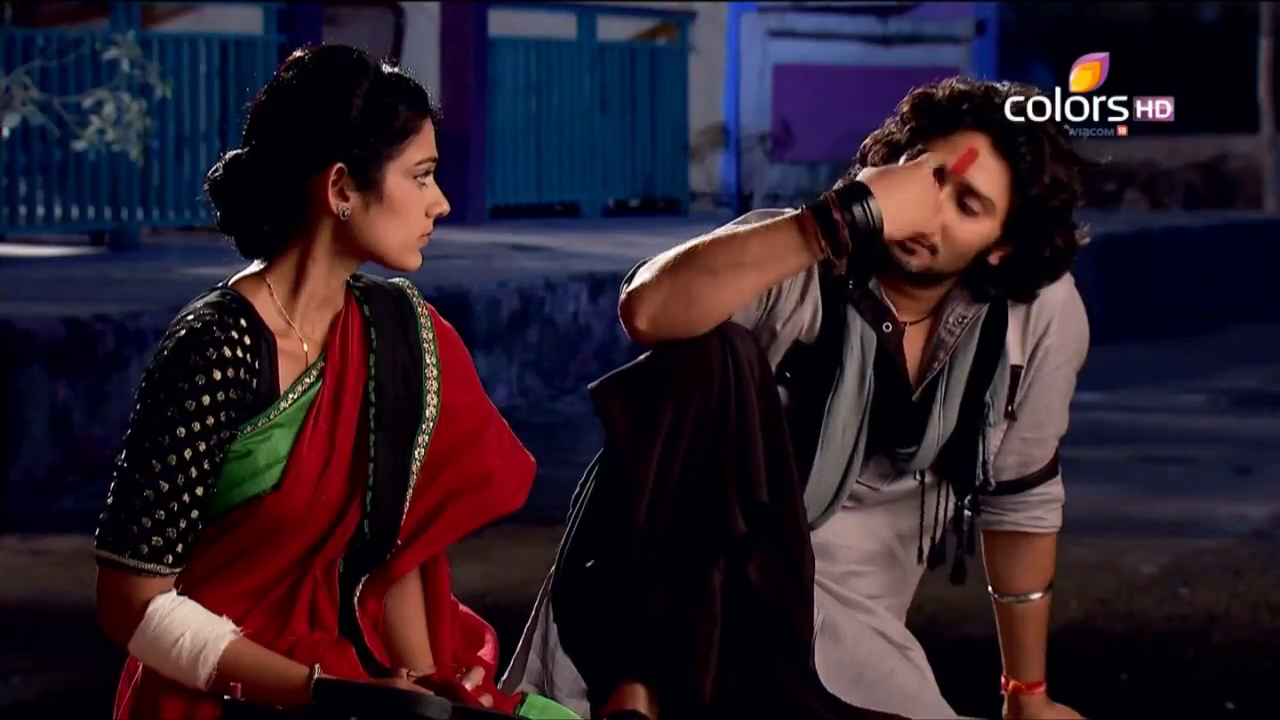 One was this coffee scene, where Vasu comes to Megha and their little conversation about Mohan.
The second one was the "thank you" scene, where Megha says thank you to Vasu, for helping them, and Vasu gets surprised and says: "Kya Bhola?" and smiles. Beyond CUTE

Vasu arranges the sketch and is shocked seeing his picture.Vasu walking thinks it's not his picture but pic of Rimjhim's paapu
.

This picture says everything
. The way Vasu took care of Rimjhim was unique, but it's funny to watch this specific scene between these two cuties.

The big question mark is whether Vasu is Mohan or he isn't. But it was so sweet to see Vasu taking care of Rimjhim, eventhough he has the reputation for not liking children.

The sketches of Mohan opened floodgate of memories, which otherwise were stashed safely somewhere in one corner of her heart. Her confession to Mohan the first time, the wedding and their good times together laced through her mind bringing a gush of tears as they unashamedly flowed down her cheeks. Interlaced with flashes of Mohan were images of Vasu so similar in appearance yet poles apart in behavior. One an epitome of love and selfless generosity, the other a jerk who does not as much blink an eyelid breaking bones. Megha was caught in a whirlpool of emotions, how could two people poles apart look so similar. Who was this man who looked so much like Mohan yet brought about a revulsion by his arrogance and inhuman behavior. Oscillating between emotions extreme, she hugged her knees and let tears wash away her solitude.
This has to be the sad scene of the week. One could do little to hide those unshed tears watching Megha's turmoil.