Shweta has a past life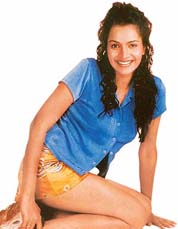 Shweta Kwatra, Pallavi of Kahani ghar ghar ki fame shares her own mystical experience. She was a very early learner and could speak broken sentences even before she was one year old. " Once when my mom was putting me to sleep, I was being very difficult, so she slapped me.
At that point I told her that if she scolded me again then I will go to Bombay where I have a bunglow there and that I live there with my father, two elder brothers and Dadi" My mother was shocked to hear this but dismissed it thinking it to be another imagination. "
What really disturbed her mother was when Shweta related the circumstances of her death. " We were crossing over from Madh island to mainland in a ferry. The boat man had warned my father of rough season and high tide but we still went. The next thing I remember was that the boat capsized and we all drowned. I was 10 years old then."