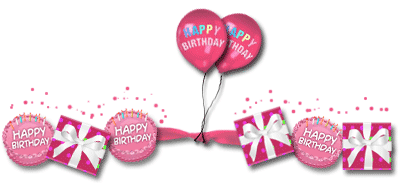 Hello everybody let me grab a handful of minutes of your attention.
Really very glad to have you all here ..Thank you so much for being here and creating a joyous environment.


Oh! By the way, I hope you all know the reason for this occasion'
What? You don't? Really?


Well' okay, no worries, guess I am appointed for this reason itself.
Okay so lemme tell you ..Guys that today is a very special day
, because, this is the day when my friend cried for the first time.
xP Oh! M sorry for the confusions I am arising here!
Let me be precise
, Today is her Birthday!!!
Na hukm se na chidi se,
Na adam ki peedi se,
iski kahaani shuroo hoti hain,
27th july se!
Yes, I'm talking about none other than our very dear friend, MISHA!!
Laddoo jitna meetha, Imli jitni khatta, Karela, Uhmm..Over ho raha hain!
M maginificent
I incredible
S smart
H honest
A awesome
We are very glad to be here today and to see Misha celebrate her birthday surrounded by lovely cyber friends.
We have known Misha for almost one years now, thanks to India Forums. It has been a pleasure to know her, chat with her, interact with her and spam with her.
Since the time we have met Misha has not changed a single bit, still full of life, always cheerful, full of energy, bubbly, making other laugh, bringing news related to the one and only person who connected us good friends together, how can we forget and not give any credits to the beautiful Drashti Dhami..!!
We have always wondered how she manages to come online whilst at work and chat so much, and on top of that make beautiful gifs!! It's surprising how she manages to have fun yet always get her work done in time, and never gives her boss a chance to complain. Forget complains, ever since we have known her, she has been getting pay rise and promotions. She has become very experienced in this field and it will not be wrong if we name her an undercover IF fanatic!!
I don't think there is anyone like Misha, who can come up with titles for the AT's. She is always ready to help others and solves queries.
Bus hain?? Hogaya?? Ab maarne ki dhamki degi tho bhi isse zyaada tareef mujhse nahi ho paayega!
But jo bhi ho, you know we love you and will love you the rest of our lives. Because you're somebody we found late, but plan to keep with us for eternity! :D May all the happiness of this world be at your feet! :))
Mish, you are an amazing person, and on your birthday we would like to wish you unlimited happiness and success in life. May your boss give you promotion after promotion!! It's been an honour knowing you, and we are very grateful having a trusted friend like you in our lives.
Happy Birthday Misha.