The name is Suhasi
'Live and let live' because when you experience so many phases, its then you realize what life is. According to me don't think about tomorrow, live today to the fullest.'- Suhasi Dhami
"She has a very adorable smile'
"She's a beautiful person"
"She is hot"
"She's a fabulous dancer"
"She is a versatile actress"
"She is such a sweetheart"
Above are some of the things that people have to say about Suhasi.


The Queen of Smiles
Smile Suhasi,
Smile you land of finesse,
Smile for your shining beauty,
Smile and keep on smiling.

Smile you land of waters
Smile and show your happy tears
Smile, for nothing have you to fear
Smile and your echoes shall reach far.

Smile for the cuteness of your culture,
Smile and let your silent smile Speak volumes,
Smile for the entire world to envy you.

When hailstorms start falling
And trees and waters turn stiff white
Smile, smile until the winter
Pause you smiling.


Born on April 28th as Suhasi Goradia, Suhasi Dhami is a beautiful talented actress. Her mother, Lata Goradia is also a well known theatre artist and Suhasi was use to attend her mother's stage shows in her childhood days.
(From Left : Suhasi Dhami and Jaisheel Dhami)
Suhasi is a trained classical dancer as well as singer. She has even performed 'Bharatnatyam' dance form on stage. With having ambition of making it big someday, She finally made her portfolio and came to Mumbai. She got a chance to act in the Star Plus daily soap titled Antariksha and she started off her acting career on small screen. The show did well among the audience and her performance in the serial was also greatly appreciated by the people. Suhasi then went on to do another serial titled Ek Chabi Hai Pados Mein which aired on Star Plus. The show went on to become a big hit among the audiences.
Besides doing serials, She also did several ad films too for several brands. However Suhasi became a household name after her she was signed up to worked in the TV serial Yahan Main Ghar Ghar Kheli under the banner of Rajshri Productions, which was telecast on Zee TV. The show became a hit and got success. Suhasi also has a sense of humour which she often shares with her on screen Karan V Grover and she also appeared in the comedy series Kahani Comedy Circus Ki on Sony TV.
Post the end of Yahan Main Ghar Ghar Kheli, Suhasi Dhami had also done many shows in places like South Africa and Guyana with her YMGGK co-star Karan V Grover and they have had huge crowd for them.
Suhasi was also part of the Sunday's India Day Parade that took place in New Jersey where Suhasi was the grand marshal of the event. Her presence at the event certainly made all the people there happy as she has huge fan base in New Jersey too thanks to her YMGGK serial.
Just when everyone was waiting for Suhasi's return to the tellyscreen, she returned back on Zee TV with her new serial titled 'Aaj Ki Housewife Hai, Sab Jaanti Hai' taking the title character of Sona where she plays a journalist who turns housewife post her marriage to Kanhaiya (Annirudh Dave) to set things right in the house.
Suhasi have never really discussed about her personal life before. But Suhasi recently participated in the reality dance show Nach Baliye with her husband Jaisheel Dhami who is her long time love Jaysheel Dhami who is an IT Engineer by profession and he also happens to be the brother of popular actress Drasti Dhami who is Suhasi's sister in law.
Upon her marriage to Jaysheel, she took the surname of Dhami to whom we all now know her as Suhasi Dhami. Through the show, we got to see Suhasi's relationship with her husband up and close making many love them together as a couple.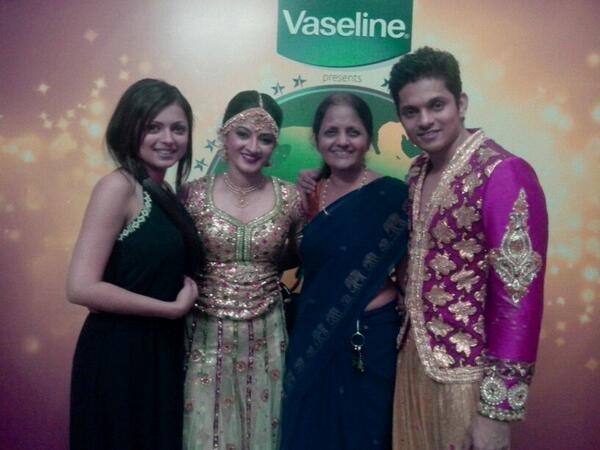 Suhasi Dhami and Drashti Dhami are sister in laws where Drashti Dhami is a popular Indian Television actress from the serial Madhubala. Suhasi and Drashti share a cute relationship of sisters then strange relationship that mostly the sister in laws share. They both are childhood friends and now they are relatives as Suhasi got married to Drahti's brother Jaysheel.