Tanvi.narula

*********************************************
Ugta hua suraj dua de Aapko
Ugta hua suraj dua de Aapko
Khilta hua Phool khushbu de Aapko
Hum to kuch dene ke kaabil nahi hai
Dene waala hazaar Khushiyaan de Aapko
****************************************
Wishing you a very HAPPY BIRTHDAY Rajat
May ur birthday b fullfilled with lots of happiness n joy.. May ur year ahead n the cuming ones b the harbinger of happiness n success of yours..
::::::::::::::::::::::::::::::::::::::::::::::::::

disha15

Seven years ago,when i was just 13 years old,one particular friday,my dad spoke very highly about one particular historic show.History had always fascinated me,so i decided to give this show a try.i had seen the promos myself and the title track had given me goosebumps.So i watched it,5 minutes my friend!my five minutes.thats all it took to get me hooked onto this show.
Prithviraj Chauhan
The greatest show ever made!Period.
few weeks passed and thsi show grew on me,with each passing second.But then,there was more.SOmething BIG happened on the show and it changed my life forever.
It was Rajat's entry episode.A small boy of around 14 years old doing unimaginable things for someone his age!I was blown over.COMPLETELY.
Yes.Rajat was my very first crush
PRC then became something beyond just a show.I connected with it.When he cried,i cried.When he smiled,i smiled.Didn't miss a single episode!Not even the repeats!
PRC was such BIg thing.its all we spoke about.Even in school!
And Rajat's last episode in PRC,was like the biggest shocker ever.I cried like someone died that day . literally
Im pretty sure i speak for every other prc-ian.We can never get over PRC.that show was magical!And Rajat was spectacular on that show!
he was back again with DharamVeer and that show!My god,i can never forget his bhaari bharkam entry in DV
Even in tere liye,he was so good!
And now Jalal
isssh mera cute sa Rajat itna bada ho gaya hai,kya body banaayi hai yaar
Its been seven long years,but I still have that soft corner for this guy.
Everyone who knows me,KNOWS that i love you *blush*
Your down to earth nature,the love you have for your mom,the dedication you have towards your work!
*BOWS DOWN*
You are an ideal man Mr.Tokas!
Wish you a very very happy birthday Rajat!
May you be gifted with even more success!
All Rians want to see you happy and we hope all you dreams come true!
We will always love you!
p.s : please marry me Mr.tokas


princesspriyart

Ye 'CHANDI' wala naam tumara
or
is naam ka roshan tara
hoto pe kuch aise khilta
h
chand chupke se kali raat me jaise
badal k kone se bahar jhakta h
or
sare bujhe manzaro me
nern roshni se bher deta h
jo TV pe humne dekha h
ye hunr (skill) tumara, kamal (acting) tumara
ek khushbu bn k mehka h
or
sare jag me phla h
ye hunr tumara, kamal tumara
jaadoo bn k chaya h
ye hunr tumara, kamal tumara
or
us pe siva tumara ye
sundar, maasoom sa chera h
tume dekhti h jb aakhe to
herat me dub si jati h
tume dekti h jb aakhe to
herat me dub si jati h
haaa
tume dekhti h
jb VEER bne
himmat or dosti ki tasveer bne
kudte phandte diwaro ko
kbhi lhrate hue talwaro ko
ya fir PRITHVI MAHARAJ Bne
kisi gumnaam si chinta k jaadoo me
kbhi ghode ki peeth pe sina tane
kbhi meethi si khwahish k phlu me
kbhi dusman se yudh ladte hue
kbi apno ki khatir hr had se bdte hue
dekhti h jb aakhe ye sb
to saase ruk si jati h
khatro se khelte hue shooting pe
jb chot tume koi lgti h
tumare chahne walo k
dil dr jate h
ghabra kr
apne sare kam bhula kr
mandir jakr, masjid jakr
sb hath dua me uthte h
tum sochte ho or khte ho
"ye shohrat bi jaise ek musibt h, khud se milne ki bhi nhi fursat h"
RAJAT TOKAS, tumne kiya kbhi jana h???
Ye sb aakhe, hath or dil
jo hr pal
tumare liye dua me dhal jate h
jinko tum na jante ho na phchante ho
ye tumse kuch nhi magte h
khud ka jivan,
apne pal khushiyu k
naam tumare krte h
tumare liye hi sochte h tumari bate krte h
tumare liye 'forums' 'facebook' pe
apas me ldte h or dosti krte h
bhut sa pyar,
dhero duae
tumko dete h
or dete
or dete hi jaate h...
Or
bs itna chahte h
ye 'CHANDI' jaisa naam tumara
or
is sundar naam ka roshan tara
yuhi hmesa khilta rhe
saaso me mehkta rhe
aakho me jagmagata rhe
chandi jaise naam ka
ye bahadur ldka
ye janamdin or aise hazaro janamdin
khusiyo se
yuhi manata rhe
aise aage hi aage bdte rhe
jetta rhe or jetta rhe
sachi hashi hamesa hsta rhe !!!!!!!
Suno RAJAT TOKAS
hum tumse khna chahte h
suno RAJAT TOKAS
hum tumse khna chahte h
" HAPPY BIRTHDAY TO YOU "


Amor.(Khushi)

"Great accomplishments require great people. We know you have many more accomplishments to covet and achieve! Wishing you all the very best. Happy Birthday Brother.
Luv U Rajat"


loveagni

Happy birthday Rajat...may u achieve all success in ur life...god bless u...love u my Prithvi my Akbar!!!

--ARIA--

I just love Rajat!
Happy Birthday Rajat! May your fhappiness increase day by day!

munnirony

happy birthday rajat bro. plz keep smiling. i always want to see u happy & smiling. always remember gud times or bad times, true fans of rajat tokas will always be there for u.

jyotimeena

happy bday my RT!

Desichiqneez

Many Many Returns of da dayyy Munda Kukkaddd Kamal Da...!!!!

Shree.Nanda

.
On your birthday,
I'm thinking about how much light and sparkle
you freely dispense wherever you go,
how your sunny smile lights up any gathering.
Every birthday marks another year
of you radiating positive, happy energy,
contagious happiness
that infects all who come in contact with you.
On your birthday, may you experience joy
On your birthday, may you experience love
On your birthday, may all your dreams come true
On your birthday, may all your desires be filled
As you wish upon a star, your life be starlight
As you wish upon a star, your life be star-bright
VERY HAPPY BIRTHDAY RAJAT.
Shree

-Khush-

Kyunki Tum hi ho ...
Bas Tum hi ho ...
Meri Aashiqui ab Tum hi ho !
Happy Birthday Rajat !
I love you ...
( I know if u read this you shall blush too like u always do
)
You are truly my heart throb since PRC days and till date ! Lovin you as much as Akbar as I did prithviraj veer and Robindo !
Have a very sooper trooper frooper amazing day and year ahead with loads of success, health, wealth and happiness !
you truly make the world shine with your smile and naughtiness ! Smile more and live more !
Ok enough Gyaan and love , wish u happy birthday again !

SilverFairy

Happy Birthday Rajat. (:
Love You As Veer.
Dharmaveer Was A Very Good Series.

nellyverma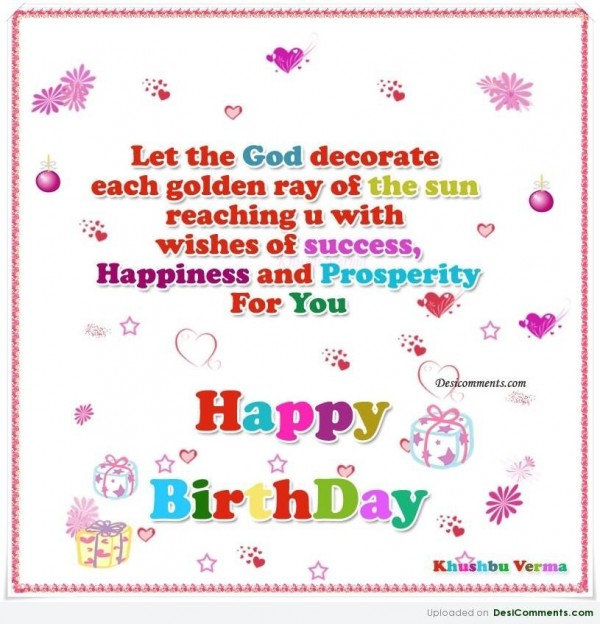 Ash.TanHa21

Happy Birthday Rajat Tokas! You' r phenomenal as an actor and no one could have played the role of Akbar better than you.. Be it Prithvi Raj Chauhan or Jodha Akbar, you are unbeatable! Proud to be your fan. Enjoy loads on this beautiful day and stay blessed!
-Ash




-Amanat-


Happy walla b'day Rajat.
God bless you.

Loved your performance as Prithvi. Keep entertaining us with your brilliant acting!

neha333

Many many happy returns of the day rajat
may u get all that u wish and all your dreams come true...have a blst and a rocking and blessed future ahead
A SMILE on ur FACE
A Spring in ur STEP
A SONG in ur HEART
Joys 2 hold Dear
Loved ones 2 hold near
Moments 2 cherish
all through D year
H :) B DAY

--Jenelle--

Happy Happy Birthday Rajat. Do have an awesome day filled loads of fun. May God's Blessings be with you always. Have a rocking year ahead.
Love you lots.