here you go...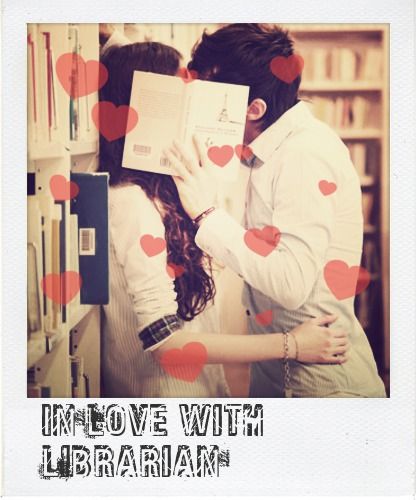 Picture Credit: Google
Editing: Me:D
Arnav Singh Raizada was the most desirable male in the campus. He was smart, sexy and suave. Girls loved him, wanted to be with him. And boys envied him. He was second year engineering student, who abhorred engineering and books. He was here just for his mother, who wanted his son to be a successful engineer some day. But he never knew that these books would change his life drastically some day.
Chaitanya: Oye Arnav, we have end semesters from 8th October, don't you think we should go to the library and get some books.
Arnav: WHAT?? We just had our end semesters??
Chaitanya: Yup, that was 3th sem, remember we are in 4th semester!!!
Arnav: What the...Fine lets go
Chaitanya: You are going, not me. Its your turn, even semester
And that is how Arnav went to the University Library, the place he detested. According to him these places were for nerds and he was too cool to be there. He hated librarian, Mrs. Samuels, the most. She was grouchy and Arnav avoided her. He entered the library and went to the mechanical engineering section ignoring questioning stares of the students present there, who were surprised seeing the mighty ASR in the library.
Arnav got all the books. He was ready to go to issue counter but then he hit his leg somewhere and dropped all the books.
Arnav: WHAT THE F...
Shhh...You can't speak that loud, it's a library came a melodious voice from somewhere
He turned around and saw a beautiful girl standing with scandalous look on her face. The beauty standing in front of him mesmerized him. A small smile adorned his face. Her button nose, tiny waist, slender legs, luscious lips and then he noticed her almond shaped eyes and time stopped for him. He never saw someone so beautiful and attractive. This trance was broken when the girl went away from him.
Who is she? Asked Arnav from the guy standing near him
She is kinda assistant librarian. She is helping Mrs. Samuels. Came the reply
And then his not so good opinions regarding librarians changed. She was breathtaking and Arnav so wanted to talk to her. And then an idea stuck in his mhead. He hid one of the books somewhere in the shelf and went to that beautiful female for help.
Excuse me
Yes
Can you help me finding a book, Thomas Bevan's Theory of Machines?
Sure
The girl searched for the book and handed it to him
Thank you so much. I was searching for this book from days.
The girl smiled and opened her mouth to speak something but Mrs. Samuels called her
Khushi, come here child.
And she went away just like that. Arnav was happy, at least he knew her name now. Khushi, joy, his happiness, his Gorgeous gal. He was not able to comprehend what exactly that feeling was? Love at the first sight or mere attraction. Whatever it was, he was going to explore those alien feelings.
Chaitnya was shocked; he was not able to understand what was happening. He just knew that due to some random girl he would never had to go to the soporific library.
Chaitanya: Dude, You mean no library, never.
Arnav: Chatty, Do I have to write on a stamp paper for you?
And then arnav saw his Gorgeous Gal going towards the exist of the university campus alone. He did not want to let go this chance of talking to her.
Hey, remember? Its me from the library, machine design.
Yes, I do remember, said the girl walking away from him
Arnav too started walking and followed her.
I am Arnav Singh Raizada, second year engineering student. You are Khushi right?
The girl did not reply and just went away. But Arnav was adamant and he decided not to leave without making her talk. He stopped her again.
Why are you running away? Main tumhe kha thodi na jaunga
Just stay away from me or else it would not be good for you. Samjhe ap?
And she went away. Arnav stood there, with his hands stuffed in his pocket and a sweet smile plastered on his face.
Hey, gorgeous. Whats up? Missed me?
What are you doing here?
What do people do in library? Asked smirking Arnav
What do you want?
You. I mean Machine drawing by Ajeet Singh, I cannot find it anywhere.
It is over there, I can see it from here. Said Khushi pointing towards the shelf behind him.
See, how miserable I can get without you. Kuch samajh hi nahi ata.
You are impossible. Khushi went away saying that, leaving a smiling Arnav behind.
From that day Arnav used to follow her everywhere she went and even took chatty with him. He noticed all the minute details about her. The way she bit her nails when she is nervous, the way she laughs when somebody cracks a joke, the way she blushes when somebody says something regarding him. In other words he fell madly and irrevocably in love with his Gorgeous Gal.
Hi, you where were you from past five day? I missed you gorgeous. Asked Arnav
First of all stop calling me that okay? And secondly it is none of your business where was I? Just go away.
Come on Gorgeous it has been one complete year and you still ask me to go away when you know I am not going anywhere. Chuckled Arnav.
How many times do I have to tell you to stay away from me? Can't you understand that? Just leave me alone. Said Khushi who was in tears now and ran away clutching her bag to her chest.
Arnav was baffled. Khushi did get rude sometimes but she never behaved in such a way. In this one year, he was pretty much sure that Khushi too liked him somewhere but refused to acknowledge those feelings for him. He knew something was wrong, very wrong. He followed her and got into the metro.
Khushi, just tell me what is bothering you gorgeous? Somebody said something to you? Tell me I wont leave that b*****d.
I am getting married, next month and going to US.
And then Arnav Singh Raizada noticed a beautiful diamond ring that adorned his Khushi's finger.
It was eighth semester, time for finals. Finally Arnav would be Er. Arnav Singh Raizada, mechanical engineer. But something was missing, he wasn't the Arnav Chatty knew. Chatty did whatever he could to bring old Arnav back.
Chaitanya: I am going to the library; we need to get the xerox of notes too.
Arnav: I will go, its even semester.
Arnav, its okay, I said I will go. Waise bhi last sem hai, it does not matter.
Chatty, you want me to be fine right? So let me face it.
Arnav felt nostalgic entering the building of library. He missed it, he missed those books and he missed Khushi awfully, his gorgeous gal. He found every book except for the one.
Automation in production, where the hell is this book. Muttered Arnav
You really get miserable without me. Don't you? Came the same melodious voice he heard at the same place 2 years back.
He turned around and saw her, his Khushi, smiling broadly. He thought he was hallucinating. Of course he was, how could she be here, she got married and left the city 6 months back.
I knew it, you forgot your gorgeous girl. Don't you?
What the...
Shhh Arnav it is a library.
Khushi
Amma and Babuji bohot naraz the humse, par humne mana liya aur buaji ne to ghar se nikalne ka soch liya tha, aur ap hain ki hume dekhe hi ja rahe hain!!!
(English translation: Amma and Babuji were very angry on me, but I pacified them and Buaji even thought of abandoning me. And you staring at me)
Arnav was surprised listening to all her words. He thought he was dreaming, but then she said something and he knew that life gave him a second chance.
I love you Arnav
You did not get married?
What the hell is wrong with you? I just now confessed my feelings for you and you are asking me this. Said flabbergasted Khushi.
I love you too gorgeous. Chuckled Arnav
You have no idea how long I waited for you to come, complete six months. You didn't even visit this place once. Complained Khushi
I didn't know i would get you back here. I thought you g...
Shut up and kiss me now
Desperate, are we?
With that Arnav leant towards her and pressed his lips against her
NOTE: I have no Idea about mechanical engineering, I belong to electronics and telecommunication department I just looked into the syllabus of my college and picked few subjects that sounded good
Secondly, if you have read anything like this before do pm me, as far as I am concerned I have never come across any story like this. If there is any resemblance, then it is purely a coincidence, but do tell me, as I m not here to hurt any one's feelings. I too hate plagiarism like you all.