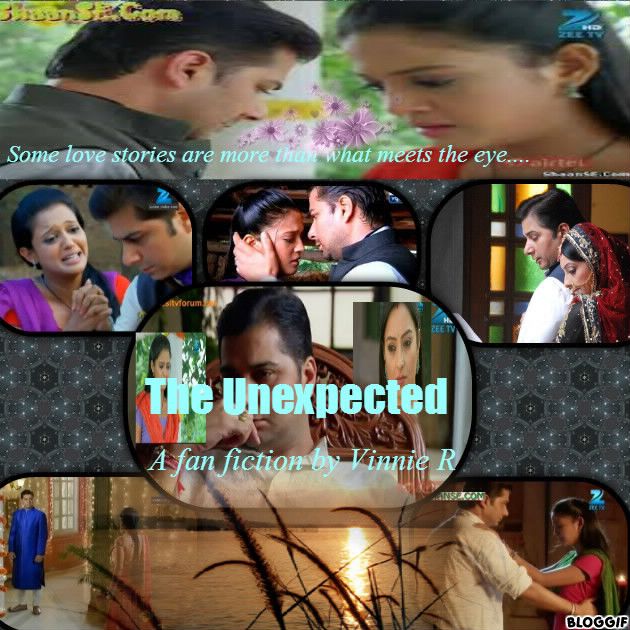 Chapter 5
Vickram walked out of Dr. Suman's hospital office, disappointed at not being able to see her for his appointment today. He was told due to some unexpected emergency she had to rush off and that he had to make another appointment. He decided he would call her later and find a better time to meet.
He wanted to know how soon he could start the get the ball rolling on his divorce proceedings, now that he decided that is what he wanted he did not want to wait too long. He also wanted this to be as easy as possible for Reva. He did not want her suffering any undue stress or setbacks because of this. Dr. Suman had asked for a few months, he was willing to wait, but he had a few questions.
Ever since his declaration 2 weeks ago, Reva was acting different...quite, calm. Even go far enough to start cooking again something she had not done so far back even he could not remember. She said it relaxed her. Even Neeranjan and his mother backed off with their remarks, although his mother was starting to make noise about children and grandchildren he did his best to ignore.
Vickram was pulled out of his musings when as he walked out the hall and over herd the conversation of the two people in front of him.
"Did anyone get in contact with any of Gulabiya's brothers?" the doctor asked the nurse
"No Doctor…I am worried it is almost lunch time and Sugni still has not moved, when we tried to talk to her she just keeps saying her mother will wake up..it's like she dose not want to accept it" The nurse said sadly.
Sugni? Gulabiya? What was going on Vickram wondered.
"Excuse me Doctor?" he said , they both stopped and turned to him. "Sorry I could not help over hear your conversation. Is Gulabiya back in the hospital?" He asked .
"And you are?" the Doctor asked looking at him.
"Oh Sorry Vickram …Vickram Singh a friend of the family."
"OK..Sorry but Gulabiya died earlier this morning due to heart failure…we tried our best but…" He shook shook his head sadly. "Her daughter Sugni has been her since last night, and she did not take the news well, she dose not want to believe her mother is gone, she is sitting in the waiting room insisting we come back here and help her mother."
"Oh my God!" Vickram said shocked.
"And where are her uncles?" he asked.
"No one showed up since last night, for a few minutes. She seems all alone…they should be here at a time like this, we were hoping some one would turn up to visit …but no one is here yet and it is almost lunch time!..If…you could probably talk to her…she can't stay here and arrangements need to be made." The Doctor said sympathetically.
"Yes..yes I will..Please can you arrange for the bills and I will clear it and whatever else needs to be done. Thank you doctor."
The nurse who had left while they were talking came back with a small bundle she was carrying as she told him it was Gulabiys belongings she had with her upon admittance.. She showed Vickram to the waiting room. "it is so sad, to be alone at a time like this she seems so lost." The nurse commented.
Vickram could only imagine what she must be going through . As he entered the little waiting room, he spotted Sugni sitting in the corner of the waiting room on a chair, her arms wrapped around her middle. She did look lost.
He walked up to her and touched her shoulder, alerting her to his presence. She looked up at him. As she smiled slightly . "Thakur Mallick , Maa is in the hospital…they are working on her…but I don't understand what they are saying…can you talk to them please.." she pleaded, ,eye eyes filling with tears.
"I will…but Sugni I need you to come with me…I'll take you home."
"Home? No no I can't go home Maa is in there…she needs me…I have to stay until they fix her." She said. Vickram closed his eyes, her words and heart broken expression tugging at him. This poor girl.
"Ok we won't leave…but can you come out side with me…it might be easier to talk …please."
She stood up and followed him outside. He walked towards his jeep , where he asked her to sit. She did. He sat next to her, as he turned to look at her. She was watching the hospital doors. He knew she was trying hard to convince her self, but she was failing.
"Sugni…your mother passed.." He began

"Maa is going to be ok…she is just a little sick…look I should be back there…" She said, cutting him off.
"Sugni…look at me." He said sternly. She did not. Taking the little bundle that was her mothers belongings he placed it on her lap quietly, she looked down at the bundle as if in shock.
"I am sorry Sugni…she is gone." Silently she shook her head a tears ran out of her eyes.
"Sugni …you need to go home …things need to be arranged…you can't stay here" He said quietly.
"No…noo I can't leave her…" she said feebly.
"Do you want to make this harder for her?" he asked
"No." She shook her head.
He placed his hand on her s…"Then we should make sure she doesn't have any more trouble right? We need to go home…that's all everything else will be taken care off just come home ok?"
She nodded silently not saying a word, as she hugged the bundle to her chest. Vickram started the jeep driving out of the parking lot and towards her home.
The trip to Sugni's house was a quite one. Sugni was sitting in a daze quietly crying not paying attention to her surroundings. Vickram made one stop home to pick up Rattu instructing him to take care of whatever needed to be done and over see that it all took place properly. He had a feeling Sugni's uncles would not be of much use.
Vickram pulled in front of Sugni's house , sounding the horn. The door opened and Four people walked out. Vickram shook his head, they seemed so unconcerned about their sister and niece.
" Vickram Takhur Mallick!?" Hukum asked as came to the front to the jeep. Sugni was still seated like she had no idea they were there.
Vickram told him what happned to their sister. As Hukum broke down. Soon every one was crying . Vickram and Rattu seeming to be the only level headed ones. Champa who lived two houses away cam e over to find out what was going on. Vickram turned to her. "Please take Sugni inside…help her out." He said
"Yes Takur mallicK" . Champa took Sugni and led her into the house. He then turned on Hukum and Katari. "look you two have a lot of work to do, preparations to be made. Sugni has been through a lot. And I don't expect her to handle this alone . She was your sister too." He said to them.
"Yes…" Hukum turned to Katari. "we have to go to Jwala Thakur Mallick…maybe he will help us with some money…" He said.
"Don't worry about it…that is taken care off…just see about things here." Vickram said.
He left them to make preparations as he went back to the hospital to finalize the body and clear her bills.
The Funeral was a small simple affair, Gulabiys fellow dancers turned out to pay their respects to her, Vickram showed up which was surprising to every one that a Thakur actually cared enough about a bedni to make sure she had a proper funeral. Jwala Singh did not even bother to show up for the woman he brought twenty one years ago. Not that that was so unusal no one expected anything different.
Sugni was in a daze through it all, accepting condolences not really aware of the goings on aound her until it was time to see her mother off to the cremation grounds. Where she broke down a little, but controlled it wanting to see everything was done right . Her aunts and uncles for once showing her concern for her loss by leaving her on her own.
The thirteen days of mourning passed in Sugni's house as though time stood still. Sugni spent her time keeping herself busy , not thinking of the loss she cleaned the small house then cleaned it again,seeing to everything that was needed for the rituals even if it was done already. Nights were the hardest where try as one might to keep busy the quite crept in and she would see that empty bed that was her mothers that first night was to hard , so she moved outside catching restless winks. .
As the final ceremony in honor of her mothers death ended thirteen days later Sugni was forcing herself to stay around with the people and accept more condolences . All she wanted to do was go back to her room. Champa was also helping cleanup and Sugni though to join her for something to do than receive pitiful looks. She was also beginning to hear whispers about now it was her turn to join the ladies in Bumshukiys's truck and start taking care of home. She ignored those.
As she was making her way to her Champa who was folding some sheets she over herd her uncles talking to each other.
"I will ask him when he comes…I mean we do need money now that Jiji is gone…Sugni will not be well enough to work yet…We all know he will help …he saw all to all this… but you know… I went to Jwala Thakur and he also gave me some money for jiji's teervi!...why wouldn't he she was after all his bedni."
"Did you tell him Vickram Thakur was helping?" Katari asked his brother.
"Yes that is why he gave me money…" Hukum chuckled like it was a joke.
Sugni was disgusted at her uncles attitude , knowing fully well they would take advantage of Thakur Mallicks kindness, she was about to give them a piece of her mind but remembering that their was people around she stopped. Feeling a bit suffocated she decided to go out for a walk , hurriedly leaving to go to one place she might get some peace.
Vickram walk into Sugni's house, sorry that he missed the ceremony but as he was about to leave he had to attend to a very important phone call that could not be avoided. He looked around at some of the guest but did not see Sugni anywhere. He did not get a chance to talk to her properly since the funeral, She was upset and he wanted to talk to her but she was surrounded by her aunts and Champa and Vickram thought they were there to take care of her.
Spotting Champa Vickram walked over to her.
"Hey Champa did everything happen ok?" he asked
"Yes Thakur Mallick, " she asnswered
"Where is Sugni?" He asked
"She got upset, and she she went for a walk…there is only one place she would go at a time like this. The temple"
"hmmm….Ok" Vickram said walking back out. The temple was a shot walk from here so he decided to foot it. He spotted her sitting on the stairs of the temple.
"Sugni?' He said sitting next to her.
She wiped her face as she smiled slightly 'Thakur Mallick, hello"
"hello." He said sitting quietly at her side
"I am sorry." She said as he looked at her confused. "I did not come out to thank you for all your help, if mom was here na ..she would tell me I was being rude."
"Sugni…you don't have to thank me…it would be wrong of me not to help at this time. Whatever you need..just ask."
She looked at him. "You helped so much, and because of you she got a proper…" She shook her head not wanting to say it…"But please don't listen to my uncles now…they just ..want to take advantage…please we will be fine." She said, knowing very well what her uncles give.
"Sugni..don't worry about them ok…I know how to deal with them. Just think about you ok." He told her.
She shook her head… "It's like they don't even care that she's …that she is …go..gone" She said her ters spilling from her eyes.
As long as Sugni knew her mother she was always with a smile on her face. She worked hard , but she took care of the house and her brothers. She even did what the other bedni's did not do, she sent Sugni to get an education. She listened as Sugni went on and on about what she learned. She told her one day , she got a sense of satisfaction seeing Sugni have a carefree child hood, that she did not have.
Her mother sacrificed a lot for her family, and Sugni seeing them happy and just as she was about to get some rest of her own…she left. Her mother was her security blanket..she knew no matter what she always had her mother to run to with her problems, her joys her sorrows. Her mother was her best friend. Now she was gone. Sugni had no idea how she was going to go on now. Suddenly she started to cry in earnest, all the tears and fears pain and loss she was feeling came spilling out as she wept bitterly.
"She is gone…She left me…Why…Maaa!"" She cried as she wrapped her arms around herself letting out some heart wrenching sobs. Not able to just sit by as she cried Vickram did the only thing he could do at the memonent was offer her a bit of comfort. Putting his arm around her shoulders, as he pulled her close resting her head on his shoulder. He patted her arm gently as she cried.
"I know…it's hard..now …" he said.
"She was all I had…the only one who understood me…now she gone…" She wept.
"I know…" they sat there for a long while , her grieving and him offering her the comfort she needed.
Belatedly Sugni's brain kicked in and she realized that this was not right. Only it did not feel wrong. Wiping her eyes she straightened up. "I _I am sorry Thakur Malick I should not have…"
"Sugni..stop it…you have nothing to apologize for. At times like this we need a shoulder to cry on, our friends. People who care about us." He said.
"I don't know how to go on with out her" She sobbed.
"Sugni…I know you feel lost , maybe even cheated right now…it was her time…but even if she is not here in the flesh, I am sure she will always be with you, watching you. You just have to pull yourself together now make her proud of you, right."
"I guess" She said.
"You know when you are ready, you can start to work. Take a few days then come back out to the fields, will you do that?" He asked. She nodded.
They sat for a while more in silence. Sugni lost in thoughts of her mother.
"It's getting late…are you ready to go back." He asked checking his watch.
"Yes…I just want to say a prayer…Please" She said indicaing the temple.
"Go on I'll wait for you" He said , she stood up and made her way inside the temple.
Sugni went into the temple and offered a small prayer for her mothers happiness , and strength. As she wiped her tears knowing she really had no time to be weak here.
"I love you maa…always" She said . As she made her way out of the temple. The short walk home was silent but comforting. Sugni looked over at Vickram who was walking with his hands in his pockets. She did not know much but she knew he was indeed different from every one else she knew. Apart from all the help he provided this time, his quite strength, his comfort meant more to her than she could say. Her respect and admiration fro this man just grew ten fold. "Thakur Mallick?" She said
"Yes"
"Thank you for being my friend. For being here…I could not have done this with out you."
"Sugni you.."
"I know , you say I don't have to …but you know what you did for my mom, now and before, for be so different.It's good to know not all Thakurs, not all men are bad. And thank you for showing me that. I just want to say that." She said quietly.
"Thank you Sugni…" he replied
"Huh?" She watched him confused.
"Thank you for considering me a friend…for looking past my title and trusting me. And I am happy and honored to have a friend like you!" He said. He smiled softly which she returned.
They made it home to find most of the guest gone. The few women coming over to tell Sugni they are there to help should she need it. She nodded politely. She noticed them looking at her and Vickram standing at her side and she was sure that would make the gossip rounds soon. She found she no longer cared. The one to answer to was no longer here, and Sugni knew she had no reason to be ashamed, Maa was seeing this from where she was she was sure.