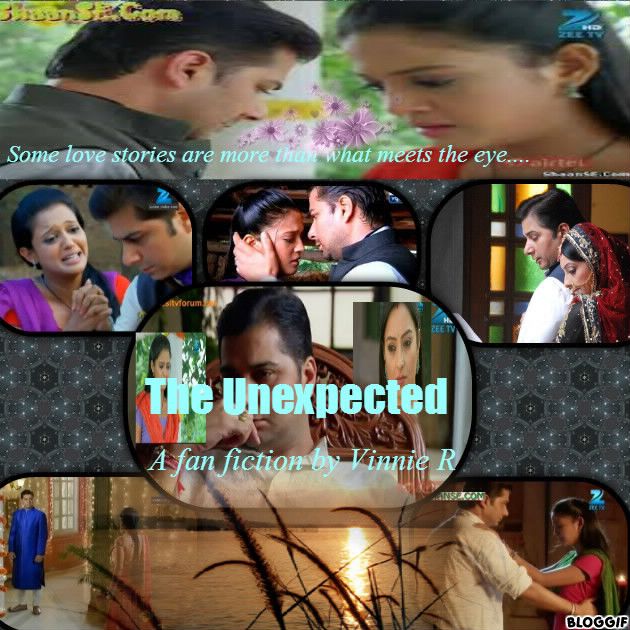 Chapter 33
"You are awake !" Sugni said moving towards his bed side as he sat up
"What's going on?" he asked ..."Why was she...' he asked
Sugni looked at Maa Thakur, she did not want to upset him, but she could not lie to him either.
"She was just calling attention to herself as usual." Maa Thakur said. "She probably thought she can now that you are not 100 %. Forget it... Why don't you go get cleaned up and I'll see about sending up some dinner." She said.
"Yes that is right... Forget it.!" Sugni said. Vickram looked at the two of them. He knew there was more here, but he would find that out later.
Maa thakur took the poisoned soup and left. She was sure by now Reva would be locked back in her room.
After Vickram had his bath and a light sandwich that Maa Thakur prepared. He was sitting observing Sugni who was acting strangely. She was fidgety as though she could not sit quietly , he knew something happened that upset her and he wanted to know what.
"Sugni." He said looking at her as she was sorting out his shirts for the third time.
"Hmmm"
"Come here please" he said.
She came over to the bed, "yes?" She said.
"Sit" he said patting the space beside him. She sat. "What?" She asked looking at him.
"What's wrong?" he asked her.
She looked at him , and shook her head as she smiled slightly.
"I know something is. Tell me." He said holding her hand. Sugni looked down at their hands for a few moments, then burst into tears.
"Hey why are you crying...What's wrong?" He asked confused by her reaction . But instead of answering him , she leaned forward , as she hugged him resting her head on his chest.
"I don' t want to do this anymore." She said
"Do what?" Vickram asked. Even more confused.
"play this game anymore...If something happens to you..." She trailed off...saying it was too painful.
"Hey...Sugni...nothing is going to happen." He said.
"You don't know that." She said pulling back to look at him. "She's not going to stop, until she accomplishes what she wants, the pills, the accident , and now..." She trailed of.
"And now ?" he asked. She said nothing but closed her eyes. "Sugni what happened?"
Reluctantly she told him about the soup being drugged. "She won't stop. If something happened to you..."
Vickram closed his eyes in anger...tempted to go and throw her out at this moment. The only thing that was stopping him was Sugni. Seeing her upset was not boding well with him.
"Shhh...it'll be alright.." he said, pulling back to look at her"Look at me...nothing is going to happen to me. ." He said.
"How? We made no progress in the case. And all she is doing is plotting against you ." She said as she looked at him. Almost losing him shook her up more than she thought.
"Vickram, I can't lose you too...I already lost my mother and I can't ...you're all I have." She said, tearfully.
Vickram hugged her , comfortingly. "Hey now...you are not going to lose me. I promise it'll be alright. Come on...you can't break down on me now...then what would I do? Hmm You're my strength here you know that. The reason I don't go off and do something I am sure to regret later. Don't cry."
"How can they be so bad? Why?"
"I don't know greed makes people do the strangest things I guess. But if there is a God they won't get away with it" he said.
He looked at her as he wiped her tears. "This will be over soon. I promise. Just hang in there"
"I'll try...but I am not feeling al that strong right now." She said.
"Come here!" Vickram said stretching out on the bed, she joined him lying to his side resting her head on his shoulder as the embraced each other. For a while they lay in silence each offering the other solace in the moment.
"Sugni...I know this is not easy for you...but we got this far. But I can't do this without you. As long as we are together I can face anything. No matter what they do. "
"I am not going anywhere!" she said. "I just want this to be over."
"And it will be...but maybe we are taking the wrong approach..." he said thinking...
"What do you mean?' She asked looking at him. He had a contemplative look on his face.
"Hmmm...where is my phone?" He asked . Looking at the side table. Finding it he took it and made a call. Sugni looked at him in confusion.
"Hey Amrita how are you?"
"Good Vickram , how are you...I was going to call you tonight... how is Sugni?"
"She is here..a little shaken up but fine."
"Shaken up...why what happened?" Amrita wanted to know.
"Hold on let me put you on speaker ." turning on the speaker phone he told Amrita about the accident.
"Oh my God , are you alright?"
"Yes I am alright."
"Look I think we need to step things up a little." Vickram said
"Ohh ..what you have in mind?"
Vickram told her what he had in mind, as Sugni looked at him with raised eyebrows.
"But what if she runs..."
"Then the police will get her." He said.
"Ok I'll get on it..." She said. "One more thing ...why did Reva change her insurance beneficiary ?" She asked
"What...what insurance? she did not have one as far as I knew." He said.
"That is strange...according to investigations ...Reva had a life insurance policy that her father took out for her for the sum of some 2 million dollars... the beneficiary was Neeranjan for years until it was changed not to long before her accident...she named You as the beneficiary. "
"What?, no one never mentioned this to me..."
"Well apparently her father did it when she was a teen. When she had her accident and was declared dead the insurance company had started investigations on her demise...but it was stopped when she returned" Amrita revealed
"So you did not know about this?"
"No...first time I am hearing about it." He said
" Question is why would she suddenly change her from her brother to you?"
"Good question."
"Well we will find out ..I'll let you know what develops "
"OK."
She hung up . Leaving Vickram and Sugni exchanging confused and curious looks as to what that was about.
Molly was pacing her room the next morning , how dare she ...how dare she speak to her like this. Ohh no that two bit tramp won't get away with it. When she was finished with her she would be sorry for crossing her paths that is for sure. Thanks to her meddling Vickram did not have to soup she spiked..other wise all now she would have been happily morning her husband.
She was interrupted by the ringing of her phone.
"Hello?"
"Hello madam... how is life in the Thakur's house? Grand I am sure." Said a voice she did not recognized.
"Huh?"
"Hmm...I am sure the welcomed you back with opened arms ...but tell me would they be so accepting when they find out you are nothing but an imposter...?"
"What...who is this?" Mollly said as she pulled the phone to look at the called id...Private. Her blood ran cold.
"Ohh calm down darling... your secret is safe with me...for a price of course!" the voice laughed condescendingly...
"I don't know what you are talking about"
"Tut tut tut... nice try doll...but that won't work... I know you are an imposter...I know all about yours and Neeranjan's plans to be a widow ..."
Molly was about to hang the phone up when the voice said.
"Naaa...hang up on me and the next call I make will be straight to Vickram...with evidence...before the next hour is up you will be gathering you clothes from the side walk... Wanna try me?"
"Wh-Wh-What do you want?" she asked, this could not be happening.
"Two million...cash..."
"What two million...I can't get that type of money!" She said
"ohh don't give me that ...that is Thakur Vickram Singh two million is a drop in a bucket for him... I am sure you will find a way... Don't worry I will give you time ... two weeks... I will call you in two weeks...so do what you have to...And don't even think about running cause I am watching you...you slip and it's straight to jail you understand. Have a nice day." The line went dead.
Molly sat on her bed in shock. What just happened. She was being black mailed... but how by who...no no ..the only persons who knew the truth of her identity was Neeranjan , and this was his brain child he would not sabotage it all now for a measly two million. The other person was the Dr. Suman...who was currently suspended and a greedy little witch. But would she stoop that low.
True when people were desperate they did desperate things but still. On impulse she dialed the number for Suman. After three rigs she was directed to voice mail.
"Damn it ...Where are you Suman...if you are trying to screw with me ...you better think again!!!"
Getting up she began pacing...
"Molly Molly...you did not get this far too loose...it seems that everything is just going down the drain...ever since he picked up with that.girl...no ...Enough...time to get rid of her... how... how think think think !!! " She said as she paced...
There was a knock on the door.
"Who Is it?"
"Neeranjan..."
She opened the door as she let him in.
"Had fun?" She asked
"Hmmm"
"Good because we got some problems... Some one knows about us they are threatening to reveal my truth to Vickram if I don't cough up two million dollars !" she said.
"What ? Who..." he said shocked...
"Well I am thinking it is Suman...she is the only one and we all know how money hungry she is...did you get a hold of her?" She asked.
"No not since the article on the paper..."
Molly nodded, more an d more she was convinced Suman was the culprit. Seems she had another problem to deal with .
"Alright...I guess we have to deal with her as well!' She said. "But now it is important to split the love birds up. Sugni has to leave this place !" She said.
"How ? she is stuck to his side!' Neeranjan said
There must be a way...something... I just want to get he away from him" she said.
After a few minutes of thinking Neeranjan got an idea...
" I know how to do it... but it will cost us ... Give me a few days I'll handle it." he said.
""Alright...once she is gone...Vickram will be easy pickings.! See we were working on this in the wrong order...!" Molly said. Neeranjan laughed.
A few days later:
Vickram was finally given a clean bill of health by his doctor to resume his work as normal. He got caught up with what he missed in the fields. Sugni was at his side through it all . So much so the field workers and other villagers were beginning to take notice of them.
Sugni noticed it as she was walking around the fields one day and was listening to a conversation between two of the village women who were working in the fields.
"You really going to do your Sardakhi Reshma?" Another girl , Shivani asked. As they were weeding the plots.
"Yes...the money is good and the Thhkur is nice. Maa said I was fortunate that he made the offer. $20,000. ...it will help Maa with her doctor bills." Reshma said.
Sugni stopped as she joined the girls . Reshma was just seventeen and Shivani was about the same age. They were one of the few willing to work . So it was Shocking to Sugni to hear that Reshma would rather do her sardakhi.
"Reshma? Is your mother sick again?" She asked, knowing sometimes desperate times called for desperate measures.
"No -No. She is well thank God...but now she can't dance"
"So you are going to do your Sar Dakhi?? I mean you're working here na...aren't you making enough?"
"Yes it gets us by...but with the bills...no."
"Well maybe if you talked to Vickram...he will help you..." She said. "you don't need to go entertain some old Thakur!" She said.
Reshma laughed, as Sugni watched her.
"Please..Sugni...don't" she said shocking Sugni. "Don't come with some lecture that being a bedni is wrong...you of all people. Don't give me that look because I choose to follow the tradition. "
Shivani gasped..."Reshma what are you saying..."
"Ohhh I am just saying what everyone else is thinking. I am seeing it on her face... she thinks I am doing something wrong...a least every one will know what I am doing and I am not pretending to be doing something else. Am I right Sugni?"
"Reshma..."
Sugni stood in shock at the words coming out from her mouth. She knew this would happen eventually, she thought she was prepared, but Reshma's words stung nonetheless .
"What you're going to run to Thakur malick and get me fired...go ahead I was leaving in a few days any way. I am not ashamed of who I am Sugni...or my tradition...unlike you. I am a bedni. And Unlike you...I don't pretend to be some high and mighty girl with big dreams when all you really areis somebodies plaything!'
"I am not..." Sugni said.
"Oh can it... everyone knows that is a lie. Everyone knows Thakur Malick told his wife...he is with you...that you are not only living in his house but bedroom as well. Am I lying? What you think servants don't talk... So don't you stand there and try and judge me! Funny naa... all these years your mother would walk around with pride saying her daughter is different...I wonder what she would say now."
Sugni felt as though the bottom had fallen out of her world, as she looked around , it felt as though everyone was looking at her, when in reality no one was paying attention to their conversation. She looked over and Saw Vickram on the phone busy with what he was doing. Normally she enjoyed interacted with the villagers in the fields as they reminded her of home... but not now...
Trying desperately to control herself ...Sugni turned and ran out of the fields away from them all and back to the haveli...blinking back tears the whole time...