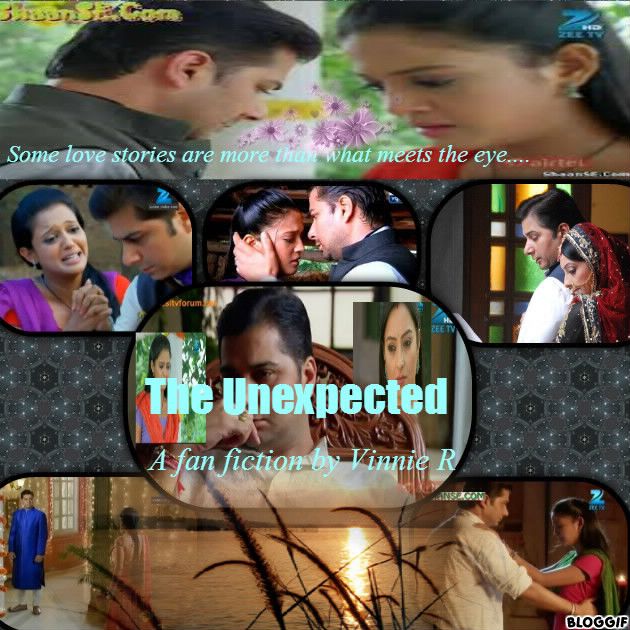 Chapter 3
"Thakur Maalick, Thaur Maalick'" Sugni said out of breath as she ran through the fields to meet up to Vickram who was sitting at his usual spot on the tractor, over-looking his workmen perform their jobs. They were very good and he did not have to be there'but sitting in the midday sun watching them was more welcome that sitting at home listening to his mother and brother in law make snide comments about him.
He looked at Sugni as she was running towards him, for some reason she looked extra bright today, something was different with her but he could not put his finger on it.
"Where is the fire'why are you running like that?" He asked as she finally stopped at his side, huffing and puffing'
"Wa..water.. water " She said.
Taking his water bottle from his side he passed it to her which she accepted gratefully opening it and taking a few gulps.
"Thanks ! " She smiled as she cached her breath. "I was running form some mad dogs na'.who started chasing me ! I thought for sure I was going to get bitten 'but thank Sita Miya 'I ran so fast na'they never had time to catch me" She laughed. Vickram joined her.
"Come have a seat'all that running must have made you tired!" he said as he extended his hand for her to jump up and sit on the drivers side of the tractor. She did, gingerly as she was holding a small package in one hand..
"So what brings you here?" He asked afte she settled.
"You!" She said
"Me?" He asked
"Yes! See today is my birthday and I made some of my favorite Prasad to offer'so I thought I would give you some." She said extending the small bowl to him.
"Thanks." He said accepting it, "your birthday huh? Well many happy returns of the day!" He smiled.
"No no no don't return it eat it!" She said, Vickram laughed and she looked at him confused.
"No 'Many happy returns, is a way of wishing you all the best" he explained.
"Ohhh'.I see" she said feeling a little dumb.
"Anyways, your birthday huh! 'I should give you a gift." He said reaching for his wallet.
"No..No ..No I don't want anything" She said hurriedly befor he could open th e wallet
"It's a gift Sugni" he said.
"NO I can't accept it, please no" She said
"Oh right'. principles'." He understood'Sugni was a very prideful girl. But he still wanted to give her something. His eye fell on the bunch of keys in the ignition. Taking it, he removed one of the key ring ornament he had attached to the bunch.
"It's tradition to give some one something on their birthday, so 'you can accept this from me right? Look it's not money and it's used, sorry about that'.but I think you will like it'you believe in Sita Miya na?" He said handing her the key chain' "for luck" he said
Sugni looked at the key chain in hi s hand , not sure she should take it, but she did not want to insult him by refusing his gift'and he was right it was tradition. Smiling slightly she took the small key chain that had a small intricately designed figrine of Sita Miya on it. That made her smile more brightly..she touched in to her forehead reverently. "thank you!" She said sincerely. It was the best gift.
"You are welcome" He smiled , which she returned, as she looked at him , only now noticing the bruise he had on his cheek.
"Oh my God! what happened to your face" She asked in concern. 'it looked painful. Vickram touched the blue mark on his face compliments Reva, it was not the first such bruise he got and he was sure befor his divorce it won't be the last.
"Ahh nothing, I small accident'" he said
"oh'you should be careful na." She said sternly' "it is painful?" she asked looking at him with concern.
"yeah" he said not sure if he meant the mark on his face, or if his pain was something else.
"You know , one day I was running like mad to reach home and I hit my head bang on the door, I swear maa told me I look like I had two heads when it started swelling, " she laughed' "but she put some hot water and salt on it and it helped no pain and the swelling went down 'it was good as new in a few days'you should try that!" She said.
"Hmm OK" he said. "How is your mom?" he asked.
" She is good, but'" Sugni sighed sadly , the happiness in her eyes dimming a bit.
"But what?" He asked
"She is back to doing Raai now' I just wished she would'nt"
"Yes'but sugni what else can she do'.she needs to work right?" He said, he did not like the practice but he was practical to know if they did not work she did not eat.
" I know'but still'"
"Then why don't you come back here" he said. " You can work in the fields and make enough money to feed your family that your mom does not have to dance again'I guarantee that" He said genuenly.
"I know'"She said. "But Thakur Mallick, you saw what happened the last time'and really I don't want to put mom in any more trouble'I would love to work here, but when I remember what happened" She shook her head.
"But that is not fair!" She exclaimed.
"No it's not'and if you want to you can always come back'I will make sure no one dose anything to your mom! You don't have to be afraid of him Sugni" he said'he remembers very well what Jwala put Sugni and her mother through just because Gulabiya was kind enough to help him look for some employees. Vickram knew it was more the fact that HIS bedni was helping and working for Vickram that made him take that step , than any other reason. He shook his head at the man's pettiness.
"Thanks but we'll manage" She said, "I will find something." She said she always did some how
"ohh ..how was your little show?" He asked as he remembered her telling him about it a few days ago.
"It was good, the Viliagers came and every one clapped and enjoyed it'" She started, telling him how her performance was received. Vickram listenen to her indulgently, realizing she had a knack for talking fast and long'. listening to her was the same as being there as he did not think she missed a detail.
"Thakur Mallick'we are done for the day." One of the workers came up to him to inform him it was 5 PM. Vickram nodded looking at his watch as the others started leaving.
"5 o'clock 'OMG I am dead'.I was supposed to help mom get ready for later'and I am here chatting'she will kill me '" Sugni said as she jumped off the tractor.
"Wait'I'll drop you!" he said.
"No..no' I will get home faster on foot " She said '"Thanks for the gift ,Mallick! And share the Prasad with Thakurine na'" She waved good bye, the speed with which she entered she left. Vickram looked at her as she retreated. He started the tractor and began driving off, he realized he was smiling. Sugni had spunk, she was always a bubbly personality every time he saw her, bursting with life. Although her life was anything but a bed of roses, she somehow managed not to let it damper her spirit. There was only a few times he saw her look anything but happy , that was when her mother fell ill, she was scared for sure. He recalled the day she followed him out and told him point blank she was not for sale. The look on her face was one of determination, pride and defiance. She had that innocent spark in her , that he knew most girls loose here at an early age. He admired her approach to life making the best of what she had. If he was surprised by her declaration outside the hospital , he was even more surprised that she found him the next day to apologize for her behavior and for misunderstanding him.
That was why seeing her that night with those Thakurs dressed in the customary raai dance outfit, and realizing she was one of the dancers came as a shock to him. All her defiance and talk about respectable life not corresponding with what he was seeing. As he looked at her , her eyes were pleading with him to help her out of what could have been a very horrible night for her. She listened quietly crying as he ranted at her on the way home about saying something and doing something else, and sticking to ones principles. As she was hopped out of his jeep 'she thanked him once more, and told him to save her mother's life, she would do anything even go against her principles, and when people are hungry principles sometimes had to be sacrificed, but that if there was another way she would find it first before doing Raai again. He watched as she walked inside with an air of helplessness he probably would never know, but it tugged at him.
Somehow Vickram was beginning to feel protective of her. She made it 19 years in this hell hole unscathed , but he knew she might not make it another year'the other Thakurs around here were like vultures and to them she was fresh meat.
He wondered if she would not have a better chance outside of this village than in it. Maybe he could help them to find better place, but how? Her mother and her would not want to accept that kind of help from him. He sighed'well he would keep an eye out for her that was for sure.
As Vickram turned drove into the driveway of his house , he jumped out of the tractor taking the small package with him. It dawned on him suddenly this was the first time in a long time he actually had a good time in the fields, not thinking about the mess that was his life, and all that was thanks to Sugni.
Sugni rushed inside her little house to the room she shared with her mother. She spotted Gulabiya sitting at the mirror applying makeup , getting ready for tonight.
"Sugni where were you?..Bumsukiya will be here soon and I still have to get ready!" She said
"Sorry sorry maa! I was just talking to Takur Mallic and I lost track of time!" she said as she walked over to her mother and began helping her with her hair. Gullabiya looked at her daughter through the mirror as she said that. She knew that Sugni idolized Vickram Thakur and she had to admit he was a good man, but there were a lot of "good" Thakurs around when there is a new bedni on the block and Sugni was that.
"Look at this! Thakur Mallick gave it to me as a gift! " she said handing her mother the keychain, wit h a smile
"Wow'this is lovely!! Is this gold?" her mother asked looking at the little figurine of the goddess.
"Gold?" Sugni laughed " No maa' he had it on his own bunch of keys and took it off and gave it to me'why would he give me something made of gold..it's just the color paint" she said. Incospicously Gulabiya tried scratching the figurine, it did not get a scratch, confirming her suspicions it was indeed made of gold.
"Still sugni'you should not have taken it!" he mother said with disapproval!
"Maa'I could not say no!...he was going to give me money and I told him I could not take it'.but he said it was tradition to give a gift. So I took it." She said innocently
'Yes it is tradition to become a bedni and do raai to" Her mother mumbled under her breath.
"What?" Sugni asked giving her mother a strange look.
"Nothing!." She said as she continued to watch Sugni fix her hair through the mirror. Her innocent smile, her care free ways. She remembered the conversation she had with Jwala Thakur Mallick 2 nights ago, when he called her to his haveli.
Jwala Thakur had been Gulabiya's Thakur Mallick since she was 19, same age as Sugni, she was one of many that he had. She was his when the mood suited him, which lately was not much as their were younger girls around now, some of them Sugni's age, to keep him entertained and fulfill his needs.
That was why him seding the car for her the other night came as a surprise. What he really wanted to to tell her to control his daughter, and it was time for her to start following in her mother's footsteps and do what she was born to do , Raai.
"She is making a spectacle of her self running around the village looking for " work", professing not to do Raai and Sardahai yet dancing in the village Square. Riding around in Vicktam Thakurs Tractor! Like some two bit tramp! Control your daughter Gulabiya, stop this nonsense and let her start following the traditions, or I might have to arrange for that myself'you hear me?" He told her.
"Yes. Thakur Mallick" Gulabiya said compliantly. She knew this day would come and now every one was wondering when Sugni would finally join. Her Sugni was different, from the day when she was nine and came back home from school telling Gulabiya she will not dance. When she went out and helped the thakuines for small change and handing it to Gulabiya with a look of pride on her face, to make "respectable" money. Gulabiya did not have the heart or will to stop her.
Looking at her now, Gulabiya's heart sank, her baby was being pulled into this life and she could no longer stop it. And she was afraid she did not have the strength to fight for her, she remembered what the doctors said'.no she would not think about that. She had to do what she had to do for her family and her Sugni'
"There all done!" Sugni said as she looked at her mother with a smile. "What's wrong maa, you want another style?" She asked .
"No it is perfect!" She said with out looking at it. "Sugni..sit please" Sugni sat , curious about what this was about.
"Sugni'listen'I know you think highly Of Vickram Thakur'and yes he helped us out a lot'but Sugni he is Thakur'and there is a line between him and Us'and when you cross that line Sugni into their world'well it's when you are a Bedni!" She said
"What!'Maa'what are you saying?" Sugni said shocked at her mother's words. "Nooo'He is different..you know that'he is a friend and he never did anything except help me, us, when we needed it!" she said defensively.
"Sugni'this is not paint!" She held out the keychain to Sugni. " It's expensive, this could probably buy us groceries for a year! Yet he "gave" it to you'just like that?"
"Yes..maa it's not what you think'you don't understand'."
"Oh..now I don't understand?" Gulabiya cut her off, giving her a stern look. "Sugni you are becoming gossip around here, you know that?" She shook her head.
"People are starting to notice and talking, about you riding around with him, going out to the fields to see him, the way he stops to talk to you every time he sees you walking, or you calling out to him in that manner, like he is Champa'Sugni a Thakur and a bedni cannot be "friends" like you think." Sugni shook her head at Gulabiya's words
"I agree, he is a good man and honey sooner or later men just want one thing from us. Sugni you've ran around here enough'I " she closed her eyes and took a deep breath, she did not know if she could say this.
"I think it's time for you to start coming with me'to dance" She said
"What ..Nooo '.Maa noo'" Sugni said , the words hurt more because it was coming from her mother, who knew that was the last thing she wanted.
"Sugni 'what choice do you have? Running around being insulted by these thakurines all the time, for a few cents? I can't dance forever Sugni'it's who we are honey'.I know you will probably hate me for saying this but what choice do we have?" She asked helplessly , as tears rolled down her eyes. She cursed her helplessness, today whatever feelings she might have for Jwala Thakur, died when these words passed her lips.
"I have a choice!" Sugni said defiantly' "I'll go back to work in the fields'Thakur Mallick will take care of us! He said he would" She said "But I won't do raai or Sardakhai'I won't be a bedni!" She said.
'Sugni'I don't" Gulabiya started
"No'Maa you are wrong'Vickram Thakur is not like the others. You won't understand it'because there has never been anyone like him around here. But he is different, not like the others' What he did for us, he did not have to maa. I trust him. You now why? Cause when he looks at me all I see is concern and genuineness, there is nothing in there that makes me feel unsafe, and I know I have been getting those looks for a long time now. " Gulabiya looked at Sugni, she listened to her, what she was seeing and hearing scared her more than if someone actually made an offer for her. One can fight society maybe'but one could not fight themselves. she closed her eyes. "Oh God she prayed silently protect her from herself."
"Ok'I won't stop you from working there. Sugni just remember one thing, you don't have to get your sardakhai done to be a bedni." She said
"What dose that mean?" sugni asked confused.
"Never mind'I am getting late" she hugged her. "Be careful Sugni'please just be careful"


Edited by Vinnie79 - 11 July 2013 at 3:28pm