Hello Every one. I am starting a new FF called the THE UNEXPECTED and I hope you all enjoy it as you did my other 2 stories. Please leave your comments and reviews so i know if you are liking it.
Special mention to Sara who came up with the title and beautiful Cover photo of this story. Thank you so Much Sara for all your help!! Love you lots!!!
So without further Adieu I present to you chapter one of ...THE UNEXPECTED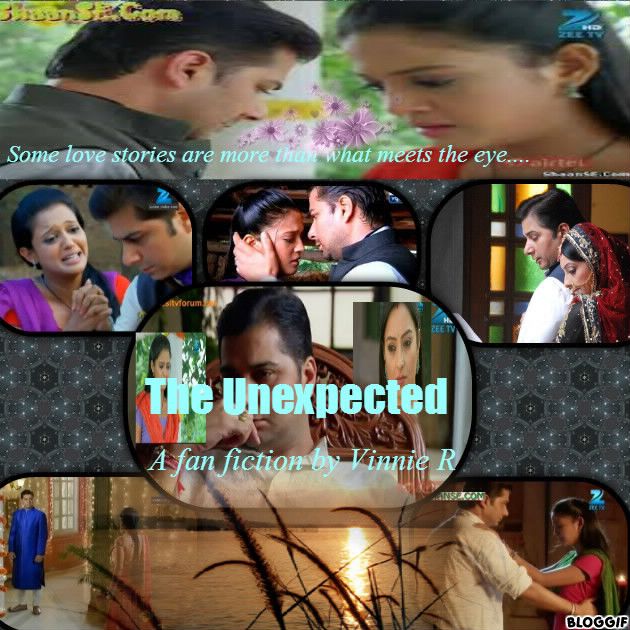 THE UNEXPECTED
Chapter 1
Sugni was walking down the dirt road carrying her small bundle in her hand , happily listening to her friend Champa who was telling her about her plans to meet with her boyfriend Rattu after he finishes his work at the Haveli. Their conversation was interrupted but the sounding of a horn coming from behind her. Turning around, her face burst into a bright smile as she saw her Thakur Malick. He stopped the tractor he was on and smiled back.
"Thakur Malack you? Why are you making all that noise?" she asked '
"Hey Sugni'tell me are you why are you making a trail on the ground with those clothes? What's up 'you a washer woman now?" He chuckled.
"Haai Sita Maiya!" Sugni said as she saw the shiny sari dragging on the ground behind her, hurriedly she started to pick it up, while she kept talking. "Thank you Takur Malick!, Oh Gosh Roopa mousi would kill me if I spoiled her clothes! You know'I had to convince her to lend it to me ' we needed it for the show!"
"Show?" he asked. Curious as to what she was up to know, seems like every time he saw her she had some weird idea to turn into a job'he had to admit she was innovative.
"Yes! A dance program!" she said with a smile, he looked at her with a raised eyebrow.
"You doing Raai again?" He asked , he could not hide the disappointment in his voice.
"No no No" She said shaking her head vigorously. "I told you I won't do it Naa'this is more like a play for everyone, like they do on the TV'everyone is invited'You will come na'please? I swear it will be very nice 'not like Raai!' She said
"When is it?" he asked
"Tomorrow under the old banyan tree in the village center!" she said
"Tomorrow? 'Sorry I can't make it I have to go to the city tomorrow for some work." He said . She looked disappointed.
"Oh" She wished he could be there.
"But I will wish you all the best and I hope your show is a success'are you going to the village center?" he asked. She nodded.
"Come I'll drop you'that is a long walk!" he said.
With out hesitation she hopped up to the back of the Tractor, Champa was looking a little hesitant but slowly followed her friend. Sugni spent the rest of the ride telling Vickram Thakur Malick about her plans for the show.
A few minutes later they were at the Village center, Sugni waved him bye as she turned to walk to the tree, where they began cleaning around the tree, preparing to set the stage for tomorrow.
"I don't understand you sometimes Sugni," Champa said as she began sweeping under the tree. " I mean you always say that all the Thakurs wants from us bedni's is to use us and discard us and you don't trust any'yet since I came back from the visiting my aunt in the village, you changed'the Sugni I knew would never talk to a Thakur like that, or take a ride from one'what happened you changed your mind about them?"
"No" Sugni said as she stopped sorting the cloths ' she sat under the tree. "A lot happened while you were gone last year Champa, but you've been so busy with Rattu since you came back I did not get a chance to tell you!'
'Well what happened?" Champa said 'sitting next to her child hood friend. Both Champa and Sugni were born into the Bedni tribe, both of them were the daughter of Thakurs, but in the eyes of the community and law ..they were father less.
See the Bedia tribe is an old indian tradition where the poor village women dance and entertain the rich and powerful Thakurs. It is how they make their living . These old school Thakurs, use these poor helpless women for their pleasure, by following some old distorted traditions.
The bedni women dance raai for these thakurs and if she happens to catch the eye of one of the Thakurs he can perform her Sardakhi, by placing a veil on her head and paying a small amount of money for her. She then becomes his exclusively until he is tired of her and then she is free to move on to another one.
Any children from this union goes unacknowledged by the Thakurs their wives and whatever legal children they have from that marriage. , the girls are destined to join the trade by 18. The boys of the bedni's turn into pimps, and the burden of taking care of the house falls on the women, and their ability to dance and catch the eye of a rich Thakur.
Sugni's mother Gulabiya, was a bedni, who did her best to see about her family, she even went far enough to send he little girl to get a basic education, much to the disapproval of her two brothers and their wives who said that was not required as Sugni did not need to know to read or write to dance.
But it was that school that made Sugni aware of the fact that the tradition of the Bedini's was a bad one. She learnt that there was other ways to make money other than selling your body. She felt disgusted at the stares she started recieveng from the Thakurs when ever she went to help her mother when she went to do Raai. And she told her mother she would never do Raai or have her Sardakhi done! She would find another way to make money.
They laughed at her, her mother telling her that to when so many people are dependant on you'some times you have no choice. At an early age Sugni would move around the village looking for odd jobs at the Haveli's helping the Thakurine's with there chores. The pay was very small but the satisfaction was big.
Even Champa was determined not to follow tradition and she did the same'until she fell in love with Rattu a village boy, also the Son of a Badni. He promised he would marry her so she would not have to . As she was eighteen , Champa's mother and Rattu's mother agreed for that union.
Sugni however had her uncles and every one else breathing down her neck to start going out and perform Raai. '
Champa was shaken from her thougts as Sugni started her story:
"See after you left last year, Vickram Thakur returned to Mahawri, I can't remember him. But every one said he left here ten years ago to go to the City. You know the strange thing, there is a story that his wife Reva Thakurine, was crazy." Champa looked at her in shock. As Sugni said'" Yes and he had a hard time controlling her'until one day she dissapreared every one though she was dead! Suddenly one day months after she shows up out of the blue! And so he took her and his family and moved back to Mahawri!"
"What 'where was she?" Champa asked intrigued
" I don't know'I am just telling you what I heard from people gossiping'believe me they were the hot topic around here for months. Especially because Reva Thakurine is so beautiful, when ever we see her in the car passing around , every one stops and stares, but My God she is worse than a queen'if she sees you looking at her na'she makes such a stink about it you will think someone is robbing her.! Thank God she hardly sets foot out of the Haveli!" Sugni said , seriously
"Sugni'" Champa was now laughing.. "Are you ever going to get to the point of the story'you and Vickram Thakur'are you his bedni?" She asked
"What!!! ARE you MAD!!!" Sugni said horrified. "No..he is my friend!" She smiled

"Friend?, since when dose a Thakur and a bedni becomes friends..Sugni 'no no he is fooling you!" Champa sad, she was worried for her friend now. Sugni was always a smart girl, but Champa grew up in this village and Thankurs and Bedni's here have one relationship '.She was sure Thakur Vickram was just waiting for the time to make his offer for her.
"But he is'you know I met him the first time when I went to his Haveli to asks if they would let me help them, I knew they had just moved in and was sure they would need people to help clean up. So Reva Thakurine gives me some of her vases that were dusty and tells me to wash them. They were beautiful'I think One cost'.
"Sugni" Champa said exasperated'.Sugni had a habit of getting side tracked when telling a story and always had to be reminded to come to the point.
"Aaanyway'while I was cleaning them one of them broke as I was taking it to her, I swear I almost died, Madam saw the vase on the floor and and started screaming at me, she told me I had to pay for it. Champa I was scared , then she went inside and came back with a belt and told me I was going to pay one way or another.!" Champa was looking at Sugni'this was not unheard of for a thakurine to punish a Bedni if they feel they were wronged. She went through a few beatings herself.
"She hit you?" Champa asked, Sugni nodded.
"She said I had to get ten lashes to pay 'after the first stroke I thought I was going to black out'I was bracing myself but the second one never came, I look up and I saw him he was holding her hand back as he took the belt from her'If her lash was so hard I was sure if he hit me I would die, the look on his face was mad." Sugni said as she remembered how scared she was thinking he would inflict the punishment..
"But all he did was glance my way and tell me to leave, I did not have to be told twice 'I left, that evening Ramu Kaka shows up at home with an envelope telling me that Vickram Thakur sent my payment for help and he apologized for what happened. He apologized! I could not believe it. But I was not going back there that was for sure!"
After that maa got sick really sick she fainted doing Raai, and I needed help to get her to the hospital'he was passing by and took us he even paid for her stay at the hospital. I did 'nt want to take it, but I had no choice. She was there for a week, and you know one day when I went to visit I saw him sitting by I heard him telling her not to worry about anything, he would take care of it. I was wondering what that meant..then remembered the money he sent home, the money he paid for the hospital bill'for sure I thought he was just like the others. So as he was leaving the hospital I followed him out'and I asked what he wanted, I said "Sugni was not for sale' and Sugni will not dance but I promise I will pay you back for the bills'.if you give me some time". He looked at me and said "Vickram Thakur never has had and will never have a Bedni and he dose not like the practice of Raai. "
"Really?" Champa said Shocked
"Yes, before I could say anything he left..just like that' when I went to my mom..she told me he came to enquire about her health and he told her he was looking for some villagers to work in a plantation he was setting up if she was willing to help him by talking to the villagers .! She was worried that she would not be able to convince them he said all he wanted her to do was get them to come see him he would take care of the rest! Well the next day I saw him in the village and I apologized for what I said, he said it was ok and he was glad I was not following the traditions. I don't know Champa , but he seemed different, not just by talk 'he hired Rattu and some others and they all say he treats them well as workers'
Then Mom came home'and Katari Uncle and Hukum Uncle started making a fuss about mom not being able to go out and dance'food was getting low'one night Hukum Uncle comes home with Bamsukhiya 'saying he took an advance for Raai' Mom was fed up hearing him she got dressed, but was weak'and even I did not want to 'I could not see a way out..So I agreed to go." Sugni blinked her eyes to stop her tears at the memory of that night..when she had to choose between her principles and her mothers life.
So there I was dancing trying to stay hidden in the group, after the dance I tried to sneak out but before I could I was cornered by two very drunk Thakurs, I was going to walk away but the held me back saying they would pay me good for the night." Sugni shuddered. "Then I saw Him taking to some other Thakurs, I remembered what he said at the hospital'so I called out to him'he looked at me in shock'but he managed to get me out of it. On the drive home I had to listen to a lecture about sticking to your guns'and not telling stories about our lives. I told him I had no other choice', but after that day I decided I would not let happen again. As Mom recovered she tried getting some of the women and villagers to talk to him'but no one wanted to work for him..as the other Thakurs did not like that he was trying to have to women do any respectable work'and you know them..they will not go against their ThaKur Mallick. She did manage to get a few and she was working in the fields with him for a while, even I joined in things were going well, then Jwala Thakur stepped in and told maa she can't work for Vickram otherwise he would see to it she looses everything. I told her not to worry , so what if he was her Thakur Mallick and my father'how dose it feel to do something respectable. So she continued. Then one day we were called to the village Center 'for the panchayat!" The panchayat was the village justice system where a handful of Thakurs pass judgement and punishment to poor bednis and their families if they think there were breaking the traditions. What they said was law'like it or not.
"Jwala accused us of going against the traditions by siding with Vickram Thakur'he was using maa as an example to all the other bedni's who wanted to leave the tradition of raai. Vickram showed up and tried to talk get them to listen ..but the villagers were scared to get involved between the two Thakurs so they stayed quite.
Mom got banned from performing Raai, you know it is like a death sentence. I was still willing to work 'but then Hukum and Katari said If I did I would kill them all . But Vickram Thakur was like an angel to us 'he helped us with food when no one else would..he went back to the panchayat and some how got them the change their minds about us'mom went back to Raai'and just to be safe I decided to leave the fields to and he tried to tell me not to , but I could not see my family in any more trouble.He told me he was always there if I needed help'not as a Thakur but as my friend 'and he has been since then. " Sugni said as she finshed her story.
"Wow.." Champa said'unbelievable that a Thakur would do all that!
"You know in the year since he has been here'many girls have done their Sardakhi'and not once have I seen him there. He really dose not like it not just saying that."
"Well he is one of a kind!" Champa agreed 'now she understood Sugni's reaction earlier.
///***** \\\\\*****/////*****\\\\\

Vickram stood in the fields over looking the workers performing their tasks. It was a pity he had to look outside the village to get other workers when there were so many here who could benefit from this.
In the ten years he had been away nothing has changed. Jwala Singh still has his hands firmly around these helpless people's throats. He enjoyed making Vickram work harder..but Vickram was not one to sweat the small stuff'if he likes his position of power let him keep it'his intention in coming back here was not to show how powerful he was'but really to live a peaceful life where he grew up. He may hate the bedni tradition that the village was famous for'but he loved the land and the quite pace of the village life.
His phone rang and he looked at the caller Id. Reva. Vickram sighed. So much for a quite life.
"Hello?"
"Sahib..Sahib where are you?" his wife asked.
"I told you Reva I am in the fields" he said, He herd her laugh sarcastically.
"what do you want ?" he asked curtly.
"when are we going back, Vickram, I hate this Godforsaken place." She said
"I told you..we are here to stay'listen I am not in the mood for this argument'I will see you when I get home bye." He ended the call.
Vickram wondered what joke life was playing on him, eight years ago his mother insisted that it was high time he got married. She found the girl and against his better judgment he complied. Reva was easy on the eyes that was for sure, all she had was a brother Niranjan, her parents having dead years ago.
Soon after marrying her he found her behavior odd at times she would be perfectly normal and at other times she would act literally crazy accusing him and others of wanting to get rid of her' or telling him that she hated the sight of him'what frighten him was her violent behavior towards others and herself. After consulting a doctor he was told that his wife was bipolar. He was told to have her institutionalized'but after leaving her there for a few weeks he could not stand to see the way she was being treated. So he took her home resigning himself to take care of her.
It was not easy but he did. He tried to make the relationship work but it was not easy . Then one day while he was out of town , his mother called him to tell him Reva left home and did not come back' he went looking for her all over 'but did not find her..what he did find was his car in a badly wrecked state, blood stains that belonged to her covering the seat, sitting in the woods outside the city limits. After months of searching he was told to give up'most likely she was dead. After spending eight years married to her, it was weird not having to take care of any one. Then he decided to return to his roots..away from the city life..Just as he was about to leave he was shocked when Reva and her brother showed up at his door step. Apparently she somehow made it out the car after her accident and made her way to the street where she was taken to the hospital by some passers by. She could not tell them what happened as she had no memory of it'then one day in her sleep she was mumbling an address, which turned out to be her brothers.
After her return she seemed different though more calm maybe but she had a mean streak in her that to him was disturbing. They way she treated the servants around here he disliked and warned her on many occasions not to treat them that way. He put his brother in law in charge of keeping her calm when he was not there'but sometimes even Neerajan can be careless'
Like the day he came home and saw her physically abusing Sugni, that fact that she hit another innocent human being for no reason was one thing , but seeing Neeranjan standing there and watching her do it was in excusable. He made sure he took them to task for it.
She hated life in the village, she said she was feeling suffocated, and she was doing everything she could to make his life here miserable as well, nagging him about leaving. Standing there looking around at his land, Vickram realized he was tired. He could not do this anymore; dealing with her was slowly killing him. He could not handle the constant nagging, her erratic behavior. He spent eight years trying to make the best of it, but no more.
And this time his mother was not going to tie him down with talks about reputation, responsibility or keeping his vows. He decided he wanted a divorce'.


Edited by Vinnie79 - 08 November 2013 at 8:16pm