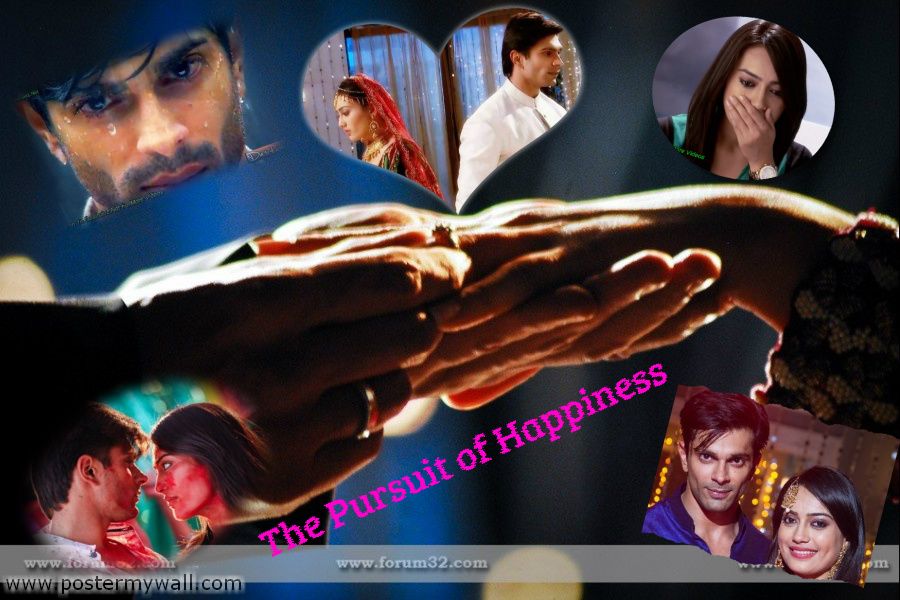 Part-3
"I'm sorry. I'm sorry..."
Zoya buried herself deeper into his chest and hugged him back. It took her a long time to control her sobs. She knew that he would never cheat her consciously and wanted to know the events of that day. She slowly raised her face from his chest and looked up at his tear strained face. Looking into his eyes she asked,"Tell me what happened that day. I want to know."
Asad looked down at her determined face. He knew that what he was going to say was going to bring her more pain. She may even go away from him again but he needed to tell her what happened even if it meant setting her free from his love and the pain that comes with it. He stepped away from her and turned towards the railings, looked out at the city below.
"Ammi asked me to come to the nikah with Ayaan. But Ayaan had come with my sisters and I didn't want them to go alone. So I asked Ayaan to come with the girls and told him that I would come there alone. After they left I locked the house and got into the car. As I was about to start the car Tannu came there saying that she would come with me as others had already left. I started the car and we were on the way when she asked me to get you a gift. I left the car to get you something and came back to find Tanveer missing. I saw her being forced into a car by a group of guys. I followed them in the car to an old godown. I went inside calling out to Tannu. I found her in a corner with her clothes ripped. She was crying real bad and there was no one around. I went near her and the next thing I knew someone hit me real hard with a rod in the back of my head."
Asad stopped hearing Zoya's sharp intake of breath. He slowly turned towards her to find her crying at his pain. He wanted to go to her but he knew that he had to continue. He turned back again and said, " Before I could turn around I felt a prick of a needle in my shoulder and blackness engulfed me. The next thing I knew was waking up to find you crying seeing me and Tannu together."
He stopped, took a deep breath and continued, " But I remember waking up to find you sitting next to me. I asked you about our nikah and you said we were married and then you hugged me. I blackened out aga..." He stumbled back with the force of Zoya's hug. He was shocked beyond measure to find Zoya hugging him with all her might even after saying the truth. He hugged her back and said, "I don't remember anything else so I asked Tannu about what happened. She told me after I was hit the guys left us and she took me to a room. I..."
Asad stopped not able to continue, ashamed at his own behaviour and moved away from Zoya. Zoya knew that what he was going to say next would affect their relationship. She hugged herself and waited for him to continue.
"Tannu said that after sometime I regained my conscious I pulled towards me and started misbehaving. She tried to stop me by asking me to go away but I was stronger than her and was led astray by my desires. I forced myself on her and she was weak to stop me."
Asad closed his eyes with remembered pain, tears streaming down his eyes. He was ashamed of himself for being his father's son and cheating on Zoya. Zoya, on the other hand was shocked. She did not know how to react and she was robbed of words to say anything. She knew about Tanveer and her plans for Asad. But she did not know that the girl would stoop so low in her obsession. Not for a moment did she believe that Asad would have behaved the way Tanveer had said he had. But he was hell bent on believing it because of his own traumatic past. The question was how could she make him realize that he was innocent and bring him out of his false guilt. She did not have any proof against Tanveer but deep down she knew that her Asad was not capable of something like this. She knew him and his fear of becoming his father well enough to believe without proof that he was innocent. She felt lighter in heart now that she knew the truth.
She turned towards him with a smile but her smile vanished seeing his tortured stance. She slowly went towards him and stood in front of him. He did not lift his face to her so she slowly cupped his cheeks and lifted his face to look into his eyes.
Asad slowly opened his eyes and looked at Zoya's face. He was stumped by the expression he saw in her face and eyes. She looked radiant and he thought for a moment that he was hallucinating. But the feel of Zoya's hands on his cheeks were no dream. She was smiling down at him, the smile that brings her dimples out and knocks him on his knees, while tears poured down of their own accord.
Let me know how you liked it. Looking forward to your comments.