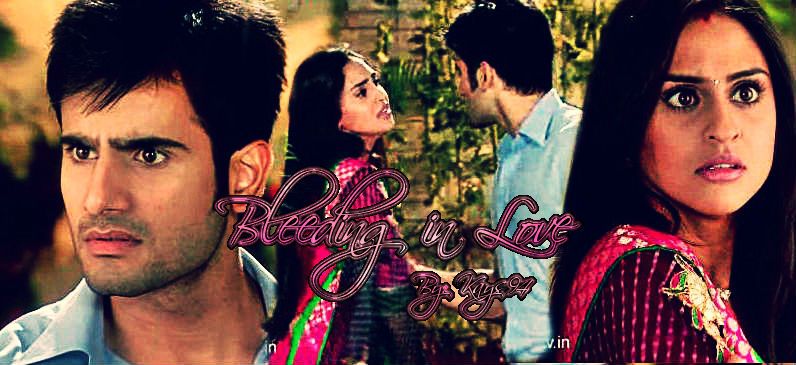 Chapter 27
Viren, Jeevika, Meera, and Riva were all smiles inside Riva's hospital room. For once they were happy! Even though they had a long road ahead of themselves to become a happy healthy family, there were on the right track and that's what mattered. The doctor walked in and wanted to do a full check-up on Riva so he asked everyone to leave, except for Jeevika. While Viren and Meera waited outside the room, Jeevika was inside with her daughter till the doctor called them in.
dr - "We will keep her under observation for one more day till we proceed with anything else. Do you guys have any questions?"
v - "No, thats it" he said to the doctor
As soon as the doctor left, Viren decided to take Jeevika home.
v - "Riva we will be back in a few hours, and I'll sneak you some cake" he whispered to her
Riva just smiled at him and eventually saw her mom walking away with Viren. Viren and Jeevika walked to the other side of the sixth floor where Viren took Jeevika inside the room.
j - "Viren what are we doing here?"
v - "Jeevika you're still a patient here. We can't just go like this" he said somewhat reminding her of her awful past
j - "Viren... I can't.."
v - "You can't what? I'm here for you. Let's just wait for the doctor and nurse to come and then they can sign your discharge papers and we'll go home"
j - "Viren, plz..." she said
Before they knew it even, a doctor walked in with two nurses. Viren moved to the side and made Jeevika lay back down on the bed. Viren went to the side talking to the doctor, making Jeevika slightly uncomfortable since she had no idea what they were conversing about. The doctor walked near Jeevika's bed checking her pulse while Viren stood next to Jeevika holding her hand as well as touching her hair.
dr - "Your pulse is a little low, need to monitor that a bit. Do you feel any pain somewhere specific?"
j - "Not specifically a place"
The doctor placed his hands on Jeevika's stomach trying to check if everything was the way it should be. When she lifted her shirt, Viren could see bruises on Jeevika's body. Seeing them and imagining them were two totally different scenarios. He didn't even realize when he held onto Jeevika's hand stronger than ever. She couldn't see her own body, and seemed comfort by looking at Viren. Viren couldn't stop seeing those bruises though which made Jeevika uncomfortable. This was not the way she wanted him to see her. She all of a sudden felt vulnerable like yesterday again. Viren realized that when he could hear slight cries from his love who was barely inches away from him. He finally looked into her eyes and just smiled. Viren didn't realize the power and significance of a smile till now. His one smile got her to stop crying. Was it magic? Or was it love?
Jeevika closed her eyes and when she opened them back up she had so much love in her eyes for him until the doctor pressed at one spot making her scream in pain.
dr - "You definitely need as much rest as you can get. Viren I know your daughter is in the hospital and you two need to be with her too, but she should stay put in this bed till she's better. She shouldn't be walking or anything. We need to order a few more tests just to make sure she's not bleeding internally and that these bruises, well, hopefully they didn't do more damage inside"
j - "Viren I need to be with Riva... Nikhil..." she said trying to get Viren to do something and get her discharged
v - "Doctor, I'll make sure she takes rest and gets all the tests done but as an outpatient"
dr - "If you insist, but please if anything does not feel right or you feel to much pain, come back immediately"
v - "We will for sure"
As soon as the doctor left with the nurses, Viren helped Jeevika get up from the bed. He helped her pull her shirt back down hiding everything and pretending nothing happened.
v - "I'll go get you a wheelchair"
j - "Viren I don't need one, I can walk"
v - "Didn't you hear the doctor? You need full bed rest but still you're being discharged. I'm not taking any chance"
j - "Okay" she said giving in to her fianc.
Viren brought the wheelchair as close to the bed as possible helping Jeevika get onto it. AS soon as she was comfortable he rolled her out the room and into the elevator. Out and about they found a taxi and headed straight to Viren's apartment.
v - "You can go take a shower quickly and take a nap then we will go back to the hospital. Don't worry about Riva, I told my friend Rohan to keep an eye. He's with her till we come back" he said smiling.
Jeevika just responded by placing her head on his shoulder as they walked up slowly to his apartment. Viren opened the door to the apartment helping Jeevika inside. She sat on his bed as he went outside the room. Jeevika put her hand out and saw the ring. Not only was it beautiful, she knew this ring was probably the most dear thing Viren had that symbolized his first true love.
Viren walked in the room with a cup of coffee for Jeevika... "For you" he said handing it over
j - "Was this hers?"
v - "Yeah it was. I had designed this ring myself for her before popping the question"
j - "She must have been so happy once you told her that"
v - "She was. She couldn't stop crying that night when I proposed"
j - "You didn't have to give me this. This is the only thing you have that can remind you of her"
v - "The closest thing that I have now is you. You have it or I, it doesn't make a difference to me"
j - "How can you love me like that? All these years you've loved and missed her, and then all of a sudden I come and you give me this"
v - "Maybe you don't feel the way I do, but I know you will"
j - "Viren I love you with my whole heart and soul, and I love you enough to know the importance of this"
v - "Then realize the importance you are in my life"
j - "I've given you nothing but pain"
v - "You've given me something that has no price"
j - "What is that?"
Viren got out his wallet and opened it showing the picture inside there. Jeevika cried tears of joy slowly as she saw Riva's baby photo.
v - "I found this in an album when we were packing your apartment. I always wished I had had one, and now I do. The most beautiful, most intelligent, and the most unique daughter anyone could have"
j - "She really is special isn't she?" she said taking the wallet in her own hands. "Today when the doctor said your daughter, I felt so happy. My daughter finally has a father"
v - "Not as happy as me. Now tell me where should I order Riva a cake from? What's her favorite bakery?" he said looking through his phone
j - "Its next to my apartment, we'll pick it up once we leave" she said getting up... "Viren where are my clothes?"
v - "Their in the box outside, I'll get it for you"
j - "No I'll go" she said stopping him.
Jeevika found her clothes in a huge box and picked out whatever looked the most loose and comfortable. When she walked inside Viren's room, she saw him on the phone so she walked straight into the bathroom. She slowly started removing everything and could feel the bruises all of a sudden. The cold breeze not only made her shiver, but also made her feel each and every part of the body Nikhil abused yesterday. Jeevika took her robe and put it on sitting down on the ground. As much as she tried to forget it, those scars and the pain wouldn't let her. She wasn't even able to step into the shower, feeling scared.
v - "Jeevika, are you okay? I don't hear the shower on and you've been inside for a while"
j - "Uhm..yeah..."
v - "Jeevika whats wrong? Open the door"
j - "Viren I'm okay, just going inside the shower in two minutes"
v - "You're not lying right?"
Jeevika couldn't answer and Viren knew something was surely wrong.
v - "Jeevika open the door please"
Jeevika got up and unlocked the door. Viren then opened it and saw her sitting in her robe on the ground.
v - "What's wrong?"
j - "It just hurts. Everything hurts right now"
v - "Well yesterday you were on vicodin so you couldn't feel much all day, its going to hurt a bit, but you will get through it. I have your medicine outside, but you need to have that with food"
j - "I can't... can't"
v - "Can't look at yourself? Can't shower?"
j - "Why do you know me so well"
v - "I just do" he said getting up and helping her as well.
Viren turned the shower on and waited till it was just the right temperature.
v - "Get in. The waters just right, so your bruises won't sting or burn.
j - "But Viren..." she said slowly
v - "Trust me please"
Viren didn't know if she was feeling uncomfortable with him being there so he thought he'd go outside and wait for her. But as soon as he took a few steps she stopped him and hugged him tightly. Viren stood still for a minute, till he slowly broke apart from her. He slowly removed her robe till she was bare. He helped her get inside the shower and under the water. Instead of showing his guilt of letting this happen to his love, he smiled and showed her he was there for her now. Her eyes however emoted something else. The pain in her muscles made her just breakdown. Everything started aching so bad one point that Viren turned the shower of and made her sit in the bathtub with the water flowing slowly. He rubbed her back softly comforting her with soothing words.
v - "It's okay Jeevika, this is temporary. I promise you, it is"
Jeevika was crying more holding her knees close to her chest and head down. It wasn't the emotional ride anymore that was haunting her, but in fact the physical pain. Jeevika took her time to stop crying. Slowly as the pain eased, the teas stopped. She got up strongly wearing her robe with the help of Viren. They walked out straight to the room where they both got in laying down. Jeevika got closer to Viren, close till she was right on his chest sleeping. Sleeping like nothing happened.

Thank You everyone for the birthday wishes!!! Special shoutout to Millee and Ayesha for the beautiful birthday thread
You guys are the best and you know it
Super long update just cause Karan Tacker wished me so
Enjoy Everyone
Do Like and Comment...


Edited by Kays94 - 13 June 2014 at 8:42pm