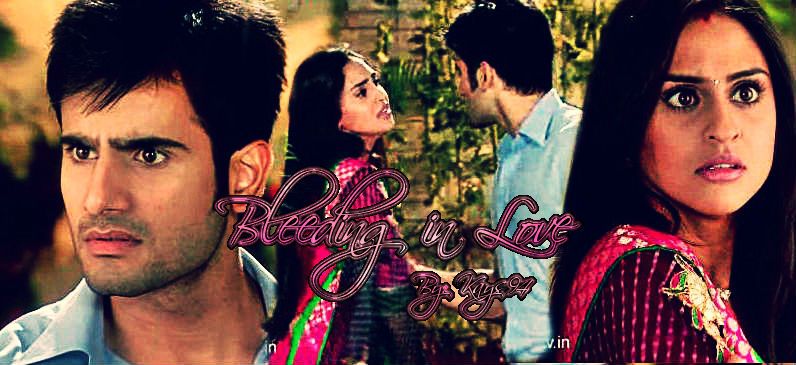 Chapter 26
After a few minutes of talking it all in, Viren got closer to Jeevika. Though he thought she would get quieter, it was the exact opposite. He got closer to her and gently removed Riva's arm from her mother. He carried Jeevika who was now hiding her face in his chest. Viren sat down on the reclining seat near Riva's bed with Jeevika in his lap still. Her body was still and stiff, even though she was resting on her fianc. Her legs were tight and her arms around his upper body. She continued hiding her face in his shirt till Viren slowly calmed her down. He kissed her cheeks every few seconds eventually getting Jeevika to be completely quiet. Jeevika moved slightly while in his lap still and moved a little apart from Viren. She looked at him, and he did the same. They both just wanted to do the inevitable, but they both had their reservations. Viren didn't want to push Jeevika into anything, especially knowing what she had gone through. Jeevika on the other hand was feeling unwanted like dirty laundry. Something that no one wanted to touch or use and she didn't want to be a hurdle in his life anymore.
Viren saw the way Jeevika tried, tried emoting her feelings out to him, but wasn't sure exactly how to tell him. Her face showed that she was scared of the future and of the moment itself. Viren held her face in his hands and she closed his eyes like she was ready. Viren came closer to her face and eventually so close that their lips were touching now. He closed his eyes and took over keeping his hands strong on her face, and himself attached to her still.
For Viren it felt so right to confirm their engagement like this, but not for Jeevika. She couldn't deny him or his love, but she felt it wasn't right to destroy his life. She didn't have enough time right now to sort out her life. She needed time to think about everything and make the correct decision. Jeevika looked at her hand and the large engagement ring that Viren had just put on it. Was he even sure this was the best decision for the three of them? Viren knew that now she was overthinking and overanalyzing everything in her head. He reached out for a glass of water from the side table and helped her take a drink. She finished the entire glass and he then placed it back on the table making her lay back down on himself. He placed his head on top of hers fitting just like a jigsaw puzzle and both of them closed their eyes allowing the past to get away now.
The next morning when Viren woke up he saw Jeevika clinging onto his sweatshirt still tightly. She had barely even moved an inch all night. Still in his lap, he found it hard to get up and check on Riva. Viren slowly got up holding Jeevika in his arms. He saw a nurse walk inside the room and she thought of helping Viren by opening the recliner seat out more for Viren to place Jeevika as she could sleep comfortable. Viren went to the bathroom quickly to freshen up while the nurses checked on Riva's stats. As soon as Viren walked out the bathroom, he saw Meera coming inside looking relieved to see Jeevika here. She and Viren both walked outside the room to talk, not wanting to disturb the two.
m - "Is she okay?"
v - "I came in the middle of the night and Riva wasn't breathing again, but luckily the doctors were with her and so was Jeevika. I don't know when or how she even came or got to know about Riva, but she was here"
m - "Riva's doctor is concerned on maybe pre-poning the surgery"
v - "They want to do it earlier?"
m - "But since Jeevika is a donor, we need her doctors approval"
v - "And her doctor won't give an approval anytime soon" he said starting to get stressed.
m - "Viren maybe you should take her out for a few days, away from the city even. I know she can handle herself, she's gone through worst Viren, but for the time being I think she needs just you"
v - "Worst? I don't know what can be worst than this"
m - "Its better she tells you than I do"
v - "What about Riva?"
m - "She's safe with me. I got her restraining order this morning" she said handing it over to him.
v - "If he finds out she's away, he will come after Riva. This restraining order will mean nothing to him. Not only will Riva's life be in danger, but yours too"
m - "Viren their all over the city looking for him right now, nothing is going to happen"
v - "Meera you really think Jeevika will let her daughter stay alone without her knowing that Nikhil is still out loose, and not only that her daughter is also terribly sick? You know its not possible. I'll take her to my apartment for the day so she can sleep and maybe she can tell me everything"
m - "I'll sit here with Meera till you feel she's better and you both come back later"
v - "Yeah, we'll leave after she wakes up"
While Viren went near Riva's bed, Meera went outside to talk to and find Jeevika's doctor. Riva woke up to see Viren next to her. She held his hand and tried sitting up with Viren's help.
r - "I don't remember anything, why am I here?"
v - You were having a hard time breathing yesterday so I brought you here. Anyways you must be really hungry now. I'll go ask the nurse to bring you breakfast" he said smiling in front of her.
When Viren came back he sat on the bed across Riva. He fed her breakfast with his own two hands knowing Jeevika would have done the same if she was awake right now.
r - "I'm guessing mom was awake all night taking care of me" she said looking at her.
Viren just answered her in a smile.
v - "Riva would it be okay if I took Jeevika home for the day? Meera will stay here with you all day today, but I think she's just really tired and needs some rest"
r - "So you won't be here with me either?" she asked in a scared tone
v - "How about this, I take her home with me for a few hours and then we come back around lunch time and bring you something delicious to eat. And also we need some cake"
r - "Cake? Why cake?"
v - "Uhmmm, well I'm going to let you guess that in a little while. If you guess it right, I'll get you your favorite cake, if not then my favorite" he said happily
r - "Promise?" she asked excitedly
v - "Promise" he said shaking his hand on it.
r - "Could you help me get up?"
Viren moved the tray aside and helped Riva get up from her bed. She slowly walked herself to the bathroom, but before she did she stopped to look at her mom. She went closer to her side and kissed her softly. Seeing that image melted Viren's heart. Both of them loved each other so much, words couldn't even describe the mother-daughter relationship they had. As Riva went inside the bathroom, Jeevika started waking up. She got up from the recliner coming close to Viren who could tell she was feeling a lot of pain.
j - "Riva?"
v - "Inside the bathroom, you okay? You shouldn't have come here last night"
j - "I'm fine" she said sitting down on the bed.
Meera walked inside with two white bags in her hand. She saw Jeevika awake sitting on the bed with Viren standing and talking right next to her. She walked up to her and smiled first then gave her a hug. Jeevika didn't break down, she was strong as a pillar and both Viren and Meera were witnessing it. She hugged Meera back with a smiling face, even though she was aching emotionally and physically. Jeevika put her hair up and when she did Meera saw the glittery jewel dazzling on her hand. She looked at it in shock and then at Viren's face. Viren smiled loud and bright and didn't utter a word. Meera took Jeevika's hand to see the ring, though Jeevika had forgotten that moment temporarily. Jeevika smiled in return, not the brightest smile like Viren's, but it was still a smile. Meera couldn't feel happier for the two at the moment. Riva walked in the same time without anyone realizing and she too was smiling now at Viren.
r - "I want the strawberry vanilla cake" she said to Viren indirectly informing him that she had figure everything out. Viren picked her up and kissed her tighter than ever.
Jeevika realized that moment the two blessings she had, Riva and Viren. Though she may have had to endure a lot, she had two support systems who would never let her break apart. From this point onwards, it was no looking back. She dreamt of the day when she and Viren could officially be one, and she could live happily ever after with her new family!

Do comment if you want a PM for the next update!
Next update after 40 likes


Edited by Kays94 - 29 May 2014 at 4:05am