Originally posted by -Swetha-
Originally posted by Skepblun

I was also unable to access it! Someone please give a summary!! Thanks!
here it is ..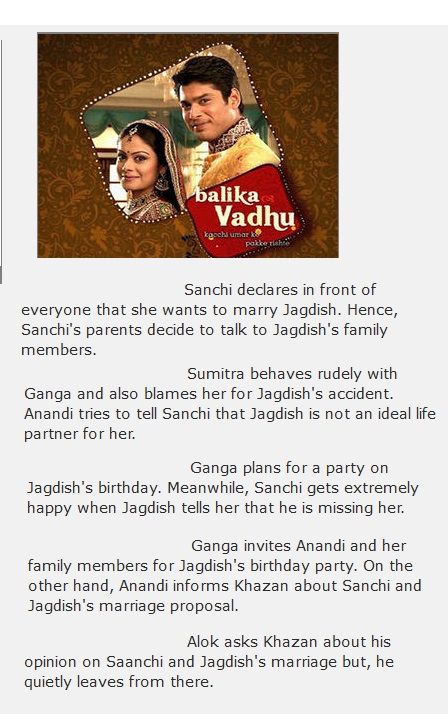 Thank you a lot
So now both families under the same roof again in BH. Let the bday fall on Sunday acc. to BV warna CS Jagya ki Happy Birthday Party ke liye leave lekar jaayega? What crap? Hum apne Bday ke din par bhi Institute and internship ke liye jaate hain.
WTH Khajaan came for Jagya's Birthday? CVs ko brains nahi hai? What do they expect him to say? Jagya hurt his daughter so NO or the Singh's got her life settled by marrying her to Shiv so YES
Shiv's birthday falls on 29 th June but as we have seen the BV calender is way off Makar Sankranti and Holi 25 day jaane ke baad manayi so pata nahi BV mein kaunsi date hai?
Saachi is building castles in the air. Jagdish too is shown like a fool. He senses something about her behavior towards him phir bhi he is saying I am missing you. I think Saachi will ask him aapne mujhe miss kiya Jagdeesh? Wo kya bolega NAHI of course bechara will bite his tongue and say yes. Saachi's infatuation is turning into obsession. I think the CVs had written all these things for Gauri but since Anjum left and they did not replace her why let our work go to waste karke they are showing Saachi do al of it.
Ok on Shiv's bday his and Anandi's baat chidi thi so now on Jagya's bday his and Saachi ki baat chidegi? I never felt bad for Jagya but I don't know he is in such a mess now Saachi or Ganga?
Ok just thought of it right now Ganga has no idea that she likes him. So abhi agar JaGan ki baat hui toh what il she say YES or NO. Will the yes be because of ehsaan? If right now she does not want to wil she be able to say no because of the ehsaan?
I don't get why bring the Shekhar's and Singh's together again and again. The Shekhar's should politely decline making some bahana in order to keep the Bacchi away from her Object of Obsession.
So Saachigiri continues?