Milking it
http://www.dnaindia.com/entertainment/1852747/report-milking-it
Tuesday, Jun 25, 2013, 11:47 IST | Agency: DNA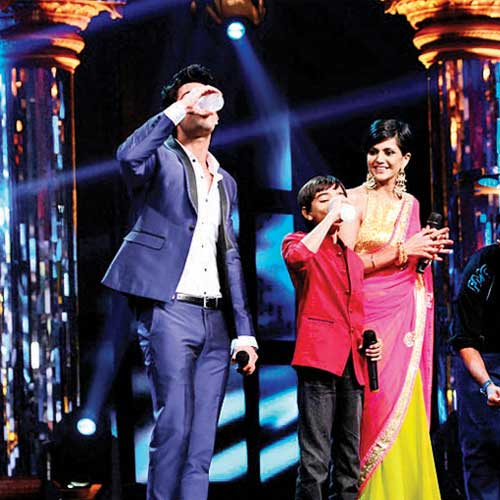 Karan Wahi and a contestant have milk as Mandira Bedi looks on.
Bhaag, recently visited the sets of Indian Idol Junior. What took everyone by surprise was the man who accompanied him. No, it was not the celebrated athlete Milkha Singh on whom the film is based, and the audience was expecting — it was the humble doodhwala, informs a source. "Everyone was amused to see a milkman with a huge can of milk appear on the stage.

Farhan asked the crew to get glasses and ensured that all the kids, hosts, judges (Vishal-Shekhar, Shreya Ghoshal) and the audience had a glass of milk.

He said that's the secret of Milkha's strength and let on that the prize for the first race, Milkha had participated in his village was a glass of milk!" While everyone obliged, including the kids who had a competition on who will finish first, the only person who refused was Shreya. "She said she hates milk and though everyone coaxed her, she didn't budge from her no-milk stance," says the source.