Akshay Kumar has "Aarav" tattooed on his back.
Ajay Devgan has a Shiva tattoo and his daughter's name on his chest.
Hrithik & Suzanne have matching tattoos on their wrists. Hrithik also has "Suzanne" tattoed on his wrist.
Saif Ali Khan has "Kareena" tattoed on his arm.
Priyanka has "dady's lil girl" tattoed on her arm.
Ranbir Kapoor has "awaara" tattoed on his wrist.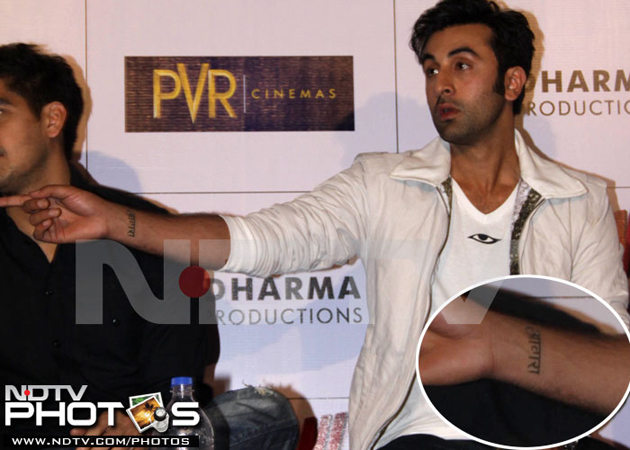 Deepika has Ranbir Kapoor's initials tattoed on the back of her neck. She also has a mehndi style tattoo on her ankle.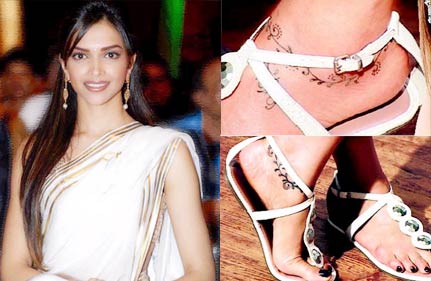 Imran Khan has a sun tattooed on the back of his neck.
Shruti Hassan has her name in Tamil tattooed on her left shoulder.
Trisha Krishnan has a nemo tattoo on her left breast and a tattoo on her left hand.
Esha Deol has two tattoes on her back
Celina Jaitley has her husband's name tattoed on her finger.
Arjun Rampal has his daughters' names tattoed on his arms.
Malaika Arora has an angel tattoo on the lower back.
Amrita Arora has a tattoo that says "love saves the day."
Sanjay Dutt has a bunch of tattoos.
Sushmita Sen has a tattoo on her wrist that means "I'll either find a way or make one" and another tattoo on her arm.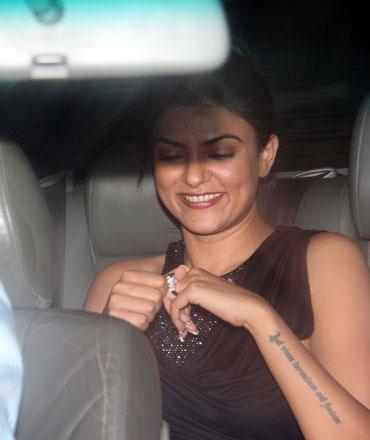 Raveena Tandon has two tattoos.
Kangna Ranaut has two tattoes, on the back of her neck and on her ankle.