I know everyone is waiting eagerly for the result
Before posting result I want to apologize to all 7 participants specially @Sheroo for giving so many trouble & unfortunately @Sheroo cant send the answers second times
i organized so many contests here from 2011 but never happen like this what i did this time...i m feeling very bad...cant express that...
Sorry friends !!!
Thanx to @visrom, @snehal, @GD, anam_cid & @mano for re-sending the answers & special thanx to Shreya for writing the whole answers again
I thought to get at least 10 participants for it but probably my question set is too tough
Hope next time we can get more involvement from others
Before posting result i would like to post the answers
First of all there is no negative marking so who wrote wrong answer just relax...and for correct distribution of marking i change the full marks of
some question otherwise its very difficult to give partial marking...i tried my best to clarify all these in regarding question...

1.How many times Aditya Srivastav played the character of police officer in his serials & movies? Name the serial/s and movie/s.[Can't be possible to give hints for this question..so sorry]


Answer :


1-CID & Adalaat (Serial) as Sr Ins Abhijeet [I take this as one because character is same]
2-Satya as Ins Khandilkar [1998]
3-Saathiya as ACP Aditya Srivastava [2002]
4-Deewaar: Let's Bring Our Heroes Home as Pakistani Police Officer Ejaz [2004]
5-Darwaza Bandh Rakho as Inspector Dream sequence [2006]
6-Dil Se Pooch... Kidhar Jaana Hai as Sub-inspector Avinash Srivastava [2006]
7- Alwar [Tamil Movie][2007]




okay few clarification [i m mentioning because participants wrote all these wrongly but i give full marks if someone wrote the serial/movie name
correctly...i have not cut any marks due to wrong character name of that serial/movie]

a] In Dil Se Pooch he was sub-inspector
b] In Deewar he was Pakistani police officer while KK Menon's character was as Pakistani Army Officer
c] In Saathiya he was assistant commisioner of police...we don't know whether he was an IAS officer or not (its not mentioned)
d] Is he present in Darna Zaroori hei ?? as far i know its Darwaza Bandh rakho...really confused !!
e] Few answers Lakshya but there he was an army officer while my question was regarding police officer only.

There are 7 times (but 8 names) he played the character of police officer.
No one answers all these 8 names correct...
I change the marks for this question because i cant distribute marking - 8 names while 5 marks...so make it 8 marks for this question...
So now its obvious that who answered 1 right answer - 1 marks, 2 right answer - 2 marks & so on...

2.Abhijeet wants to call Freddy's wife but Freddy prefers Kajal to call & said - '...aap pehele wale Abhijeet Sir ho na...to phir Sir mein aapke aage haath jodta hoon aap meri wife ko phone mat karna...pichli baar aapne jab phone kiya tha na mere ghar pe aag laga dithi...ek mahine tak baat nehin kiya tha usne...' (Quoting only Freddy's dialogs from their conversation).Which episode? [Hint : Read the dialogs carefully
you can easily answer if you read the dialogs carefully]



Answer : Khooni Raaste Ka Rahashya (28-01-2011)






Few participant rightly guessed it while others not...i said in the hints that 'read the dialogs carefully' if u read it u can answer it...the dialog starts with '...aap pehele wale Abhijeet Sir ho na...' it means its some episode before that Abhijeet sir has faced some mental issues & there are few prominent episodes...as i told again & again i took all cid related questions from his popular episode...same here this scene comes after that AKAKR series...its lovely scene where Freddy sir, Kajol & Abhijeet sir were present at bureau.



I change the marks for this question to balance with the previous one...so now for this question marks is 2

3.This picture is taken from a movie set & the person standing right side of Aditya Srivastav is the director of that movie. Which movie it is & what's the name of the director?
[Hint : Look at the picture carefully you can easily answer it
]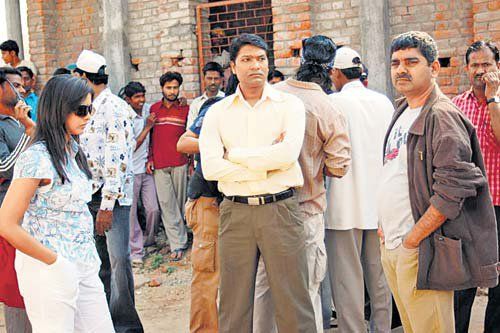 Answer :
Mohandas & Director - Mazhar Kamran



Marks - 5 (no change)
If anyone answered both give full 5 marks while anyone answered only movie name then give 2.5 marks

4.We generally see ACP sir does not believe Abhijeet when he is suspected for some crime though we know that by heart ACP sir knows that Abhijeet can't do any crime but maximum cases he doesn't show it openly...as recently we saw in 'Abhijeet Khatre Mein' episode but there are few occasions where he shows his faith on Abhijeet in front of others... as far I know there are only 2 scenes rather 2 dialogs of ACP sir where he shows his belief on Abhijeet when he is suspected for some crime, write down that 2 scenes with dialogs in brief with the name of the episode .
[Hint : one from Tasha era & other from Anjalika era]
(If anyone know more than that 2 scenes you are most welcome to write that also
)


Answer :

ACP - 'Aap chahe kuch vi kahe Dr Anjalika mei maan hi nehin sakta hoon ke yeh khoon Abhijeet ne kiya hei...he is such a brilliant officer' [Case of the Unknown Conspiracy (01-10-2004)]

ACP- 'magar Abhijeet mere dilne iss jhoot ko sikar nehin kiya...mujhe pata tha tum aisi galti kar hi nehin sakte...bina kisi wajah tum kisi mujrim par goli chala hi nehin sakte' [Khatre Mein Tasha (04-12-2010)]

In above 2 occasions ACP sir believes him when he accused of some crime & the all evidences are against him...i know you can say that Khatre Mein Tasha episode when ACP sir said that dialogs Abhijeet already proved innocent but we saw the previous episode saying that ACP sir sent KD to defense him in the court that implies ACP sir believes from the beginning that Abhijeet didn't shoot Jorawar without any reason.









clarification from my side :

a]Few answered Sr Ins Abhijeet episode in the lab while ACP sir said - "bura mat manna abhijeet mujhe tum par pura biswas tha..." but its said

when its already proved his innocence by forensic then this dialog doesn't actually imply his belief...Sorry i cant consider Sr Ins Abhijeet one...
But its doesn't affect in marks as i mentioned about only 2 cases.

b] AKAKR VIII----That Qualis scene where ACP sir & Daya sir discussed something & ACP sir show his belief...but that time Abhijeet sir didn't

accused of some crime...its totally different matter...

c] AKAKR X - Someone mentioned it also but here Abhijeet was not accused of a crime...its only Abhijeet sir who thought all these...

d] One participant wrote Abhijeet in Jail...yeah you are right that when KD said ACP sir appoints him to defense Abhijeet sir---it actually shows ACP
sir's belief...but i mentioned about dialog also which he told in next episode...



Marks distribution - 2.5+2.5=5

5. From which movie/s of Aditya Srivastav the following dialogs are taken----
A] 'rishtey nivaye nehin jate...jiye jaate hei...'

B]'...bed nehin hoga to vi chalega...sasta samjhta hei na..cheap...'
[HINTS: He played totally opposite type of characters in these 2 occasions
]



Answer :


A] Dil Se Pooocho Kidhar Janaa Hein (2006)
B] Black Friday (2004)



Marks distribution - 2.5+2.5=5



Edited by debasree04 - 22 July 2013 at 8:47am