11.Abhijeet - 'mujhe thodasa doubt tha'

Daya - 'mujhpar...mujhpar biswaas nehin ?'

What is the doubt Abhijeet has for which he could not share all the information with Daya? What is that information which Abhijeet hesitated to share with Daya? What is the name of the episode?
[HINTS: Officer centric episode, not recent ones]



Answer :
Face Off (2005)

Abhijeet sir didn't tell Daya that he knows ACP's whereabouts specially that ACP sir left for London. Because he suspected that someone from CID was giving all information to DIG Shamsher. He thought like that because Priyanka informed DIG that ACP sir shot Daksh.




Marks : 2.5+2.5= 5




12.From 2004 to till date how many CID & CID Chhote Heroes episodes Abhijeet is fully absent? Give the name of all the episodes. [Can't be possible to give hints for this question..so sorry]



Answer :

1.Case of Dead Murderer (13 & 20 August)
2.Case of Murder in Interrogation Room (10 & 17 December 2004)
3.Murder By Numbers (4 & 11 March 2005)
4.Man Eater (29 July & 5 August 2005)
5.Letter From the Past (24 March 2006)
6.The Secret At Table No. 6 (15 September 2006)
7.Murder of the Killer (2 March 2007)
8.Katil Kaun Dohri Uljhan (28 March 2008)
9.Khel Kidnapping Ka (4 April 2008)
10.Contract Killing (11 April 2008)
11.Case of Dancing Killer (7 November 2008)
12.Heart Attack Killer (12 June 2010)
13.Kissa Naqli Notes Ka (12 November 2010)
14.Raaz Kankaal Ka (21 May 2011)
15.Raaz Gayeb Maa Baap Ka (1 June 2012)
16.Raaz Kaatne Wale Qatil Ka (2 June 2012)
17.Code Remote Ka (CID Chhote Heroes, 24 May 2013)
18.Khatarnak Zehar (25 May 2013)
19.Jail Mein Khoon (26 May 2013)






Clarification :
a] I totally forgot that previously we had not 1 case = 1 episodes like now...so sorry actually i have meant case here, not episode part1 /part2
rather episode as a whole.So sorry !!! It means if in X case he was absent in part 1 but present in Part 2 it means we cant consider X case for eg Engraved Rice Grain...he was absent only in Rajasthan part still present in the case so cant consider it.

b] One participant wrote Great Diamond Robbery, Missing Bride & Phone Booth Murder but he was present in all these cases (i checked the video)




Marks Distribution: 10
I changed it because i cant give marks properly when full marks is 5 only so give it 10 because there are total 19 cases so 0.5 marks for each case & 0.5 marks given if anyone would answer all...unfortunately no one got that 0.5 marks. Maximum answer has given by @Snehal.




13.In the following picture, there are 10 disguised picture of Sr Ins Abhijeet. Identify them with the name of the episodes.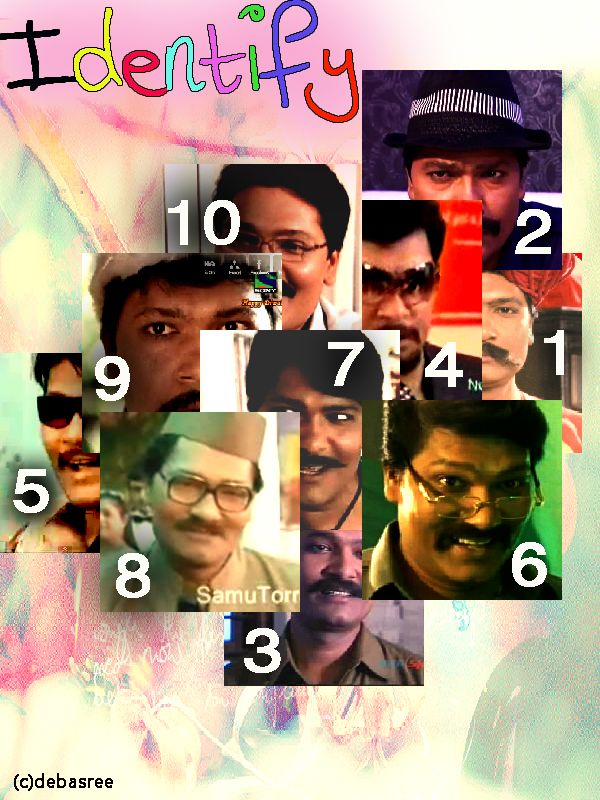 [HINTS: Only one pics is taken from very old episodes other from 2007-12, most of the episodes are very popular, rests are important for his disguise scene
]



Answer:

1-Insaaf Ka Khel (2011)
2-Room No 303 (2012)
3-Case of 639 Coins (2002)
4-Revenge of the Criminal (2007)
5-Khooni Piracy Racket (2009)
6-Rahashya Qatil Kidnapper Ka (2011)
7-Aakhri Chunauti 1(2010)
8-Bank Locker Ka Rahashya (2010)
9-CID Ke Jung Baal Mazdoori Ke Sang (2010)
10-Khidki Ka Khooni Raaz (2010)




Marks Distribution : 5 (for each 0.5)
Here i just want the name of the episode...so who rightly named i gave full marks for it




14.Aditya Srivastav shares screen space with some wonderful Bollywood stars in his movies. Here is a list of few Bollywood actors. You have to write the name/s of the movies where Aditya Srivastav shares screen spaces with them.

Amitabh Bachchan

Shahrukh Khan

KK Menon

Manoj Bajpayi

Sonali Kulkarni




Answer :

Amitabh Bachchan - Lakshay, Deewaar: Let's Bring Our Heroes Home
Shahrukh Khan - Dil Se, Saathiya
KK Menon - Paanch, Black Friday, Deewaar: Let's Bring Our Heroes Home, Dansh, Gulaal
Manoj Bajpayi - Sanshodhan, Bandit Queen, Satya, Dil Pe Mat Le Yaar
Sonali Kulkarni - Dansh, Mohandas




Marks Distribution : 5
There are total 15 names you have to write for this 5 people...so i divided marks like this - if anyone answered 3 correct i gave 1 marks, in that way 15 correct answers get 5 marks.




15.In the following paragraph there are 5 popular dialogs of Sr Ins Abhijeet but all the dialogs are mixed up. You have to find the 5 proper dialogs from it.

aisa kavi ho sakta hei Goli khane se mujhse door ho chuka tha,Hum vi dost ke Abhijeet beek nehin sakta hei tumhare humhe nehin darte hei hum Aap yahan pe kisi ko bulaye goli khai hei humne to aajtak kuch na diya Samsher ko malum nehin Mera ateet pehele hi aur woh na aaye mera aaj bhi mera nahi raha




Answer:

1-'Hum vi dost hei tumhare humhe to aajtak kuch na diya..' (Case of Man on the Bus, 2004)
"Dost to hum vi hein tumhare, humhe toh tumne aajtak kuch na diya" (Case of Man on the Bus, 2004) [Its actual one...sorry for writing wrong...thanx @Visrom for correcting me...here i gave marks according to what i wrote earlier in the question]

2-'Daya, Samsher ko malum nehin ke Abhijeet beek nehin sakta..' (Face Off, 2005)

3-' ...Mera ateet pehele hi mujhse door ho chuka tha,mera aaj bhi mera nahi raha..' (Sr Ins Abhijeet, 2010)

4-'Goli khane se nehin darte hei hum,goli khai hei humne..' (CID Mein Daraar IV, 2012)

5-'Aap yahan pe kisi ko bulaye aur woh na aaye aisa kavi ho sakta hei' (Mysterious Gift, 2006)



Marks Distribution : 5
I want fully proper dialog with correct sequence in this case. No partial marking in it. If someone wrote one single word it is considered as wrong dialog...maximum participants forgot that there is one word - Daya,



Edited by debasree04 - 22 July 2013 at 9:04am