C I D I A N S T O

All of us know next month our dearest Aditya Sir's birthday...
few days back i saw one thread about his age...no matter how old he will be on next month, the definition of Aditya Srivastav to us will never be changed...we love & respect him yesterday, today & tomorrow...
So its time to celebrate his birthday...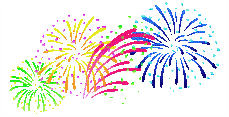 To celebrate his birthday we organize some contests...I am here with..
Sometime we say that we know everything about our hero...so its the time to prove our knowledge
There are total 15 questions from the professional life of Aditya Srivastav..Read carefully all the questions & then answer it. In some questions, i gave some hints also...remember i took all the questions from his popular movies/dialogs/CID...hope you can easily answers all...



1.How many times Aditya Srivastav played the character of police officer in his serials & movies? Name the serial/s and movie/s.[Can't be possible to give hints for this question..so sorry]






2.Abhijeet wants to call Freddy's wife but Freddy prefers Kajal to call & said - '...aap pehele wale Abhijeet Sir ho na...to phir Sir mein aapke aage haath jodta hoon aap meri wife ko phone mat karna...pichli baar aapne jab phone kiya tha na mere ghar pe aag laga dithi...ek mahine tak baat nehin kiya tha usne...' (Quoting only Freddy's dialogs from their conversation).Which episode? [Hint : Read the dialogs carefully
you can easily answer if you read the dialogs carefully]






3.This picture is taken from a movie set & the person standing right side of Aditya Srivastav is the director of that movie. Which movie it is & what's the name of the director?
[Hint : Look at the picture carefully you can easily answer it
]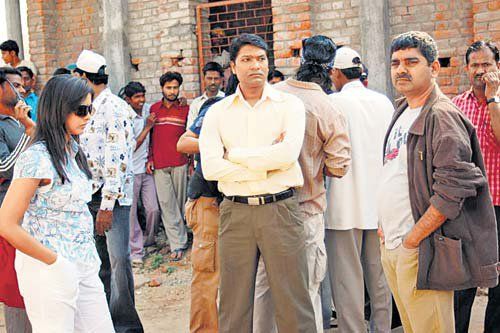 4.We generally see ACP sir does not believe Abhijeet when he is suspected for some crime though we know that by heart ACP sir knows that Abhijeet can't do any crime but maximum cases he doesn't show it openly...as recently we saw in 'Abhijeet Khatre Mein' episode but there are few occasions where he shows his faith on Abhijeet in front of others... as far I know there are only 2 scenes rather 2 dialogs of ACP sir where he shows his belief on Abhijeet when he is suspected for some crime, write down that 2 scenes with dialogs in brief with the name of the episode .
[Hint : one from Tasha era & other from Anjalika era]
(If anyone know more than that 2 scenes you are most welcome to write that also
)






5. From which movie/s of Aditya Srivastav the following dialogs are taken----
A] 'rishtey nivaye nehin jate...jiye jaate hei...'

B]'...bed nehin hoga to vi chalega...sasta samjhta hei na..cheap...'
[HINTS: He played totally opposite type of characters in these 2 occasions
]





6.Before joining CID Abhijeet comes in disguises which mentioned in later episodes of CID. In which episodes it is mentioned? Write down in brief about these two disguise scenes.
[HINTS: Its related with officer centric episode
]





7. This pics is taken from very recent episode...OMG !! Duo points gun at each other...very shocking...very rare scene it is...What is the name of the episode?
[Hint: Not just a normal murder episode, no yspt as well
And Please don't search the recent caps thread because the maker probably didn't post it]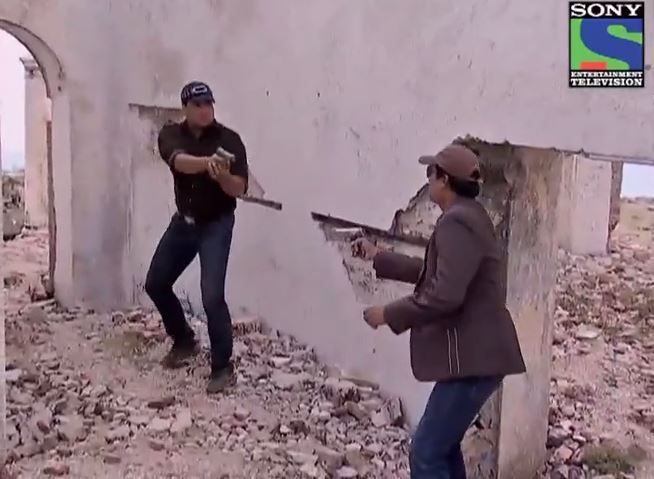 8.Daya- 'achhe acting kar lete ho boss' ...in reply Abhijeet said- 'mein to bachpan sehi acting karta hoon'
Which episode? Why Daya said this to Abhijeet ?
[HINTS: Its taken from one of his disguise scene, not very old
]






9.Write 3 instances along with the episode names where Abhijeet giving a jump to catch a virus/bomb in hands.
[HINTS: One is from very recent episode other 2 episodes are from 2005-08]





10.'karna padhta hei Vivek, karna padhta hei , mujrim o ko pakadne ke liye beherupiya vi banna padhta hei'...which episode & who said this & why ?(Give details in brief)
[HINTS: Another disguise scene, very popular one]






11.Abhijeet - 'mujhe thodasa doubt tha'

Daya - 'mujhpar...mujhpar biswaas nehin ?'

What is the doubt Abhijeet has for which he could not share all the information with Daya? What is that information which Abhijeet hesitated to share with Daya? What is the name of the episode?
[HINTS: Officer centric episode, not recent ones]






12.From 2004 to till date how many CID & CID Chhote Heroes episodes Abhijeet is fully absent? Give the name of all the episodes. [Can't be possible to give hints for this question..so sorry]





13.In the following picture, there are 10 disguised picture of Sr Ins Abhijeet. Identify them with the name of the episodes.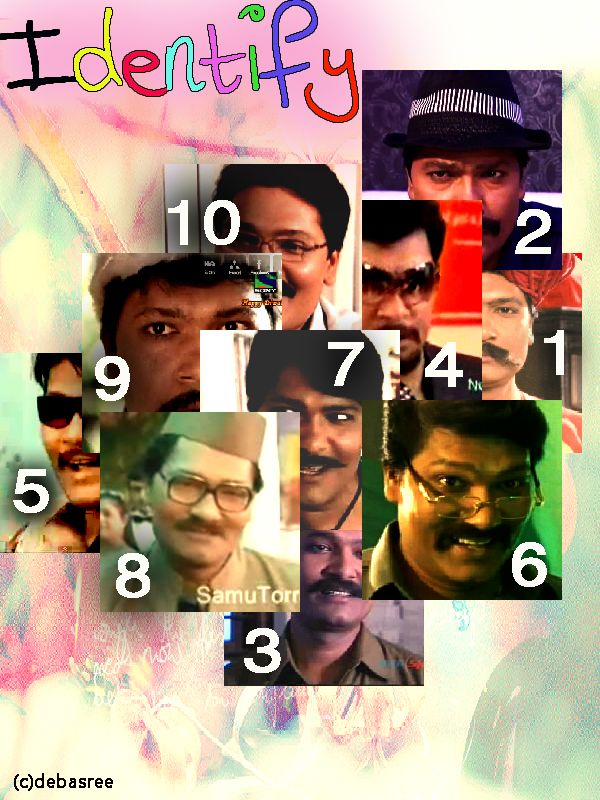 [HINTS: Only one pics is taken from very old episodes other from 2007-12, most of the episodes are very popular, rests are important for his disguise scene
]






14.Aditya Srivastav shares screen space with some wonderful Bollywood stars in his movies. Here is a list of few Bollywood actors. You have to write the name/s of the movies where Aditya Srivastav shares screen spaces with them.

Amitabh Bachchan

Shahrukh Khan

KK Menon

Manoj Bajpayi

Sonali Kulkarni






15.In the following paragraph there are 5 popular dialogs of Sr Ins Abhijeet but all the dialogs are mixed up. You have to find the 5 proper dialogs from it.

aisa kavi ho sakta hei Goli khane se mujhse door ho chuka tha,Hum vi dost ke Abhijeet beek nehin sakta hei tumhare humhe Daya, nehin darte hei hum Aap yahan pe kisi ko bulaye goli khai hei humne to aajtak kuch na diya Samsher ko malum nehin Mera ateet pehele hi aur woh na aaye mera aaj bhi mera nahi raha



NOTE : Each question carry 5 marks means total 75 marks...Marks will be given according to the answers...where I say "give details in brief"...it means maximum 2-3 lines...If you answer correctly even in one line full marks will be given...
I will answer all the questions with marks distribution at the time of RESULTS...





Write the answer/s (you may not answer all still you can send entry) & PM me (debasree04) with the title of 'Adi sir's bday Quiz Entries' (i will not accept any entries with the title like hi, hello etc) before 18th July 2013 12PM



Please send all your answers together...i will not accept any more answers after sending first PM...you cannot edit your answers further...



If you have any query regarding this you can directly ask it on this thread or you can also free to PM me...






Edited by debasree04 - 24 July 2013 at 7:56am