Same night:
The party hall was decorated perfectly with beautiful flowers...all the young raizadas were present in the party...even anjali is present and by god's grace her husband is out of town for some other reasons which only he knows...
Akash was sent to bring Payal and Khushi to the function hall...thought arnav want to bring her anjali has sent akash so that he could get sometime to spend with payal(but poor anjali she dint think if there is khushi then how can they spend time alone
)
Everyone were busy in admiring the party arrangements and anjali was busy recieving all the guests...but two pair of eyes were constantly looking at the entrance from time to time...for their someone special...
Finally after some time Akash and payal entered the venue hand in hand making everyone in the hall to admire the couple...They looked so good togeather...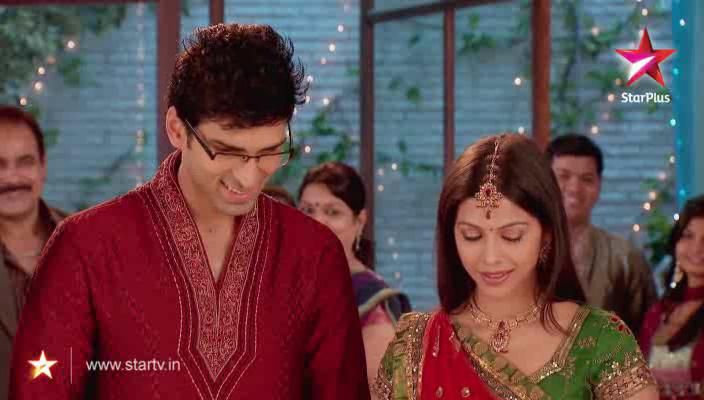 Both of them stood at the middle and the guests again became busy in wishing them and enjoying the party...when arnav felt a sudden gust of wind and looked at the entrance to know if his prediction was true...and he was dumbstruck at that moment...
the world seemed to stop for him...he could see only two things right now one is him and the other one is the beautiful girl who is standing at the entrance looking at him...who is also his first LOVE...Khushi...
Some Rabbave or unknown forces dragged him towards her to see her closely...
Khushi felt like her heart would burst for each and every step arnav is taking towards her...
Then he registered that she was wearing the saree which he selected in the shop for her...his lips curved into a smile seeing her wear a red saree that too of HIS choice...
The word His is making him think the she is HIS...
He stopped at some distance from her and kept staring at her...due to the wind from outside her hair is blowing and is disturbing his vision...
He felt like tucking those strands beside her...Khushi was all lost in him and was blushing seeing him staring at her...
Her heart is going Dhak dhak every second...
When arnav was about to proceed furthur Nk came from nowhere disturbing arnav...
"Wow Khushijii you are looking soo beautifull"Nk praised her making arnav blood boil...
Khushi gave a smile to NK thanking him for his complement...arnav felt too bad
seeing khushi smile at NK...
She kept looking at him from the corner of her eyes...
Nk dragged her into the hall and started introducing her to everyonee...Arnav felt like kicking NK then and there..but he kept his cool infront of them guests...
Anjali praised khushi for the saree she was wearing...
"Dii you know what yeh saari nannav ka choice hein"(Its nannav's choice)Nk spoke...making anjali shocked..
"Kya arnav ne choose kiya?woh bhi aap keliye"(what?arnav choosed it for you?)Anjali spoke looking shocked at khushi...Khushi tried to cover it by saying..."Nahi anjaliji...wo hamari madad ki hein bas"(No anjaliji...he just helped me)
Anjali was about to speak when someone called and then she left...
Khushi breathed a sigh of relief...
She could feel his constant gaze on her...she looked to see where he is and at last found him at the corner staring at her time to time while talking to some of his clients...
Khushi blushed under his gaze and moved from there to concentrate on the party...
The party was on full swing and the couples started dancing to the melodies tunes the DP played...
Khushi was enjoying seeing her jiji and jeejaji dancing...when suddenly she felt a hand on her shoulder and saw it was NK...
he asked her for the dance for which at first she was reluctant...
Arnav was observing this from a distance with his anger boiling...
Khushi saw arnav who is looking at them angrily...so she thought to play her last step and joined NK in dance...
Nk started dancing with khushi and she too swayed along with him...suddenly the music changed to a romantic one..and then Nk put his hand around khushi's waist surprising khushi...she felt unconfortable but seeing arnav she thought this is better...
Now arnav's boiling point reached extreme limit seeing Nk's hand around khushi's waist...he immediately walked towards the stage in long strides and reached Nk and khushi...he pulled khushi suddenly from nk's hold making her fall on his hard chest...Nk was confused to see arnav pulling khushi and stood there silent..
Khushi raised her head and saw arnav's eyes that are boiling with anger...
Nk was called by some of his friends ,so he left immedietly...
He pulled her close holding her waist...making her gasp...at the sudden touch...
Arnav started dancing pulling her more into him...she hold onto his shoulders...his eyes were still showing her the same rage...
She could feel his hold getting stronger on her for every passing minute...
Arnav pulled khushi holding her wrists harshly to the corner of the venue where no one can notice them...
Khushi flinched wit pain...he pinned her to the wall holding her shoulders with rage..."arnavji hame dard ho raha hein"(its paining) Khushi said trying to free herself from his strong grip...
"Jo dard tum mujhe de rahe ho uska kya dammit?"(what about the pain you are giving me?) Arnav roared at her in anger...
Tears rolled down her eyes due to the pain...seeing her tears arnav loosened his grip on her...
Khushi was about to speak when anjali's faint voice came from some where calling khushi...She immediately wiped her tears and turned to see anjali coming towards her .
anjali observed khushi's pale face...and immediately cupped herface and spoke with concern..."Khushiji aap teek hein/?"(are you ok?)
Nk too came there seeing khushi's pale face...
"Kuch nahi di...woh bas thoda sar dard ho raha hein"(nothing di..my head is aching)Khushi replied putting a faint smile..."Di mujhe lagta hein ki mujhe ghar jaana chahiye.."(I think I should go home)Khushi continued...
Nk was about to tell that he will drop when arnav came and spoke..."Mei drop karunga isse..."Anjali and Nk were surprised for arnav's words...
"Nahi anjaliji, mein khud chali jaungi."(no anjaliji,i'll go by myself)Khushi spoke...before anjali could speak arnav spoke in harsh voice..."Meine kaha tha na i will take you..."He looked with anger in his eyes...
"Chotte..yeh kya tarika hein baat karne ka?"(Is this the way to talk?)Anjali calmed him...and continues looking towards khushi...
"Khushiji aap itne raat ko akele kaise jaogi,chotte aapko chodke aayega..."(how can you alone at this time of night...chotte will drop you)Anjali spoke...
Arnav went out and khushi has no option but to follow him...
She know she has to face his anger...
She know that this journey would give her the answers for her questions...and she knows after every storm a pleasent morning will be waiting...
PRECAP
Arshi Confession
THANKYOU
I hope you all Liked it
Plzz do COMMENT and LIKE
please let me know how it is...it would give me some strength to write...
BUDDY me for PM'S
will be waiting for your comments