Kanha:
No matter who meena is?? i will always drool over her

Mohit:
No matter what i did?? I will blame emily for all those & easily make her silent with divorce matter

Emily:
No matter how evil mohit is ... I will continue dancing according to his tunes...
And also i will call sandhya as badi jethanji & always trouble her with my silly deeds. The next programme is ready with participation in that competition

Chavi:
No matter what happens in the house i will be busy looking at my nail paint.

Babasa:
No matter what happens .. I will keep my mouth shut on aangan dramas. I have taken an oath not to open my mouth other than those related to eating food.

Bhabo
: No matter how much surYa understand & respect me. I will continue taunting whenever i see them together...

Suraj:
No matter what i have to face I will help sandy
Sandy:
No matter what i will never break BhaRaj relationship.. I willl not reveal the truth.
Apart from this the most interesting part to me was how kiddish both suraj & bhabo were behaving. Poor sandy got stuck up with them (Sometimes when people get over possessive they act like this) Many might have got irritated with this but i was continuously rofling over this scene.
Too childish..

Bhabo:
Nothing happened to me. Don make me feel like a patient

Suraj:
Sandy call the rickshaw
Sandy:
Yes boss
Bhabo
: No need to call the doctor. U always leave me alone in ur discussions. We a trio right. How can u do that?? So forget about me & my problem.
Sandy:

whom to follow??
Suraj:
Sandy what r u doing now. Go & fetch the rickshaw..
Sandy: yes boss
Bhabo to sandy:
U will always listen to ur hubby only. U never listen to my words... (bhaSan feeling here too)
Suraj:
I will take u to ur room.
Bhabo:
No need i will go with that crap mohit
Suraj
(i will follow u bhabo)
Bhabo:
Bring half medicine 300Rs for a sprain is too much. How can suraj bear this expenditure
Suraj:
I will take care of the expense
BhaRaj starts another drama

Bhabo:
I wanna pees haldi (peesing peesing peesing)

Suraj:
I will do that
Bhabo:
No No i will do.I'm okay. I don have pain... (ahhh my leg ) in mind voice
Suraj:
If u stick to ur point then i'm no lesser to u. I will arrest u in this room...
Sandy & me
: aww what a cute relationship... Even they shout at each other they love each other the most.
It was cute to watch BhaSanRaj love triangle
And now emily wants to enter this web
but thank god Mohit stopped her.
Sandy hangs like this. Suraj will be hurt when he comes to know abt the truth
He show her the way but she stucks up in the middle & while trying to save her he falls
Poor suraj...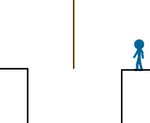 And also the cv's r ziddi too. Dragging the track.. But it was okay. They always does this ... SP serial.
Hope they clear the mess by 500th episode