DISCLAIMER:DON'T COPY MY WORKS AND CONCEPTS WITHOUT GIVING ME CREDIT
YOU HAVE SEEN MY HUMBLE SIDE. TRUST ME YOU WON'T LIKE THE OTHER...
EPISODE Part 139-140-141
Revelation of Evil [Part 3]
Continue'..from Part 2
Khushi stumbles with Arnav during her internal war with pain'uh'.Arnav in rage," Dekh kar nahin chal sakti tum'"[you can't see where are you going]..Deep dialogue'does she really know where is she going?Her unbelievable steps are stumbling and you are the only one who can hold her.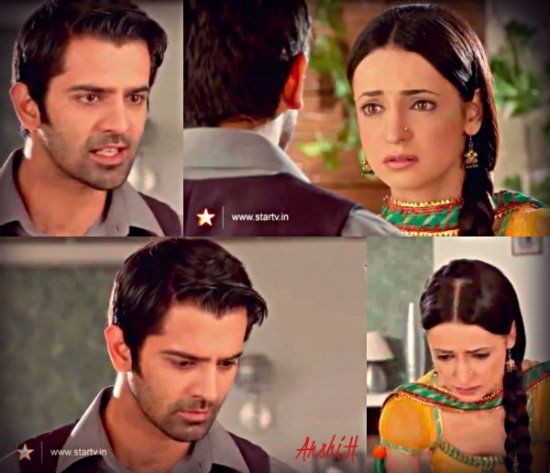 He sees her breathing unevenly and shaking while picking the pieces of the broken mug which makes him sit down and holds her in gentle and fragile way like he can go any extent to release her from distress if he can"Khushi kya huwa tumhain'tumhain "His voice modulation shows deep concerns and distress for her'.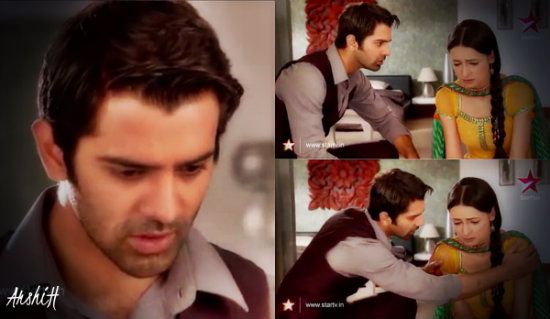 By making her stand softly and gently "Khushi tumhare ghar par koi problem hai'Khuch chahiye tumhain'Khushi"
Translation: Do you have any problem at home? Do you need anything?...Khushi!
His eyes are searching for answers by gauging her face.. he did not get an answer yet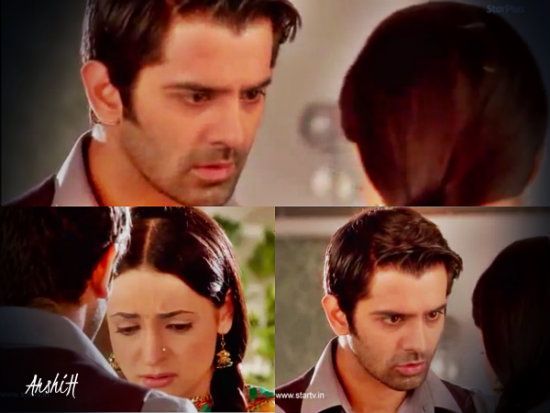 Khushi without looking at him in shattered state when he leaves her as it was unbearable for him seeing her like that ' and at the top this is not his place and he can't do anything.This is unbearable for him as he knows Khushi can't stop for 5 minutes'..and here something is really big because of which she is completely withdrawn'He wants to fix it for her period but how' he is use to her being fiesty and when she is not you know something HUGE had to have happened
PONDERING CONNECTED DOTS: -Just like he hurt his hands knowing her engagement and conveyed his message with anger'.Khushi always does with silence'just the way she is doing it right now.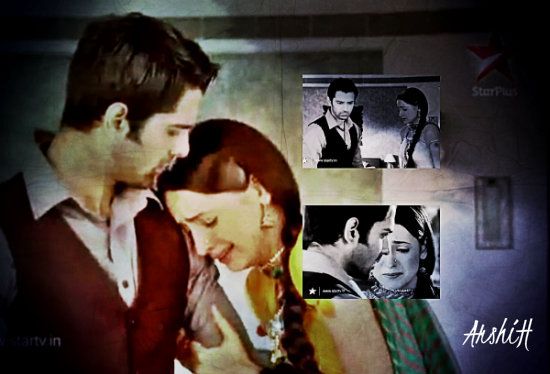 The moment he walks away she holds his shoulder and cries her heart out as he is the only one who can see her wounds and she lets him'..
PONDERING CONNECTED DOTS: She ran into him for solace in hospital and breaks down on his shoulder regardless he threw her out of his car coming from Nainital..
Arnav with deep perturbation,"Khushi what happened?..it's ok..shhh'"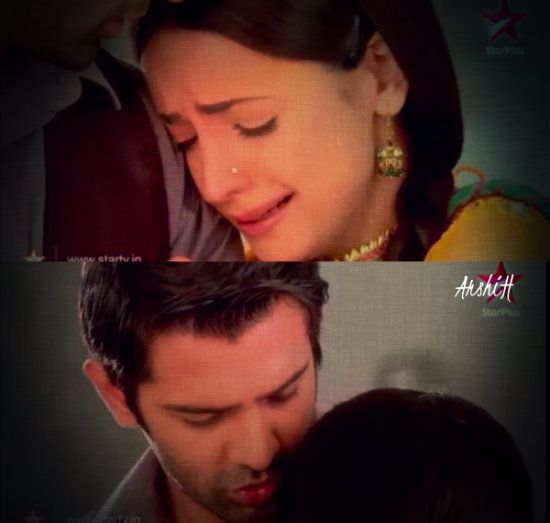 He wants to remove her pain but how? And Then the reality hits him from which he was escaping couple of minutes ago'.."Khushi ! Kya tumhare mangaiter ne tum se khuch'."
Khushi lifts her head up and looks deeply in his eyes..Arnav in rage,"Kya kia uss ne'did he try to hurt you? Khushi while sobbing,"unhon ne humare saath'She wants to tell him so badly but'stops' BINGO he got his answer i wish khushi told him regardless, i know he won't believe her at first but his harvard brain would do some investigation
A fear runs through his veins ,at this point he is thinking worse,did he hurt her sexually,or physically or verbally?His brain is taking him places where he's been in his past and is the cause of his rage'with flaring nostrils ""Batao Khushi"[ tell me Khushi]'.I am imagining if he knew who is he .he will go and kill him ill treating his Khushi like that'..just like Nainital and goons i feel the same way

Khushi stops and looks in his eyes and remembers his words for his Di"meri Duniya tou aap ho'.mujhe iss Duniya se koi matlab nahin"[You are my world ,I don't care about this world] and how he took oath for her protection during Raksha bandhan'How can she break that strong TRUST'"atoot Vishwas" in between a brother and a sister,.ABOVE all she can't hurt him the only one who she thinks is hers'.She knows he will be shattered with her Di's broken marriage he would be but it would be better than her living with that creep
...the truth hurts sometimes
She keeps starring at him couple of seconds and his eagerness is killing him to find the answers '.which he is totally unaware of it and the reason of her "Chup"[quietness]
Lamha-e-Fikriya[Thinkable moment}
MY POV if she tells him ,I think he will not shattered ,he would throw him out as he said it later in the middle of road'."why didn't you try to tell me at least'why did you let my Di make this guy "Bhagwan"'..He would've find the solution'It's Khushi and her wayof solving issues by herself is a big issue here which we will see he will explain her"tum har kaam akaile nahin kar saktin..[you can't do everything alone] till gupta house track'
I always hated that why the heck she never tried to tell him until I recalled my aunt's whose words kind a stuck in my head and made this clear to me'that may be this is the reason'She said in Punjabi and let me try my stupid translation"The person you love the most ,you always try to save him/her from every possible element of distress and pain by sacrificing yourself"'and that's what Khushi is doing here 'without thinking any other outcome.
PONDERING CONNECTED DOTS:She never wants to hurt Arnav or Anjali'..her words reflect here "hum ab kissi ka Dil nahin dukha sakte..khas kar keh aapka .aur Di ka tou bilkul bhi nahin"[I can't hurt anyone especially you '.and Di,definitely not ]
She rushes out"humain jana hoga" leaving Arnav trailing her by following her downstairs this time'.
Pause here:Ok wait a minute ..this is Arnav who was looking for Khushi in Nainital jungle and here he is trying to find Khushi's distress like Pagloon ki tarah'.What a change? loved this pause
Anjali calls her out,"Khushiji" while she is rushing out.She turns around and see the Evil standing in front of her making his "maskeen soorat"[ pity face] 'it is a saying in Urdu and Persian together
"Shakal momnan'kartoot kafran"
Translation: evil acts behind innocent and pious face

Arnav and Akash try to help Anjali to get up when Mamaji says,"don't worry Damadji is here" and Anjali adds fire to the fuel for Khushi,"I don't need anyone If he is with me '"He is the best husband in this whole wide world'no matter where he is ,I'm always in his heart"
Khushi's affliction has no ends seeing Anajli's endless TRUST in her husband who can't meet his eyes with her but its all a fake act to dissolve the situation.Khushi just clutches her Duppata in her agony which was not gone unnoticed by Arnav. i wish he connected the dots
Pause here:Arnav wants to remove her pain as soon as possible.While everone was talking to Khushi ,he was just observing her state of mind by gazing her constantly'

Khushi notices Evil is a pride of this family.Anjali also notices her convulsion and asks her "do you want to say something?" which makes Slither gulps down his fear'.and he diverts her attention for Parasad because he is in a rush'after all he has to control Guptas too.
-Future indication as always Arnav and Akash take care of Anjali rather this creep'.
Anjali asks Khushi does your Shyam has the same similarities as mine'..which makes her flitch quickly at Shyam who just wants an escape.Arnav's discomfort and annoyance hearing Shyam's name was very much visible.

[CVS did really poor job for not connecting these dots later and extends the misunderstanding] later on they just forgot everything they built up...it make me mad
Naniji makes her realize by making Anjali preparing Parsad for Payal who is becoming reason for Khushi to keep her mouth shut.She leaves in her agony leaving Arnav trailing her with bewilderment and exasperation. i thought arnav might have offered her a ride to find out what is wrong and make sure she does not do anything stupid but khushi just walked off so fast that he could not do anything

Khushi walking on the road while connecting dots of the EVIL plan from Lakhnow to Delhi,how did her make his moves to make her come to Delhi.."Pata hai kitne jatan karne pade inhain Delhi tak lane keliye'.
She connects how he uses Buaji to stay in their home,how he bought gifts for Anjali and tried living double life, how Anjali was waiting for him on Teej,how he made em flee from Mandir on Teej so he can go there,How he made Buaji agreed to marry her and how did he do the engagement and above all how ANJALI worships this piece of garbage...Arnav's "What Crap" fits here.
EVIL has too many tricks in his sleeves,he stops her by her shoulder to convince her with more lies but Khushi made it clear with firmness ,"stay away from me and my family" and she walks away'
He with his evil smudge on his face tries to do suicide so she can be under his trick to measure the length of her agony as a test''.AND Khushi saves him to strengthen his next move he knew khushi won't let him die no matter what evil he has done...the good in khushi always comes out no matter how mad she is'.but he is right about one thing,why did you save him..?He wants to redeem but here Khushi is right ,your actions have no redemption?there is no redemption for dhoka, you make the person you betrayed lose trust in you forever You deceived everyone around you.He tried to play miserable here but Khushi leaves as she is done with this EVIL lair'..But one thing is right" Whatever you see is not truth"He plays reverse psychology by bringing her weak points and did win some points here. He turns around wiping his tears with his evil bracelet and BG score which never felt so creepy and looks at the time. he is still looking how much time he has to save himself from his own doom
Pause here : It's me or he always sees time whenever he is up to his evil plan to work .He did this since from the beginning.Whenever he changes his strategy ,he measures each step."Ache khiladi jhut se doosra plan bana leite hain"[Good schemers always make another game plan quickly]
He did the drama of suicide for testing the limits of Khushi's patience and hate so he can change his move and buy some time for that and later he said that to her"Jahan tak hum aapko jante hain Khushiji aap iss hud tak ja hi nahin saktin" meaning you can't hate anyone '..when she claims she hates ASR during Kidnapping'.
He did exactly ,after buying some time he started with Khushi again .from Payesh sangeet till the very end of Kidnapping..till Arnav stood besides Khushi. he knows how to play a good game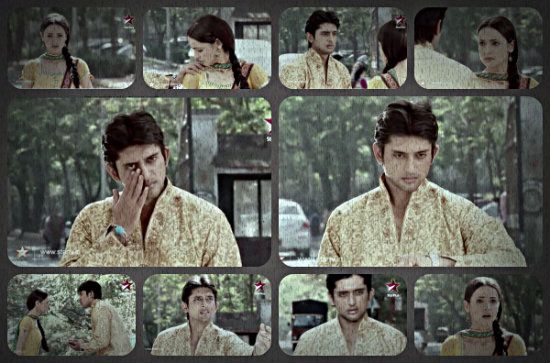 He reaches GH and plays the same mind games but Buaji who was his biggest weakest link,yet she is the most strongest opponent here now .She is true to her character,He played the same trump card here again "payal's wedding" and gets out as a winner'He is the biggest manipulator and knows how to touch weak points to get what he wants.Poor Babuji has to go through with his threats last time today'.Phew..He definitely threatened him while bringing him out'.but he got what did he come for 'TIME for his next move' don't remind me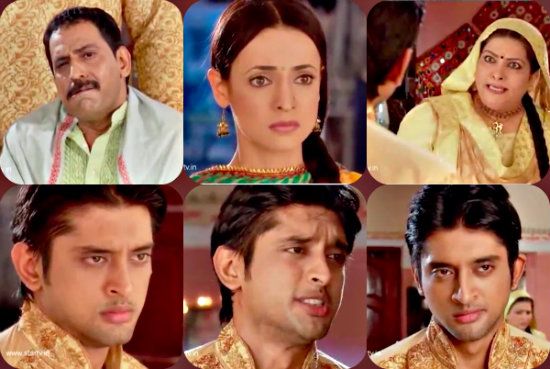 Garima does not want her daughter to go through again with the same pain but Payal is strong here and she does not want her relationship at the base of a lie.Buaji also wants Khushi to go and tell the truth to Anjali and Raizads'..She is instilling all the courage in her. i am proud of bua ji and payal, they are doing what is right
Khushi with her DM and feels again guilty and reason for breaking up Payal's marriage.She apologizes to Payal and Payal pulls her younger sister in her embrace to support her decision.Both sisters stands besides each other in this fragile time.
Arnav in his deep embittered and acerbated condition while calling her"Phone karoon ya na karoon"[Should I call or not?] and then recent events reverberate in his head.Her crying her heart off to him is making him miserable as he wants to know How is she now? arnav wants to make sure she did not do something stupid because he knew her state of mind, he is the only one who does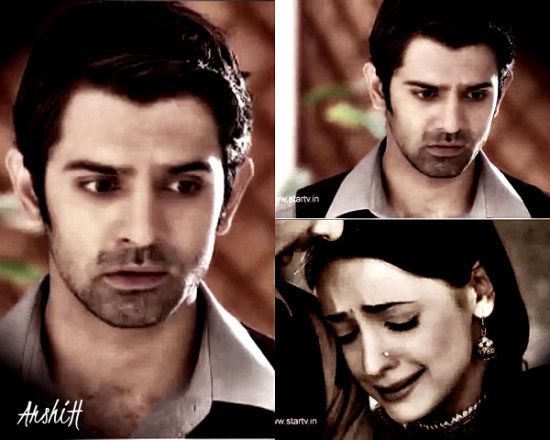 La comes and complains to him about his ignorance towards her.He again ignore her and jumps to aske her"Where is Khushi?La tells her she's gone "Par who bohat hi'"She gets astounded by his concerns about her.He realizes his mistake but turns around towards his Di and asks the same question with deep distress which was not gone unnoticed by Di and La.He realizes his blunder again and diverts his intentions"How can she go leaving everything in the middle? After all there is a lot of work left for engagement.
Anjali tells him to relax and tries to call her and that exactly what does he want.He knows La's anxiousness and gives her a turned perturbed look and La leaves in irritations and antagonism here.She is getting the picture very clear now and can't hide her anxiety either. this is where the truth hits her
Anjali calls Khushi but no answer which makes Arnav more uneasy he is thinking that she is dead on the side of the road .He calls again but no answer.When Payal calls for Khushi ,he becomes precarious about her where abouts.Why is she not picking up the phone? she wants alone time to gather her thoughts
PONDERING CONNECTED DOTS: He was anxious to know when he took her home after Guest house incident and Anjali made the call to relieve him just like today but today he is calling himself over and over'.Love is really reducing him'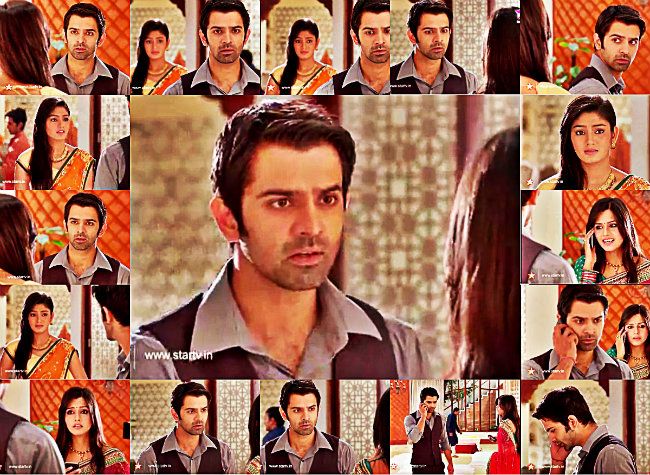 Khushi in Mandir with her Dm finding solutions of her problems ignoring all the calls.She knows after finding the truth of Shyam ,Anjali will be completely broken along with her marriage.What will happen to Akash and Payal's relation?
"ab aap hi humari madad kijiye..koi tou rasta dikhaiye humain"[Now you have to help me and show me the way]...
Devi Maiya answers her prayer and her way is on the other side of the phone yelling at her"Don't you ever ever do this to me again..Samjhi tum'Pata hai kab se phone mila raha hoon mein..tum ne phone kyuon nahin uthaeya'kitna pareshan ho gyeya tha mein'Khushi 'Khushi talk to me'tum theek ho 'kahan ho tum..
TRanslation:Don't you ever do this to me understand..do u know how long I've been calling you..why did't u pick up the phone...r u ok...where are u?
Khushi answers him by gathering herself,"hum bilkul theek hain 'hum Mandir mein hain..[I am fine and in Mandir]
He sighs a relief and then diverts her attention from his vulnerability'."There is no need to worry but there is a lot of work and how can you leave like this'..
Khushi controlling herself ,"I had to leave ..I'll talk to you later" this was my favorite scene of the week...it showed arnav's restlessness and how he is becoming more affected by khushi eventhough he is denying it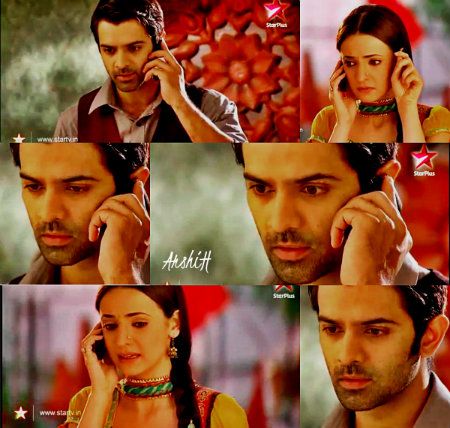 He can't stop his anxiousness and concerns for her today which is revealing his state of vulnerability and very much noticed by La who is connecting these dots since long but its time to figure out the answers'Bitter ones though'..time of revelation and realization' the truth hits her again but this time it is harder than the first

MOMENT OF THE DAY:
http://www.youtube.com/watch?v=NVCMcd6yP40
http://www.youtube.com/watch?v=CXsxv-kkkCc