DISCLAIMER:DON'T COPY MY WORKS AND CONCEPTS WITHOUT GIVING ME CREDIT
YOU HAVE SEEN MY HUMBLE SIDE. TRUST ME YOU WON'T LIKE THE OTHER...
EPISODE PART 138-PART139
Revelation of Evil [PART2]
Continue from PART-1
Life is full of surprises and unbelievable things and sometimes brings you at the spot where you have to think twice to find out your mistake . But its "Fate" with which you can't argue or run away .The best way is to face it and that's what Khushi is doing here and will say it later to Arnav but Matter is the same "SHYAM"'the face of EVIL who is shattering her today and will shatter everyone later.
New morning with new twists rises in both houses.In RM Puja pf Satya Narine is at its peak for couples to get blessings.La wants ASR to be with her but Anjali explains her the importance of the even for couples only.Arnav's ears perks up hearing his Khushi's name and his feet jams up to hear the phone convo of his Di and Khushi.The moment Anjali insists Khushi to bring her fianc ,Arnav trails down towards his room in acrimony leaving La flabbergasted.Its unbelievable and unacceptable for him to think that Khushi is not his anymore.
Symbolism and connection: Satya Narine puja starts with Lord Ganesh, who removes obstacles ,so connection is easy it is a step towards Khushi and Arnav for the removal of obstacles'.Khushi was in the puja but Arnav was not present'..Khushi's obstacle"Shyam" is exposed yet Arnav has no clue and this obstacle is hanging like a sharp sword on him and he has to bear him until his full revelation'..
On the other hand La is present and she is the obstacle yet she removes herself but because of Khushi,if she wasn't devastated and Arnav didn't call and broke in front of La in Khushi's thoughts..didn't happen either.
Shyam is present and his obstacle,Khushi who could reveal him didn't do it so he is saved too..Lord Ganesh didn't disappoint him either but waiting for another time'Anjali is present.and her obstacle Khushi is removing herself '.IPK.bravo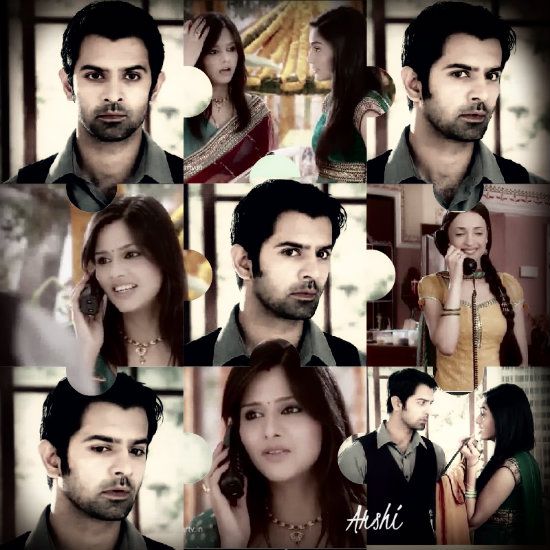 The seed of suspecting Shyam is getting stronger here and becoming unbelievable moment for Khushi.She hears "Rani Sahiba" in a familiar voice again on the phone while talking to Anjali and gets astounded and entangled with her own suspicious thoughts.Her mind is working overtime to solve this riddle but how'DM has stored a lot for her favorite child today. i think shashi's behavior helped her figure out the hint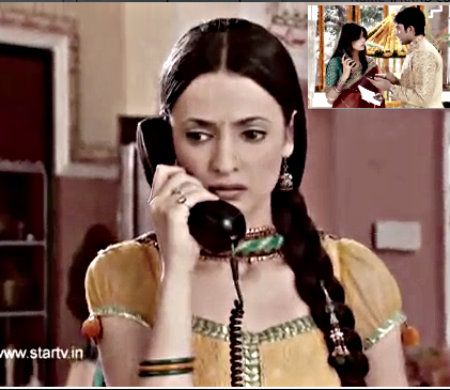 Evil is so unaware of all of this regardless of his extreme cautious steps.He confirms from Akash about the whereabouts of Guptas in this Puja and makes a stupid move telling Akash" aap tpu bade chupe rustam nikle 'kanon kan khabar bhi nahin hone di..aur jabtak pata chala ..tabtak bohat dair ho chuki thi"
Translation: [You are really sneaky'nobody kew your intentions and when we found it ,it was too late]'
Big meaning as Fate kept you unaware of everything and everything was happening right under your nose'it's unbelievable for him for not having any clue of these affairs just like he has no idea who is on the other side of the phone whom Anjali is speaking.
PONDERING CONNECTED DOTS: When Anjali came to Khushi for bringing her in RM as a La's trainer.He couldn't do much either while convincing anyone [Anjali or Khushi]'Same way he couldn't convince Khushi or Anjali after engaging with Khushi for not going back RM'.Everything was happening right under his evil veil. he tried his best but DM had other plans

Khushi's oblivious and heedless state was not gone unnoticed by La either.She is completely in her intertwined net of unbelievable suspicions thoughts which are tying her in it slowly but strongly.She goes to call Anjali instead of ASR in her reverberating thoughts of recent events.She specifically asks Anjali,"aapke pati"[your husband]'She peeks in Anjai's room with her slowly rising feet but then she condemns her own act.
"hum aisa kyuon soch rahe hain keh Anjaliji keh Pati'.Yeh humain kya ho raha hai" [Translation:Why am I thinking Anjali's husband is'..What is happening to me?] the coincidence between the two is just undeniable
Pause here:Khushi leaves La with surprise as she was thinking she is the only one who can bring Arnav down as during Janmashtami and Diwali lights.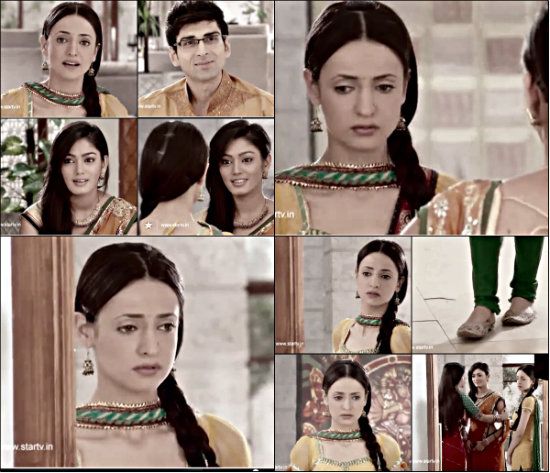 These unbelievable and pilferer thoughts takes her steps towards her man who can save her from all of these defalcators as he is her protector chosen by DM.He broke her unintentionally swindler thought process ,"Tum yahan kya kar rahi ho'..Khuch chahiye tumhai"[What are you doing here?...Do you need anything?] he went to the only person she can truly count on.
She just look into his deep eyes to find solace but leaves making him unbelievable for her'..She wants him to take her out of this hurricane, the eye of which is only gazing at her as she knows he the only one who can snatch her out of this chakarvyue as "sanmbhal laina " had started the day one and indeed getting its firm roots in her belief system though unintentionally.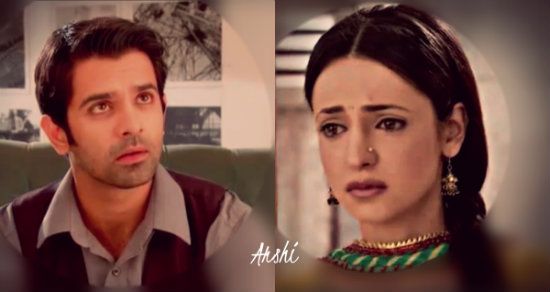 La breaks Khushi's stance by showing her necklace which brings a new layer on Khushi's face but she helps her finding earrings while darkness descends upon light.[just amazingly showing his shadow on Khushi's face]. nice catch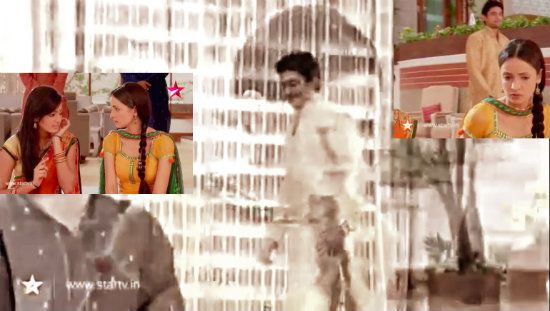 Khushi wants her unbelievable crawling thoughts to take a turn at dead end by confirming Anjali's husband as reverberation of same words over and over making her feel EVIL's presence. These crawling steps starts running in her head when La's mentions How Jijaji calls Di"Rani Sahiba"'."RANI SAHIBA" these two "shabd" [words] which are lingering at the back of her head, now facing her and wants her to get up and unveil this deviling EVIL.
Pause here:He did not finish the puja as he is no longer a couple already ,not a part of this as he broke all seven Vachans which he took in front of Agani.[Fire] never thought of that but so true
PONDERING CONNECTED DOTS: He was late or never present in any Puja with Anjali'..from Teej toJanmashtami,from Rakhi to Parent's anniversary as God does not want to ruin the purity of that essence.
MAJOR point during Arnav's parents Anniversary ,Mom already gave them her blessings by removing the flowers from her pic and wants her kids to be free of this evil and it was PUJA and FIRE that day too.It started that day and a Mother's kroadh [anger] and war is not done yet'.
Symbolism and connection: 1-Fire a dichotomous the bringer of destruction, the chaos and war. Fire burns everything, bringing nothing but ruin and ashes through which life starts again.Yet Fire banishes the darkness and cleanses and purifies. Lastly, sometimes Love is spoken of as an eternal flame. Fire.Fire symbolizes love, hate, desire, and determination
Connectionis the war against evil is starting today and Shyam will ruin everything basically for these pure souls.Anjali,Khushi and Arnav 'but Arnav's love and his dark past will be purified also in this process.ArHi love will be eternal and destined despite all odds.
2-Anjali asks to change the oil of the DIYA as it has to burn the whole night'..meaning Shyam is not there for her for whole life or saat janam'MY POV OIL needs to be changed ,it means there should've been a man for her in the story as a replacement ..Arggg poor story

Khushi's mind and steps is in the reverberation of all the events linked with Rani Sahiba and Shyam's stories'..Her mind links all the dots how Buaji's words of balm match with Akashiji's, how Babuji tried to take her ring out, how He became upset seeing Anjaliji,how Anjakiji's husband name is same as her fianc, How Shyam snatched away the phone when it was showing "Rani Sahiba"and how yesterday he was talking so profoundly with "Rani Sahiba" ..how he ran away when she went to call him out for meeting Raizadas ,how he blurted out and got confused while mentioning Akash and Payal's relationship'.how she heard someone voice same as his on the phone..SHE reached to the result'..This is Khushi's Trait she acts like a child yet thinks like a scholar'.very quickly adds up the moments and never gets afraid to face the reality'
She is uncertain until the last moment'.about "Rani Sahiba"

Her heart throbs as her unbelievable steps crawls slowly towards EVIL and faces him right under the sun ,a star ,parents who are throwing light to her child to see this EVIL clearly.[Sanaya is brilliant here with her uncertainity]
AND the EVIL turns to light as FIRE is removing the darkness by ruining Khushi's innocence... "Rani Sahiba" I was just coming'.."

Face to Face with the EVIL who planned all to get marry to her by blinding Buaji 'and today she understands what his father was trying to make her understand on that engagement night.
PONDERING CONNECTED DOTS with Symbolism: Arnav and Khushi got engaged under the sun with their parents' blessings and today parents' blessings are relieving her from this EVIL engagement. again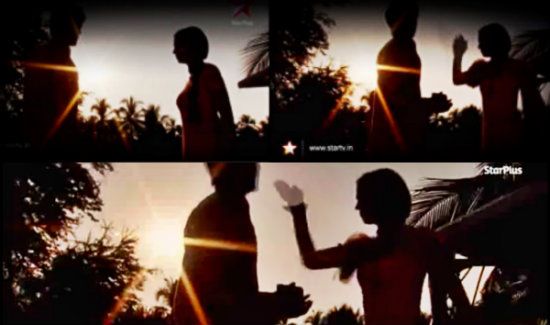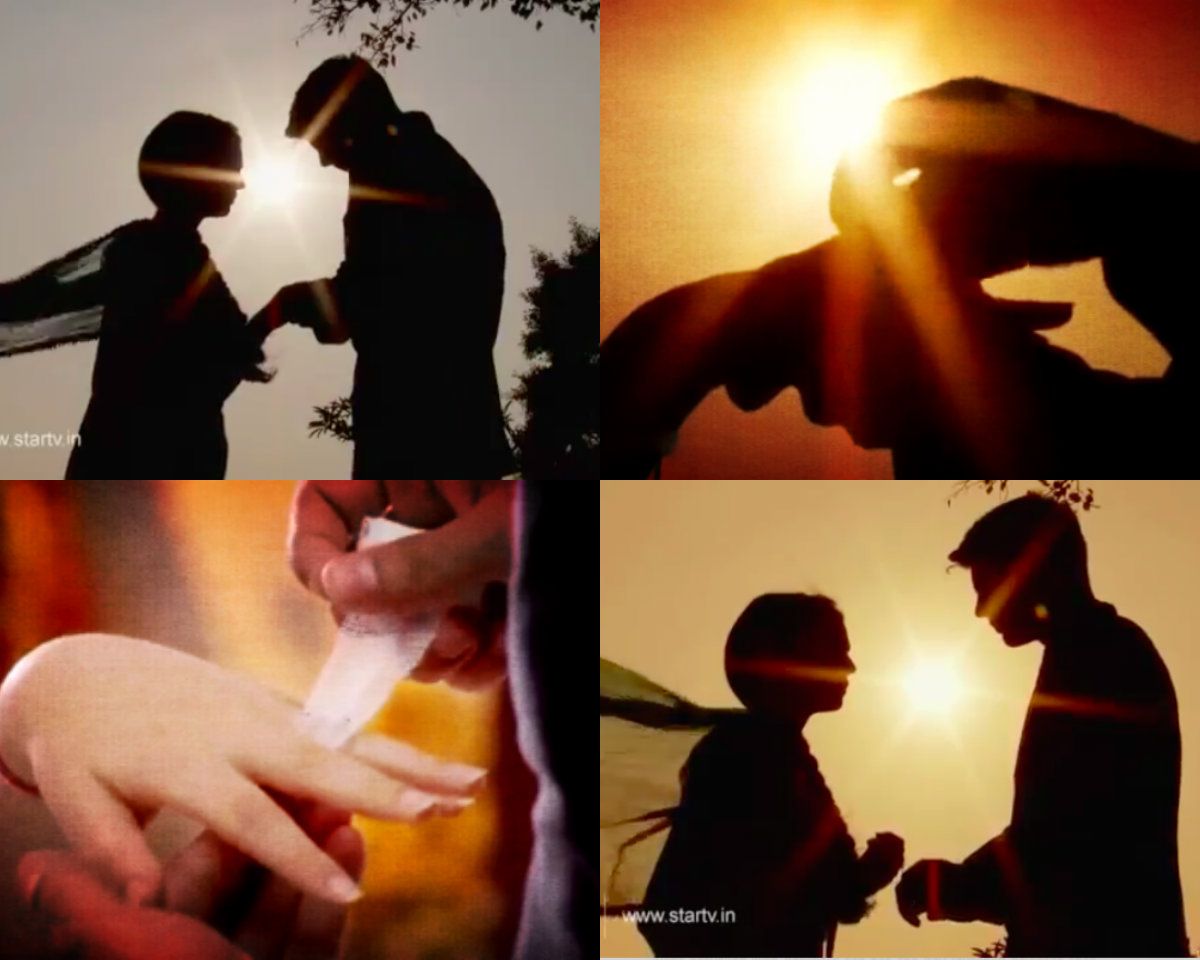 Evil gulps down his fear and is ready for uttering another snaky game but Good is up to no Good here, SLAP ''"Rani Sahiba aapki client hain..aap unka kaam sambhale hain'..woh aapki client nahin hain '.woh Anjaliji hain 'aapki patnai
Translation:Rani Sahiba is your client and you take care of her work'she is Anjaliji.your wife] ..
Pause here:Khushi is HORUS too just like Arnav ,as they both are protecting their families including each other. family is always first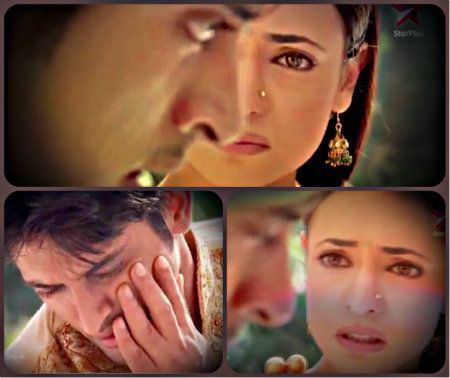 In her anger and convulsion it was hard for her to take off the ring as always she gets stumbles at her actions when she is angry and upset.

Shyam tries his Slithery games here but Khushi is done with him,"I am feeling disgusted knowing your intentions...do you think I'm going to accept this quietly and will not tell any one'."
Scorpion's back fires with his venomous yet penetrating venom,"Don't think about me ..at least think about your sister.Payal"....
He begs as he her no way to escape''.
PAUSE HERE:Khushi makes biggest mistake not telling Arnav or Anjali about this yet this is another plan of DM...to put hold on to it. maybe DM knew that if arnav knew the truth arnav would do something that would make the guptas leave delhi
Khushi walks down rushing her get out of the prowler's den but his venomous words haunt her in her Amma's mouth'.."Jiji aur Akashji ka rishta [Jiji and Akash's relation]..Khushi's antagonism with paroxysm is playing through her fidgety hands as she is out of words and out of sense in this unbelievable stance.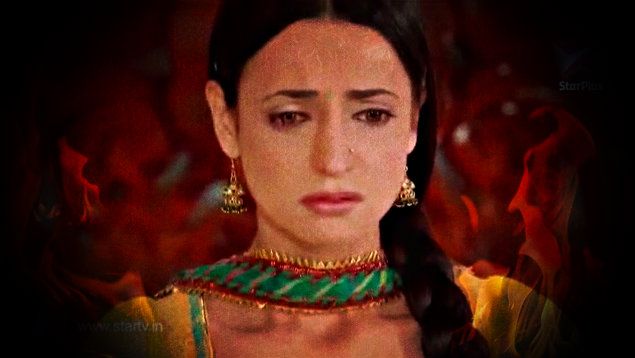 Khushi is not the only one with this stormy contortion . Arnav is feeling the same way when her engagement was going through ,Arnav is going through with agony even today ,he is in anarchy and at the top he does not want to see her fiance ,he refused to La nicely which makes La dumbfounded though as she tried to startle him with "Khushi 's name" as she knows [STRONGLY} ,he will come down for her but its unbelievable for her'or she is mistaken ...the very same way for Arnav that why is he behaving like that'...'out of proportion with La' la was happy and at the moment this added to her dreamworld moment but soon reality will hit her hard if it had not already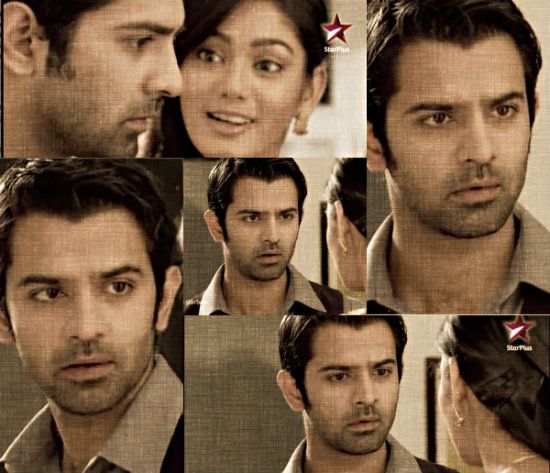 Continue'.KHUSHI's breakdown on Arnav's shoulder will be in the next update''''...