Congratulation mere pyaare Gulgulon..
u have successfully dry-washed my lil brain..
So I'M BACK!
Ur LOVE won against the evils..
and I couldn't sleep last night coz of ur sweet threats!
At first u guys were like "PLz titli don't go leaving us..plzzz"
THen "R u kidding us??I won't let u go..just see!!"
After that "U r not going..that's it.."
And at last "If u want to prove that u r a loser then go..mai bhi dekhti hun humara friendship jitta hai ya those PEOPLE"
Chalo..toh mai agayi..THOSE PEOPLE defeated..
I told my decision last night 1st to Shahi n she said "Nahin jaana tha chodke toh itna dimag khaya kyun humara saare paani nikal gaya convince karne mien.


"
Now Shahi tell me teri sari paani kahan se nikli???
And next time if u guys threat me like that then I'll...I'll...
.
.
.
.
.
.
.
.
.
.
.
.
.
.
.
"MOMMAAA SAVE ME FROM THEM!!!"
So Finally..I'm not leaving forum..take my freewala hug(not for boys).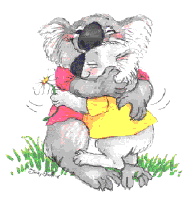 Humare purani dosti ki naya Subh Arambh (New beginning of our old friendship) kuch mitha ho gaye..
Thank u everyone for not supporting me!!
U guys r best buddies of the world!!!