Guess what it is?
It is my Sexy Shakespeare's Birthday!
[ Yes sadly, ye manhoos insaan aaj ke din paida hui ]


Happy Birthday Darling!
A Fabulous Writer
A Sexy Bitch
A Witty Witch
And aboce all, a wonderful person!
We ( Me, Giee, Rin, Shaili, Shar and all the QH waasis) love you darling!
And since you love KSG and Shilpa/..
Tere liye Puchi <3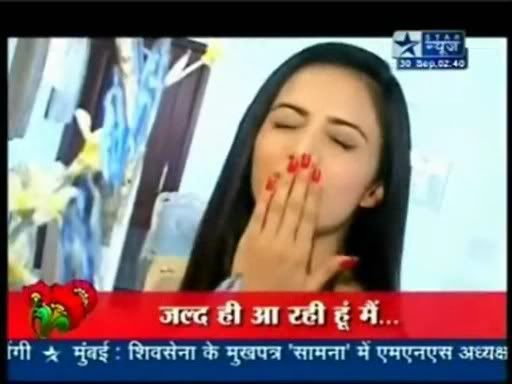 As you know M a lazy person, M gonna keep it short.

I'll copy giee's Idea. You have to guess who wrote what
Fizzz ...you know I hate you , but kya karun zyada fin tak hate nhe kar pati after all tu likhti itna acha hai
Kameeni apne OSs or FFs mai likhti hai 18+ aur khud to aaj 18 ki hogi...Fizz a verrryyy happpieee bday to you
Fizz...I remember jiss Suppu ne intro diya...n the first thing that came to my mind was..arre ye wahi hai hott stuff likhne wali!!
humari choices bhi same same hai...from same top to same course to ott couple to our dislikes hehehhhe
Babe I wish Karan to you...take him home and di whatever you wish to ... and I mean anything...after all 18 saal ki ho gayi hai ladki
FizRan forever ( pakka hamesha hamesha ke liye )
okay finally happiee birthday to you ...happieee birthday to you...A verryyy verryyy happie bday to you Fizz
have a blast ... and stay blessed and keep updating
Have an *elegant 18* and I hate you like I lovee you
muaaahhh and FizRan foreva

My Sexy Bitch!
Its your B'day? Tu paida hi kyun hui!!
Jokes Apart, You are the first person on IF whom I shared my number with <3
And when youa sked for it, I was flabbergasted and I asked just to confirm "Tu ladka toh nahi hai na? "
Kameeni hai tu!
You are super witty
You are super sexy
You are super funny
And you are a super dooper friend
I love you Darling <3
( Fizran forever
)

Fizz, my hot-shot sexy bitch :*
Wish you a verry verry happiiee wala birthday!!
Aur kuch ho na ho, mile na mile, I wish you a BIG long HUG from KSG!
Maybe shirtless...too much to ask?

Oyye hoyye!!
Remember that..?
That was the title of the msg in which we exchanged numbers...
I think that was the dumbest thing I've ever done in my life...but I don't regret a minute of it...I'm glad to have you in my life, chudail behna
Here's to an amazing 19th! I hope you get a HOT Iranian guy and that whatever you wish for comes true! I LAAAUUU YOU! You're the best! (Now don't make that "thell me something new" face :P)
P.S. Try talking to that Asad Khan guy, he might turn out to be nice afterall
~~More will be added! Sab aalsi hai
~


Edited by supriya.ipkknd - 22 June 2013 at 12:40pm