I saw some of the members asking for IPKKND episodes. I just wanted to share what I did to download them. Any announcement regarding DVDs should officially come from Starplus, seems impossible though. So beware of frauds...
Try this if you want to download IPK episodes...
It would be better if you have atleast 2 Mbps internet speed, so that your download speed will be atleast 256 Kbps.
http://java.com/en/download/index.jsp
-Free Java download
-Agree & Start Free download
-Run the downloaded jxpiinstall.exe file
-Install
Just wanted to start from the basics, so only started with java installation. In 99% of the systems, java would have been installed already.
I would suggest to use 'INTERNET DOWNLOAD MANAGER' (IDM)
http://www.internetdownloadmanager.com/download.html
If IDM is installed, it will automatically show
'Download video'
icon when videos are playing. You can easily download YOUTUBE episodes with that.
Dailymotion has almost 360+ IPKKND episodes. They are still available and I successfully completed downloading 380 episodes in HQ recently. The rest episodes are available in parts in YT.
I use Mozilla firefox latest version.
For downloading from dailymotion, use
keepvid.com

1. Just google search '
iss pyaar ko kya naam doon?- episode 201
' (for eg)
2. Select dailymotion link & copy the URL
for eg:
http://www.dailymotion.com/video/xv5w1s_iss-pyaar-ko-kya-naam-doon-ep-201_shortfilms
3. Paste the URL in keepvid.com & 'download'
4. Java applet will be loaded. Click 'I accept the risk and want to run this application' & 'Run'.
5. The links will appear like this.
6. Drag 'Download MP4' (whichever quality you want to download) to a new tab.
7. IDM dialog box will automatically appear like this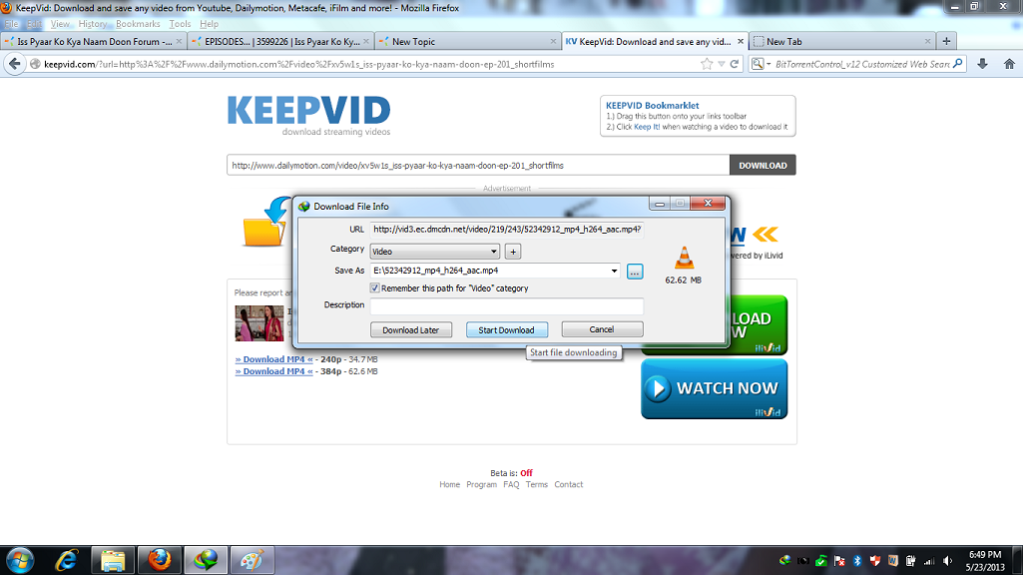 Just give
'Start download'


If you want more details reg this, you are always welcome.


Edited by Arshidiehardfan - 18 July 2013 at 4:24am