INDIAN PAISA LEAGUE GAME-Watched At Ferozeshah Kotla Stadium, New Delhi (April 23, 2013)
Long-long ago when dinosaurs roamed around in this world, somewhere in early and mid 1990s, we, the true, passionate cricket fans, used to brave 'Dandas' of Delhi Police, used to stand in queues for hours to get the tickets and then bravely suffer the humiliation of a body search that would result in Cops demanding the entire pocket contents in name of 'security'!
No food was allowed inside the stadium, so we had no option but to survive 8 hours in stadium surviving on stale, oily Bread-Pakoras and Samosas and Mineral Water. No brave heart was brave enough to use the stadium toilets after a few hours, and invariably, by tea-time we used to get transformed into creatures in agony, clutching on to bursting bladders and in no condition to clap anymore!
Come to think of it, it is the hard earned money of fans like us and our passion, that helped transform BCCI into world's richest cricket body. And boy! Has BCCI delivered?
Cut to 2013, 23rd April-Ferozeshah Kotla Ground-Match between little gas and mostly flat water team of Delhi Soda Bottles XI vs Preity Bottoms XI Punjab!
It was the last day of a nerve wrecking 5 day trip that took me to Jaipur, Agra, Delhi with a Business delegation from Russia, and lo and behold! My dearest friend Ajay invites me for this Indian Paisa League game, on my last evening at Delhi. KAL HO NA HO thought prevails over my tired mind and aching body and rest...somehow fell into place!
I and Ajay reach Pragati Maidan by 7.15 P.M. where Ajay's lovely wife Seema and their adorable daughter Sneha are supposed to join us, them coming from Connaught Place side. IPL traffic rush from CP side ensures Seema-Sneha getting stuck and passionate fans that I and Ajay are, reduced to glancing at our watches at a rate of 27-30 times per second.
Match is to start at 8 PM sharp and Seema wisely decides to get rid of her car and driver, and hops into a sneaky auto-rickshaw together with Sneha!
We finally meet at 8.20 and now our enthusiasm has given way to desperate prayers that either Delhi bats second or Sehwag is still batting somehow'Oh God'..fans surely do love Sehwag more than Mrs. Sehwag does, I am sure!
For whatever reason, God has decided to smile at our expense tonight it seems. We reach stadium and enter it after a few million squeezes, tickles and gropes by burly Delhi Police Jaats, in the name of security checks. It is almost 8.25 by now and the moment we enter our stand, we forget all our pains as we spot Sehwag's bald pate under his headgear at the pitch!
Delhi's Ferozeshah Kotla Stadium-Pavilion resembles any clustered MIG Housing Complex of Delhi-NOIDA!
This is a VIP stand, so we find our seats without any trouble! But an Usha fan is restricting Ajay's vision.
He suggests a seat change! Superstitious that I am when it comes to cricket, inside my mind, I blame this seat change decision as the sole reason for Sehwag, almost immediately getting dismissed by Harmeet Singh!
Yes, the great man is gone and so has my interest in this game!
As if reading my thoughts, Ajay suggests going inside the glass enclosure for some food and drinks and considering that the only other option is to watch one unknown Manprit Juneja struggle against Preity Bottoms XI seamers, I readily accept the proposal.
We enter inside and are instantly in a Pataal-Bhairavi / Chandrakaanta kind of fantasy setting. Rivers of scotch like Black Dog-Jura-J&B, Mallya Saab's Kingfisher beer & Moldavian wines are flowing all around. Food arrangement is so lavish and grand that legendary Chawla Tent House of Delhi marriage circuit could take a leaf out of it and copy the menu on offer!

Whole enclosure is teeming with Puppies (Prosperous Urban Punjabis) and giggling-bubbling IPL Chhamiyas (mostly babes in skimpy outfits). On ground, players are sweating it out but no one cares a damn about them. Big businessmen have succeeded in spotting their similar counterparts and are earnestly making their business proposals or listening to the ones of their counterparts. Their chatterbox wives are praising the keema-kaleji as well as Seekh Kababs and Grilled Paneer, but fish Manchurian invites their frown and wrath-too sour they declare unanimously. Some young mums have adorable babies peeking on everything and everyone wide eyed and are periodically attracting,"Aauuu! Chhoo Chweeet----Kinna paala-paala baby---" kind of high pitched coos & swoons from younger girls roaming around!
Ajay asks me to sit on the bench as he clicks me and I can't help but listen to a hilarious conversation in my back ground. An IPL chhamiya is wondering why men are so crazy about sex. "Gosh, I mean come on'." She rolls up her eyes! Her Pig faced companion, who never takes off his one hand from her knees, takes the opportunity to place his other hand on her shoulders, gives it a squeeze and assures her in a lecherous voice, "All men are not like that! Trust me'" I swear, we exited and entered this enclosure a total of three times, and Piggu never stopped squeezing Chhamiya's knees and arms.
Please confess! You always think I kid, right?
I actually never!
Here they are
:
CHHAMIYA & PIGGU (The Hand That NEVER Came Off!)
IPL chaps are smart enough to realize that their spectators sipping whiskey or beer on TV, may invite the wrath of Uma Bharti and Baba Ramdev and so have ensured all fans merrily drink inside glass enclosures like the ones where we are at the moment. And obviously, TV crew has a standing instruction to only stick to jumping up and down Cheer girls on ground and ignore everything in these enclosures.
I spot one enterprising Sardarji, tries to sneak out some Scotch inside his Pepsi can but the hawk eyed girl at the exit gate of glass cubicle spots his mischief and promptly declares he can't take his drink into the stands. Smart Sardarji, rather than losing his drink, swallows down the entire contents in one go, giggles and triumphantly moves out towards his seat! I swear he stuck out his tongue
at this sentry girl and she had no option but to roll her eyes upwards.
Having had our drinks and food, we remember Seema and Sneha are out there in stands and have not eaten anything.
Guilt makes Ajay pluck out two chips packs for them. He sheepishly looks in my direction, and to reassure him that I too feel the same way, I too manage a blush,
, pick up two Haldiram Kurkure packs, and we march in their direction. It seems Seema is like most other rich Indian ladies these days and Sneha like any other little girl of this century! Both don't want to have food at all.
Nevertheless, this declaration from both, promptly removes our guilt and we both start looking around! As our seats are many kilometers away from 3-4 cheerleader girl groups, we are free to look in other directions as well and guess what? Ajay spots the majestic Lord of Cricket'.the great Sir Isaac Vivian Alexander Richards!
Now Ajay sets his mind on how to spend a few minutes with Great Viv and within no time, resolves the issue using his 'connections'! Soon, we are with the great Man and he is sporting enough to pose with us. Terrific'..Thats the gain of the evening so far! Viv is in great shape. Even today if he takes to the field, he will make mincemeat out of most of the trundlers who bowl in IPL.
What are you doing here Sir, you should be playing for Delhi, battering Punjab out there'.I was blushing and blabbering and Great Viv was giggling and back slapped me with a,"Oh Maan! You so funny Maan!"
It's a shame our generation has missed out on watching the special talent that Viv Richards had! Brute power of Sehwag coupled with technical solidity of Tendulkar is how one elderly gentleman is describing Viv to us.
He surely would have been the biggest star had he been playing in IPL. Respects!! Thrilled with our prized moments with Viv, we return to our enclosure for a celebratory drink
and Lo & behold!
A deen-heen-gareeb looking, a Sarkaari Hospital's general ward patient like Rameez Raja appears by our side. Ajay is reluctant but I manage to convince him to pose with Rameez, lest our Pakistani neighbor gets heartbroken. Ajay obliges and Raja is visibly happy! As if to take revenge, Ajay forces me to now pose with Rameez. The guy looks much better on TV I can assure you. As I placed my palm on hisback, I could feel his ribs. With that kind of physique, most Pakistani friends would not want him to represent Pakistan in any Mr. Asia contest I can assure you.
Delhi has only managed to huff and puff to 121 in their 20 overs, so Nehra dismissing Hussey and displaying his vicious dentures on giant screen fails to inspire us to come back to our seats.

Its already 110/5 we notice. Infact, Sneha-Seema too realize its all over bars the shout and join us at the dinner enclosure now. Light eater that Ajay is, he plucks out a bit of few of the things and pecks a bit here and there. Realising that ticket cost is around 20,000 rupees per head, I decide to recover 1000 Rupees atleast.
My plate resembles one of a poor villager's, who happens to be attending a prosperous city relative's son's marriage. Its overflowing!
I follow the same strategy that this villager would and without lifting my eyes even once lest they meet the fiery gaze of Sneha or Seema, I patiently clean up the plate and profusely thank the adorable family for a most memorable evening! --------------
As we were coming out of the enclosure, spotted Rajeev Motu Shukla of BCCI and Congress coming out. Had to control the kid inside me and somehow controlled the overwhelming desire to grab his corrupt chubby cheeks and pinch them real hard.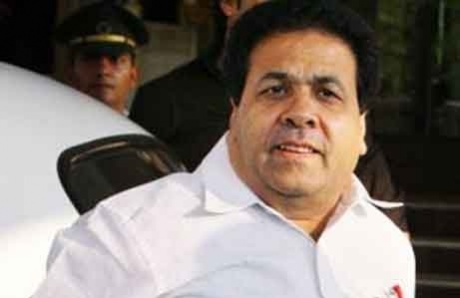 Oh by the way!
In the same row that we were sitting was a young girl, heavily decked up in a Golden Zari work Sari and 3-4 Kgs of make up on her little and I would say pretty face.

She had a permanent pasted kind of smile on her face and every 2 minutes a different either menacing or a Chooha looking guy would come, sit with this babe as if she was his newly married wife and their menacing / chooha looking friends would click them together.
At first I thought this girl had come with 40-50 members of her family and she happened to be the only good looking one in her family so every one wanted her to pose with them!
Then my evil inside suggested may be she is of 'us type'...chheee-chhee...Shame on me!
Whispers and hisses were flying around, Diya-Batti, Diya aur Batti,...Diya aur Baati. Finally, Seema cracked the mystery and confirmed me she was a Telly actress and stars in some Goddamn telly-soap called DIYA AUR BAATI.
As in present day lingo, no one says,"Arey Diya kahaan hain, Baati jala do?", so I had little trouble remembering this odd serial name, (In any case Telly-soaps have ghastly names like Agle Janam Mohe Bitiya Hi Keejo, Kyunki Saas Bhi Kabhi Sasur Thha kinds)...
Yes, this was the babe...100%!
------------------IPL is awesome. Great food, overflowing drinks, superb ambience, a chance to catch up with biggies of Indian Political, Media and Corporate circles''.! ...
...And yes, on the sidelines, a short game of Cricket is played as well!
Thank you Ajay'..Thanks Seema-Sneha!


Edited by -Cruiser- - 24 June 2013 at 2:00am