Please do not copy my work without my permission. This whole concept is my own work inspired by MEIEJ. if it contain any resemblance to any FF previously posted do let me know.. All your comments are welcome, do comment generously about what you feel about the ff, your expectations for future parts/ chapters'''..enjoy

The Meeting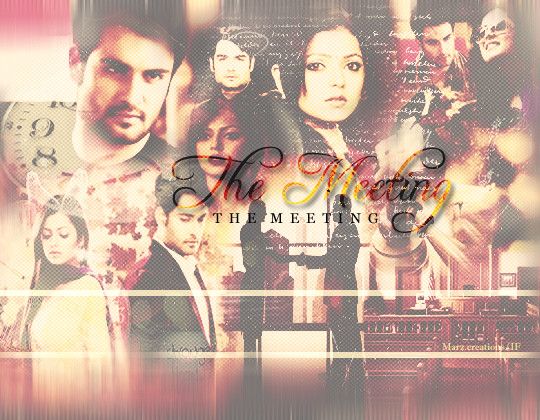 Thanks Maria for the banner

Chapter 1
She was running...
frantically...
out of breath...
sweating...panting...
her legs buckling due to tiredness...yet she could not stop...she was running for her life...
on the lonely streets of delhi...
under the darkest sky without a speck of light...
Searching madly for even a single soul...a hope...a saviour...
But...but no one was visible...no hope
Yet she was running
Closely followed by another set of running feet
Suddenly
she felt a strong hand gripped her arm
spinning her around...impact was strong enough to make her fall..
soon she was on ground & before she could rise& and make a run again
her both hands were pinned to the ground and her body writhered under her attacker's weight
fear gripped her & endless tears made their way
she was in pain& there seemed no escape
attacher's face came closer to her
he was laughing like a maniac at her helplessness
Sobbing...she turned her face to her right in disgust
there
THERE
On the other side of the lonely road under the lamp post 2 people were standing''
A ray of hope flickered through her eyes
She gathered all her strength
& yelled
HELP!!!!!! PLEASE SOMEBODY HELP, FOR GOD SAKE HELP ME''SAVE ME!!!!!!!!!
Both of them turned
& when she saw their faces earth slipped beneath her
THEY
WERE
They were her parents, her MOM, her DAD
She was shocked
She was happy
A smile appeared on her face
But before she could react more''..A tanker slammed into the lamp post where her parents were standing!!!!!! & exploded
She shrieked MOMMM!!!!!! DADDD!!!!
She woke up startled. With beads of sweat on her forehead. She was panting, sweating, her heart was ramming against her ribs.
She moved her hands from her face clearing the sweat to her tousled hair calming her self
She glanced at the clock- 5:07 AM
Sleep had evaded...so she tossed her blanket...moved to the bathroom
Slamming the bathroom door she swore loudly "bloody nighmares"

Precap

Madhubala being scolded
by whom??????

Chapter 2 to be posted today...
**************************************************************************************



Edited by VIBS_DD - 16 May 2013 at 5:25am