Prem Juneja
DOB:May 17th 1983 (But sadly he has never celebrated it..bechara)

Parents: Lalit Juneja- Neetu Juneja(expired)- Gayatri Juneja(Stepmom
)
Siblings: Preet Juneja
Harman Juneja
Kulraj Gupta
Veera Maan(the chudail
dead and gone WOOHOO!)

Residing in: Ambala(infancy), Canada(till becoming an adult), Ludhiana (presently) and very briefly, Delhi.
Occupation: Wanna-be-Rockstar(College days), Photographer (Gaurav Days), Multi Millionaire Hotel Tycoon(Presently)

Hobbies: phhandohhh, phforeheadohhh, phcheeksohhh, etc, etc [All related to Heer
] (check the phictionary for meanings) Playing and spending time with his daughter Chaahat and Chota Prem.
Family: His wife, Heer Juneja
, daughter Chaahat Juneja and Chota Prem(Whose name we have no idea about
)


He was an ideal role model for every role that he played in any relationship. He was the perfect son, brother, lover and husband. He was wealthy, idealistic, brilliant business man from a loving family who always knew that there was only one girl that was made for him and was waiting for her.
- Credit to Premeer/Harshiti Ka desh and siggy credit to faiza
Wishes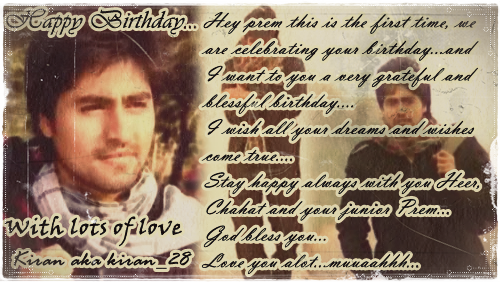 -With Love Kiran
-With Love Giya
wishing you a very happy Birthday. Keep smiling and keep making us smile. May God Bless You. You have done a fantabulous, brilliant, amazing, barunlicious acting as Prem. You are the most down to earth actor that I have ever seen. MayAllah shower all his blessings on you and you get success in your life. May you live for hundred of years stay healthy and live simply as always.Will be thankful for giving us such memorable moments as Prem Juneja .I forget introduction my self I am SANA from Pakistan I am crazy abaut you , and additi and i relly miss your jodi hope in the future we can see both of toghter again
-With Love Sana
Blowing out another candle should mean that you have lived another year with joy and you had made this world a better place. Make every day of your life and every candle count. Have a Bday!
-With love indira
it's happy birthday to u PREM JUNEJA ... happy birthday my prem :P :P :P
-With love aishu
Happy birthday Prem bro...u always stay alive in my heart...u r the one who taught and shown how can a person be idol... the way u felt the pain for heer made me crazy...the way u struggled for ur love made me deewana...the way u tried to sacrifice ur love taught me to what extent we can sacrifice for our parents and how much we can respect them...the way you went to delhi b4 marriage taught me how much a person can love their siblings...the way you struggled for chahat just made me cry...u r person a mother wants her son to be...u r person a father wants his son to be...u r the person a girl want a soul mate to be...u r the person a sister want her bro to be...u r the person a brother want a brother to be...and finally u r perfect example of the Human Being. once again wishing you a very very Happy Birth Day bro.
-With love neha
A very Happy Birthday to the most humble,respectful,caring,dashing n loving person PREM JUNEJA:D
- With love Tooba
Happy Birthday meri Heeriye ke Prem
-With love Faiza