>>[HHSJH GUPSHUP CORNER #14]<<
Post Reply
New Post
-VishaD-
Viewbie
Joined: 19 February 2008
Posts: 77983
Posted:

04 May 2013 at 8:44am

| IP Logged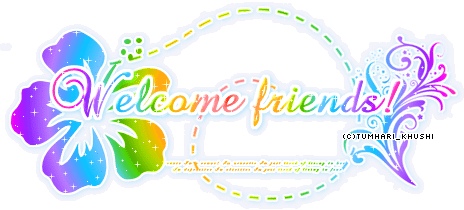 Friends Chat Corner
#14th Edition

Hi Friends,
A Chat Corner's maximum page is 150 pages and keep chatting till it reaches 150 pages. Hoping for more members to join in our conversation and it helps to make friends
Recap of what is Friends Chat Corner:
This is a chat room where we can share our views about the show, discuss on what is happening about the show or other things where the main aim of the Chat Corner is to know each another well and have a lot of fun.
Before we get started, here are some rules and regulations which you have to follow:
1. Follow the IF rules and regulations
2. Avoid use of abusive language
2. Avoid bashing any character of the show (beyond the limit)
4. Maintain friendly environment and don't abuse anyone
5. Avoid quoting as much as you can especially long ones as page will be refreshed quickly.
6. *New* If you are a new member, please introduce youself so that the other members can know you well.
That's all friend and Happy Chatting

The following 1 member(s) liked the above post:
Ohmyjerryworld
,
Dear
Guest
, Being an unregistered member you are missing out on participating in the lively discussions happening on the topic "
>>[HHSJH GUPSHUP CORNER #14]<<
" in
Aaj Ki Housewife Hai - Sab Jaanti Hai
forum. In addition you lose out on the fun interactions with fellow members and other member exclusive features that India-Forums has to offer. Join India's most popular discussion portal on Indian Entertainment. It's FREE and registration is effortless so
JOIN NOW
!
ak75
IF-Sizzlerz
Joined: 14 January 2013
Posts: 14236
Posted:

04 May 2013 at 8:44am

| IP Logged

Congratulations to all !!
ak75
IF-Sizzlerz
Joined: 14 January 2013
Posts: 14236
Posted:

04 May 2013 at 8:45am

| IP Logged

Cool Sahil !!
sahil70
IF-Achieverz
Joined: 10 March 2011
Posts: 104371
Heart_Hacker-
IF-Stunnerz
Joined: 03 August 2010
Posts: 46569
Posted:

04 May 2013 at 8:46am

| IP Logged

Congo every1

The following 1 member(s) liked the above post:

ak75

,
ak75
IF-Sizzlerz
Joined: 14 January 2013
Posts: 14236
Posted:

04 May 2013 at 8:47am

| IP Logged

The following 1 member(s) liked the above post:

sahil70

,
sahil70
IF-Achieverz
Joined: 10 March 2011
Posts: 104371
Posted:

04 May 2013 at 8:48am

| IP Logged
The following 1 member(s) liked the above post:
ak75
,
Post Reply
New Post
Go to top
Related Topics
Forum Quick Jump
Please login to check your Last 10 Topics posted
"I like visiting hill stations during monsoon" : Aniruddh Dave
TellyBuzz in talks with Aniruddh Dave to know about his monsoon ... 2
"KBC is a game of intelligence" : Anirrudh Dave
Tellybuzz got in touch with Aniruddh Dave who was a part on the grand ... 3