Originally posted by BarunDiwani
Friendly Disclaimer: My words, thoughts and ideas are mine only, please do not copy. You are welcome to use it, but credit accordingly. Thank you!
Episode 111: Madhoshiya (Intoxication)

A silent plea from her "don't go" as he turned to leave after he lovingly placed her amma's payal on her ankle. did he hear her plea? yes the whooshing wind is proof he heard. To her hearts content, he stops, and with his best palat ever, turns his eyes to her.
Thirty still for this lady in red. He marvels on. Admiring the delicate curves under the red sari, from her waist, to her chest, to the lean neck then her beautiful face.
His madhhoshi (intoxication) shows in his slow blinks, completely oblivious to his surroundings. How can any woman survive a look like this from any man...let alone THIS man? How can this chit of a middle class girl raise a rag of emotions in him he is unable to control and looking at him she also again this song I think already posted somewhere
Khushi tries her best, but there was no escape from that look, those eyes...not that she was looking to escape. A bit scared of course, these aroused feeling all new for her, her body untouched. but she wanted him just as bad.
She had to look away if she was going to survive, but with her heaving chest, twirling fingers, and blushing chheeks, how will he? This intoxicating moment puts all else on freez. Its just a man and a woman, a gentle breeze and tons of fire in between.
Before she knew it she looked down to his feet, they were eagerly coming towards her the same way they did at the party, determined and full of intentions.
As he came near, she stepped back. they've mad a habbit of this, but tonight its different, tonight her stepping back only pulls him closer. One steip after anothoer, she walks backward, he moves forward. "jaadu ha nasha hai, madhhoshiya..." Arnav is fully intoxicated he wants to touch her he is unable to stop himself. my fav poolside creation
She looks at his unwavering eyes, still stepping back till there was not more back to step in to, a wall stops her, nothing to stop him. All she can do is wait. His eyes burning with passion, he wants her and she waits for him to take her.
His left hand lifts on her right side to gently tuck her long bangs behind her ear, so he can see her better, she quivers with his touch, his hand lingers where she's rested her face, nudging her to look up at him
, and she does. The way he looks at her, like telling her what she has meant to him in the past few months, the only confession from him before till the kidnapping.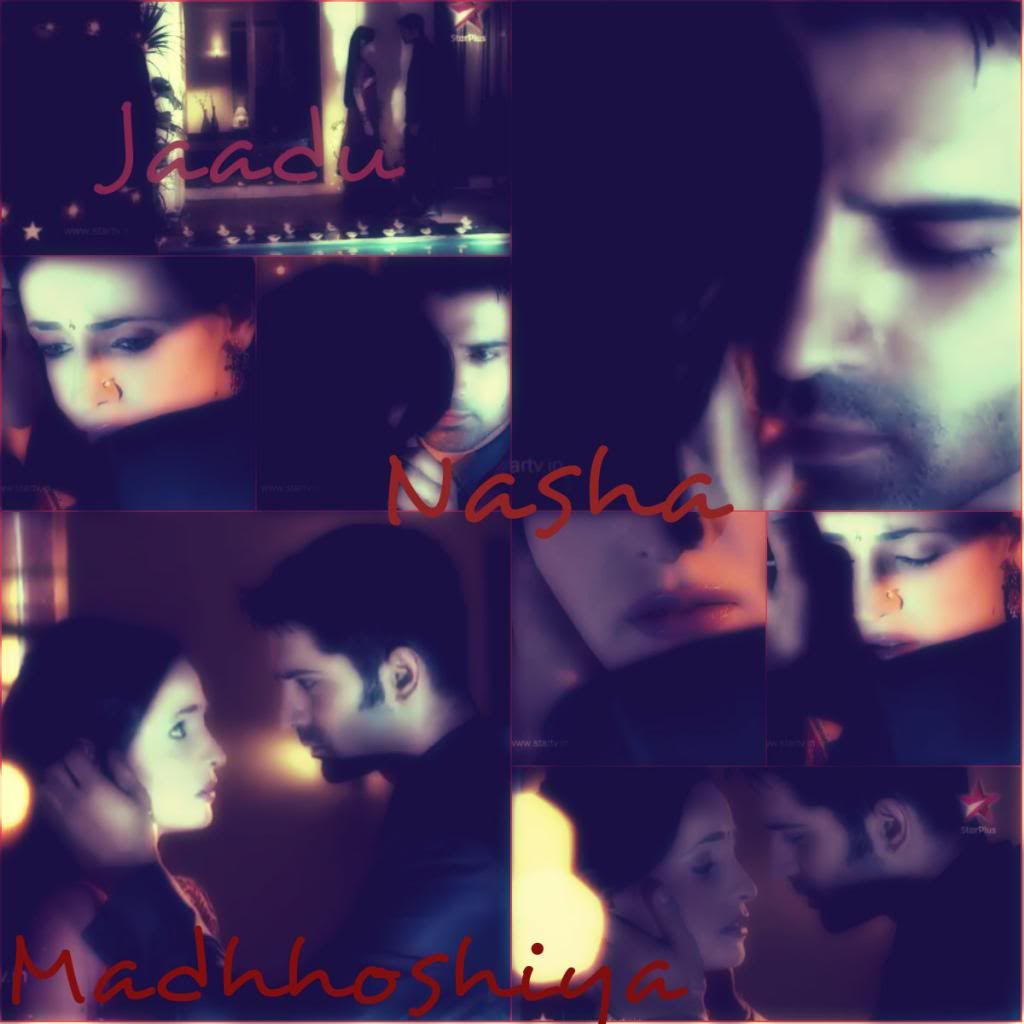 How, delicately his other hand cups her innocent face. how he's dreamt of doing this many times, and how she indulges in his embrace...he slides her bangs back again on the right side, she is dizzy and absolutely crazy with all he's doing to her. she grips the side of her saari. With her face in both of his hands, gently he lifts it towards him.
he leans in and looks down on her trembling pink luscious lips in anticipation, alluring him even more, he leans in closer. Both are in a state of pure ecstasy (major madhoshiya). With her eyes closed, she's ready to experience the inexperienced, and He wants so badly to taste her soft, pink, luscious lips , to take the trembling away when he takes them in his own. Close enough to feel each other's warm breath,
tririiing triiinnng tririiing triiinnng tririiing triiinnng
(the moment where all IPK fans simitaniously screamed NAAAHHHIIINNN! and some other expletives.)
loud irritating sound doing what nothing else has been able to do all night, like a vaccum sucking both of them out of
this mind blowing
trans, . She watches as his face goes from enticed to a certain fear instantly.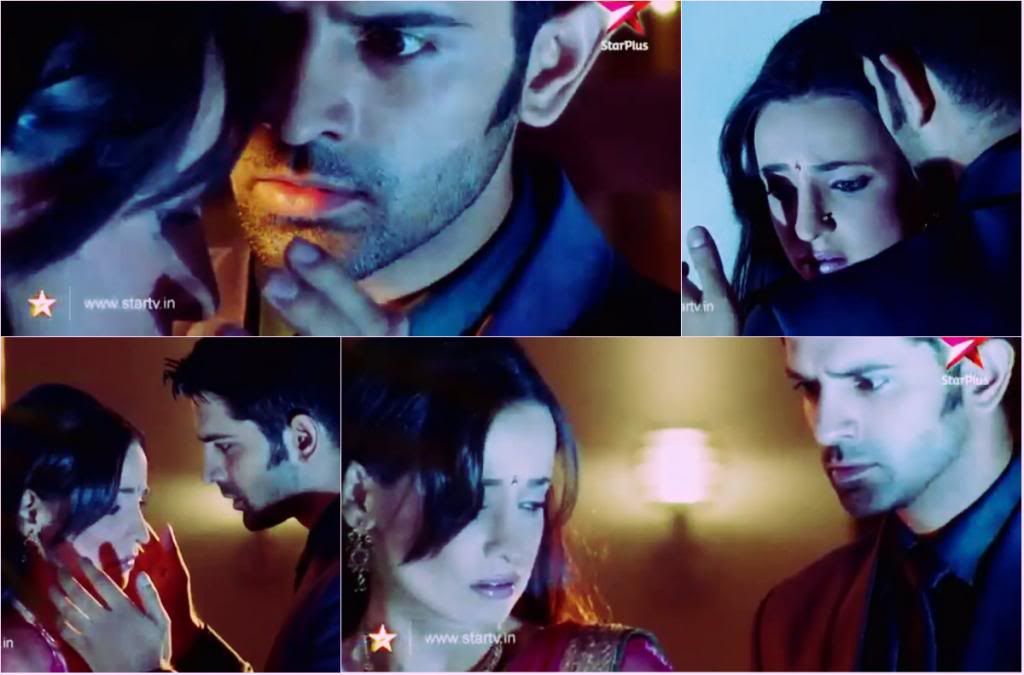 She is confused as he releases his palms from her face he so delicately placed almost like he committed some crime. Soon she realizes he is pulling away, she turns to her side and he steps away. taking a moment, his eye close in total disappointment in himself in his "kamzori"(weakness).
He looks to her, she looks to him, both have questions but no answers. He leaves, she's left alone, her cheeks still rosy from his touch.
"Yeh kya hua? hum iss tara kaise? aur Arnav ji ke paas hamaari payal? matlab kya hua iss sab ka? hame pata lagana hoga."
"what happened? us like this? and my payal with Arnavji? what does all this mean? i have to find out."
In the dark alone, his eyes close again flashes of his lips mere inches away from hers, he wants it so badly, yet he hates himself for it.
"kaise kar sakta hoon mien yeh, kya ho gaya tha mujhe, kyu kyu kamzor pad gaya mein?"
"How can i do this, what happened to me, why did i become weak?"
Being kamzor, something he never wants to be associated with since he bore all the responsibilities at the age of 14. When he threw her pearls out he told himself there is no room for emotions and feelings, he must know they can make one weak. "itna kamzor nahi Arnav Sing Raizada" he went on. Khushi makes him weak and as a result he loses control. How he was willing to kill for her in Nainital is perfect example of this, and he kicked her out of the car to push her away because she asked a question that he was losing control over. It's always been that way hasn't it? since the rainy stormy night, where he had to pulled over because he lost control over his sense of sahi(right) and ghalat(wrong). He was determined how ever "Arnav singh raizada ko kis ladki se koi farq nahi padta...mujhe boora nahi lag sakta"
"no girl makes a difference to Arnav Singh Raizada...I can't feel bad" How long can he supress his feelings basically he is good at heart emotiona and tough out side so this showed him he is capable of finer feelings which he thinks is weakness and giving in and more so to a chit of a girl whom he always scolds but cant bear anything happening to her.
Tonight a different storm is brewing in his head, of failing his promise to himself, never to let a girl make a difference, and all she does is make a difference. wow what a stromy creation just lovely showing his inner struggle.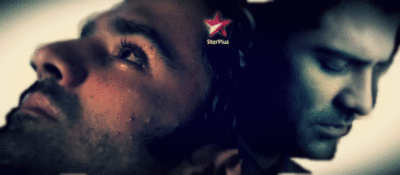 After the Nainital incident, in his bedroom, he was angry at his reaction just the same, but the turn of events with Khushi's father and how she ran to him, he completely melted. Since then, he has only fell deeper willingly, forgetting about all his promises to himself. Tonight in his eyes, getting so close to her was a moment of weakness, but his disappointment in himself is going back days.
Soon she finds him but before she can even ask anything, he leaves. A few more attempts at getting his attention at the party fail, hurting her further, not that he wasn't' in pain, he was, just as much as her but pushing her away is his natural reaction when he finds she is causing "farq".
At last she finds him by the poolside immerse in his thoughts still, a major battle between "Farq padta hai" and "Farq nahi padta" i assume. He feels her coming and pretends to be on the phone, she tell him there is no need, she knows better.
He turns around with his ASR mask on his face.
"Hame aapse kucch baat karni thi" I wanted to talk to you
"Mujhe tumse koi baat nahi karni hai"I don't want to talk to you about anything
"Karni padegi" you must" she instists, he owes her an explanation and he knows it too.
"where did you find my payal, how long have you had it? and why didn't you return it earlier, why today? tell me, answer me"
Every question made him feel cornered, in a way she put up a mirror to him showing how badly he fell for her. Using the only thing he knows to his advantage, anger, he tries to intimidate her
"ek baar kahee hui baat tumhein samajh nahi aati hai? jus leave me alone" looking away as he can never look her in the eyes and say these words he so doesn't mean "infact tumhari shakkal bhi nahi dekh ni hai"... Really ASR? the same shakkal you couldn't leave alone for one second all nigh, the same one you so lovingly held in the palms of your hands??
"Understand?
"Nahi understand, aap samjhaiye hamme?" "no understand, you make me understand
"Challi jaao yahan se" "leave from here"
She's not leaving but he tries to, love how she stands in front of the "great wall of Arnav"...
Many times she's kept her silence and didn't question his sometime rajakumaar (prince)sometimes "Shaitaan (monster)" behavior, maybe she couldn't grasp enough to ask him before, but today after silently confessing his feelings, seeing all that she saw in his eyes, after seeing the payal she thought was gone forever in his hand. she needs answers.
"hamne kaha samhaiye hame, bataaiye, kuy aapne hamaari payal apne paas rakhi, kyu ab tak waapis nahi di, iss sab ka kya matlab hai?...aur uska?"
"i said make me understand, what does all of this mean? and that-"
his eyes slowly lift up to hers almost begging her not to ask, but she proceed, 'aur uska. jo. kuchh der. pehle"
"I said leave me alone" He understaind all her valid questions, but in his state of mind, he would never admit the answer out loud...and when whe proceeds to defy, he grabs her shoulders with both of this hands and pulls her in, again his attempt at keeping things under control "Ek shabd bhi aur bolana toh" If you say one more word!"
The tight grip brings tears to her eyes and as always a chot 1000X greater to him. Releasing her he steips back. "Rabba ve" even now while pushing her away, the farq from her tears even he can't deny.
Relentless, she pushes some more for answers
"you can leave without answering me"
"Answer? I don't need to give you any answers" He walks away.
Inside where there is a bickering about La's live-in status with Arnav, Nani getting the burnt of it. Arnav walks in with all the heat from the poolside, away from the girl that makes him kamzor and
out of control,
, he's determined to do something about it. He gives his hand to the girl that wouldn't of dream of doing such things. He once told her on the phone, "tum jaisi ho waisi mujhe pasand ho" while his mind shuffled through Khushi's definance. This was the only way to push her away, to prove to himself "farq nahi padta"
His cold eye look at the floor "shaadi kar raha hai" Getting marrid"...him to Lavanya.
Outside by the poolside, her heart shatters into a million pieces. In his quest to gain control, he has left her out in the freezing rain all over again hasn't he?
| | |
| --- | --- |
| kuchh na kaho kuchh bhii na kaho... | Don't speak; don't say anything at all. |
| kya kahana hai kya sunna hai | What is there to say? What is there to hear? |
| mujhko pata hai tumko pata hai | I know; and you know. |
| samay ka yeh pal tham sa gaya hai | This moment in time has stood still, |
| aur is pal me.n koii nahii.n hai | and in this moment, there is no one at all |
| bas ek mai.n huu.n bas ek tum ho | save one: me, and save one: you. |
| kuchh na kaho kuchh bhii na kaho | Don't speak; don't say anything at all. |
| kho'ii sab pahachaane | Lost, all I once knew; |
| kho'e saare apne | lost, everything of my own. |
| samay kii chhalnii se gir girke kho'e saare sapne | Falling through the sieve of time, all my dreams were lost. |
| kho'ii sab pahachaane khoe saare apne | Lost, everything I once knew; lost, everything of my own. |
| samay kii chhalanii se gir girke, kho'e saare sapane | Falling through the sieve of time, all my dreams were lost. |
| aur is pal me.n koii nahii.n hai | And in this moment, there is no one |
| bas ek mai.n huu.n bas ek tum ho | save one: me, and save one: you. |
| kuchh na kaho kuchh bhii na kaho | Don't speak; don't say anything at all. |
but even here he know he is "ghalat" and the farq is in his constant watch on her outside, his heart breaking while watching hers break. Iss pyaa ko kya naam doon?
DROOL CORNER!!!!!!!!!!!!!!!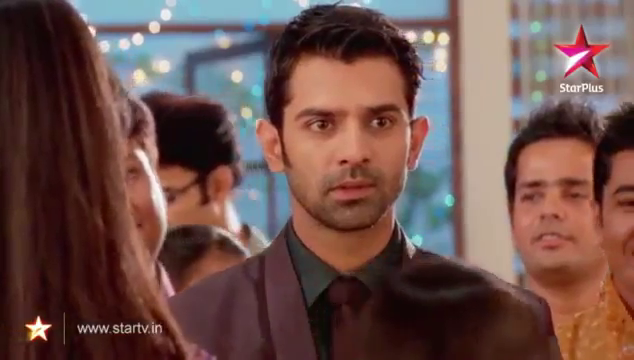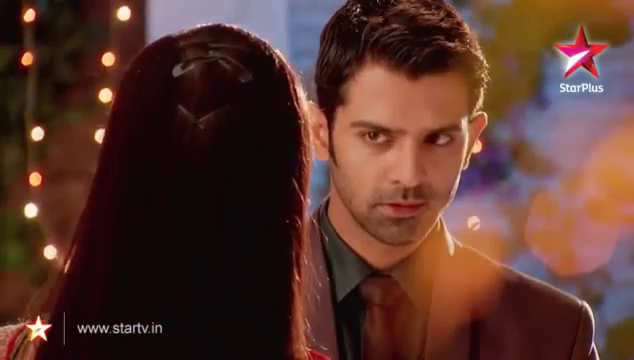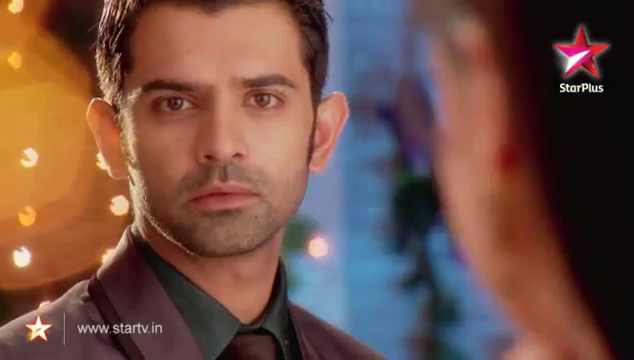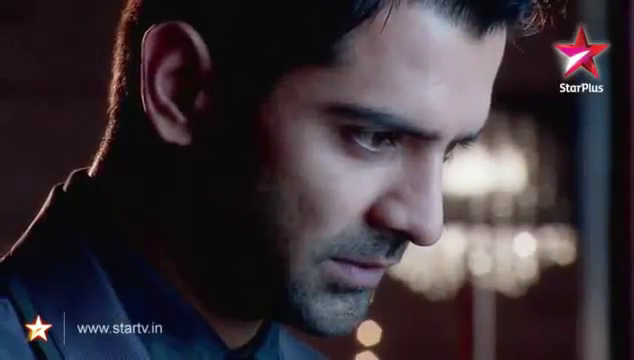 gotta love him checking out her lips