DISCLAIMER:DON'T COPY MY WORKS AND CONCEPTS WITHOUT GIVING ME CREDIT
YOU HAVE SEEN MY HUMBLE SIDE. TRUST ME YOU WON'T LIKE THE OTHER...
Episode Part 99-100
Arshi's Hug Special
"Khushiji aap bohat himmat wali hain " such a manipulative words which are used by others to play with our emotions in such a way to make these feelings contradictory for us . Why do these words are so powerful to deviate the real pain and make us believe there is no pain to have pain ?Such a fallacy yet time ticking moments where some words alleviate not only pain but also provide us hope .Since childhood these deceptive words and phrases become a part of our lives in such a way that we search ,we expect ,we demand, we implicate , and we insinuate about these in our delectation and affliction .[Dukh & Sukh]
Reverbration of Anjali's words "Khushiji aap bohat himmat wali hain 'aap ko tou apne parivaar ko sanmbhalna hai"[you are very strong and you are the one who is going to take care of your family] send a signal to Khushi's pain to emote ,to erupt , and to belch so she can have enough strength to deal with it but how ,she needs alone time with her mom Devi Maya who is her light and star in her dark life which no one knows , feel or share except DM."Shakti daina DM 'Shakti Daina---[Give me strength DM ]My heart goes for her and it surely shows a strong and a mature Khushi behind Titaliya one who just spreads colors to all but by shedding and losing her own.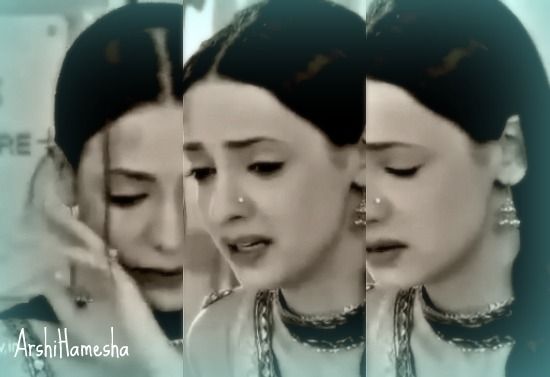 The moment of silent arrives with the acceptance of her prayer ,where matrix surroundings brings a gust of misty wind ,her pillar itself as she knows He is here . She looks at him and He pleads at her chastened about the abandonment he gave her in the middle of the street .She ,despite of all just had one thing in her mind as their connection is stronger than before ,"he is here just for me "-Telepathy starts later but its "Tar" connection is here as they both know and can feel the depth of distress in between em .
Her name slips from his soft lips"Khushi" and that's all she needs and Her feet just progresses towards her pillar in this shaky moment and she runs and embraces him tightly by pouring all of her pain drop by drop on his shoulder as this is the most safest, closest and warmest place ever. Her heart knows he is the light in her dark night and can fill the stars of his love and smile around her .
But This was the least expected moment for him especially after what he did to her and here she is pouring out all of her fears and pain in front of him. "Ab humse yeh sabkuch nahi hota----hum apne ammab ,babuji ko phele hi kho chuke hain---hum se yeh dobarah nahin hoga----hum puri tarah se toot chuke hain"
[I can't take it any more ,I lost my parents already and I can't go through with that pain again-I am completely broken with this thought]
She wants her LG to fix her destiny as he told her once "I make my own destiny and writes others too"..He wants him to do what ever it takes to make his father better than ever as she can't live with this fear any more.
PONDERING Connecting Dots:
-He hold her the other day to assure her that he does have a beating heart which did not like her pearly painful tears [after Police stunt pulled by La and Mamiji's search for Anjali's necklace ] when her "earrings" got stuck to him which was the step towards her dependence on him and she mesmerized by his softness towards her which also added in her strength today to embrace him without any fear
-Today he is here to embrace her pain and later she will be during Anjali's miscarriage to embrace his by telling him "isse bahgeya kehte hain."[This is all Fate.]
-The other day she was in his office fighting for La made him melt completelt with her tears ."Kyuon mein use rota huwa nahin dekh sakta-Dammit![Why can't I see her cry?]
He closes his eyes as her pain is way heavier to stay at his open eyes yet he can connect to it as years back when he needed it the most no one was there to embrace him and he has to be a pillar for his Di.He let her vent out all of her distress and pain on him for her soothe "he is there for me" and he wants to embrace in return to assure her "sab theek ho jayga"[everything will be fine]----but his arms with closed fists remain in the air.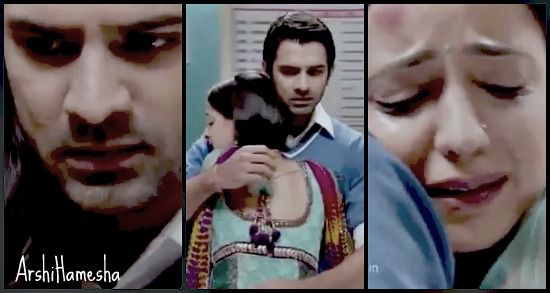 Now his fears pops out as he did not embrace these feelings for years.His heart is screaming to tell her I am here don't worry but his mind says something else.This truly reflects ASR character but this time he is not emotionless instead he has conflicted and anguish feelings for her.
Now this fear of him transfers to her [as their connection is stronger than before] ,she detaches herself quickly the same way she ran to him without realizing what she has done or in other words she did not get that warm and safe answer in return as she expected .Man of few words who can't bear her tears steps forward to rectify "Khushi"but its too late ,this time she steps back and runs as fast as she can leaving him behind stunned and in agony and above all in regret.
He stood there with heavy heart filled with guilt and his moment is so remorseful to bear as her painful tears are absorbed into his skin very deep to make him uneasy ,way uneasy...as he couldn't help seeing her until her last presence-----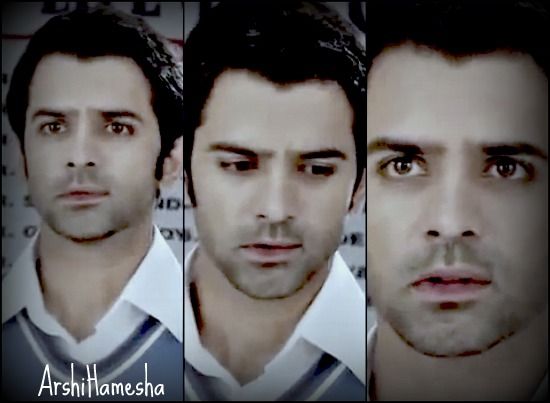 She wants to make everything alright for her family ,closes her eyes in her helplessness and On the other hand she feels guilty along with rabaVe of what she has done"Kyuon roi hum un keh samne--kyuon humain sar rakhne keh liye unke kandhe ki zaroorat padi-pata nahin kya choch rahe thay hum jo un se iss tarah ja ke-" [Why did I need his shoulder for crying---What was I thinking?] But why do I feel in this distress for a split seconds she was expecting him to be there at the same spot.
Rubbing of Raba Ve indicates her inclination and dependence on him which she thinks is her vulnerability but she had no clue of the strong impact she left on him.
Transition of scene from her to him as his mind is not in peace either.Pacing back and forth "Kyun nahin rakh paya usspe hath main? Wo ro rahi thi. Shayad chhahti thi main use kuch kahoon? Shayad yeh kahoon ki sab theek ho jayega. Aur main...main usske aansoon dekhta reh gaya'. Kya ho gaya tha mujhe?...kyun usska ek ek aansoon..."
And then he sees and touches her soaked tears in between her fingers.and hey hey rubs her tears along with his fingers. Her tears as her pearls which he always kept safe until she left him for hamesha keh liye and today those pearls as her tears are breathing not in his palm but in between two fingers index and thumb.
Symbolism and connections: index finger represents Self-confidence, strong desires for success, sometimes spiritual or religious and thumb represents the will, personal and universal, Self- Assertion
CONNECTION is clear Arnav and Khushi's strong desires for each other will be successful as Khushi will ask DM's ishara to proceed with her Dhak Dhak and Arnav will be doing things on Diwali which he never attempted before.His will power will make him to put his hand on Khush's head which he did unconsciously during Nainital trip but this time he will assure her he is there by paying bills and His hand on her head.
A coward is incapable of exhibiting Love it is prerogative of brave as
Shyam with his slouchy scorpion moves tries to hypnotize Buaji for "Shadi" [marriage] as she is the weakest link which he thinks can link him to Khushi but Fate has played with him and showing him this as Simon says "theenga" [thumbs down]---
What a coward who tells a paralytic father he has two hands to hold and keep two women ,wow as he has no clue Khushi's 27000 is bringing a lot of divine light to shadow not only his stingy moves for her but also for Anjali .Buaji you couldn't come earlier .------seriously.I'm sure she will be flat seeing engagement ring-------His evil bracelet is so visible with his Slouchy Scorpion moves-----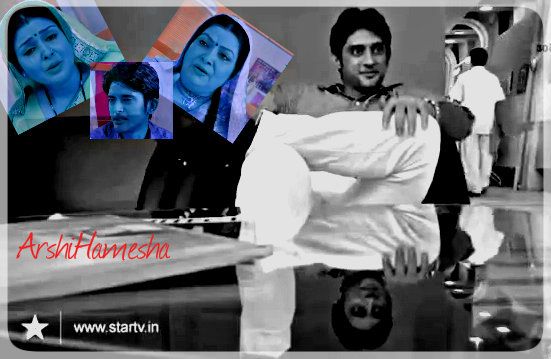 Symbolism and connections:A reflection is upside-down means that the real image is flipped. Light is reflected back from different angles than its origin point.CONNECTION is simple as his plan is backfired by Devine forces and Arnav and Khushi are closer and closer each day but beauty is HE HAS NO REFLECTION of it from any angle.Yes Simon is right!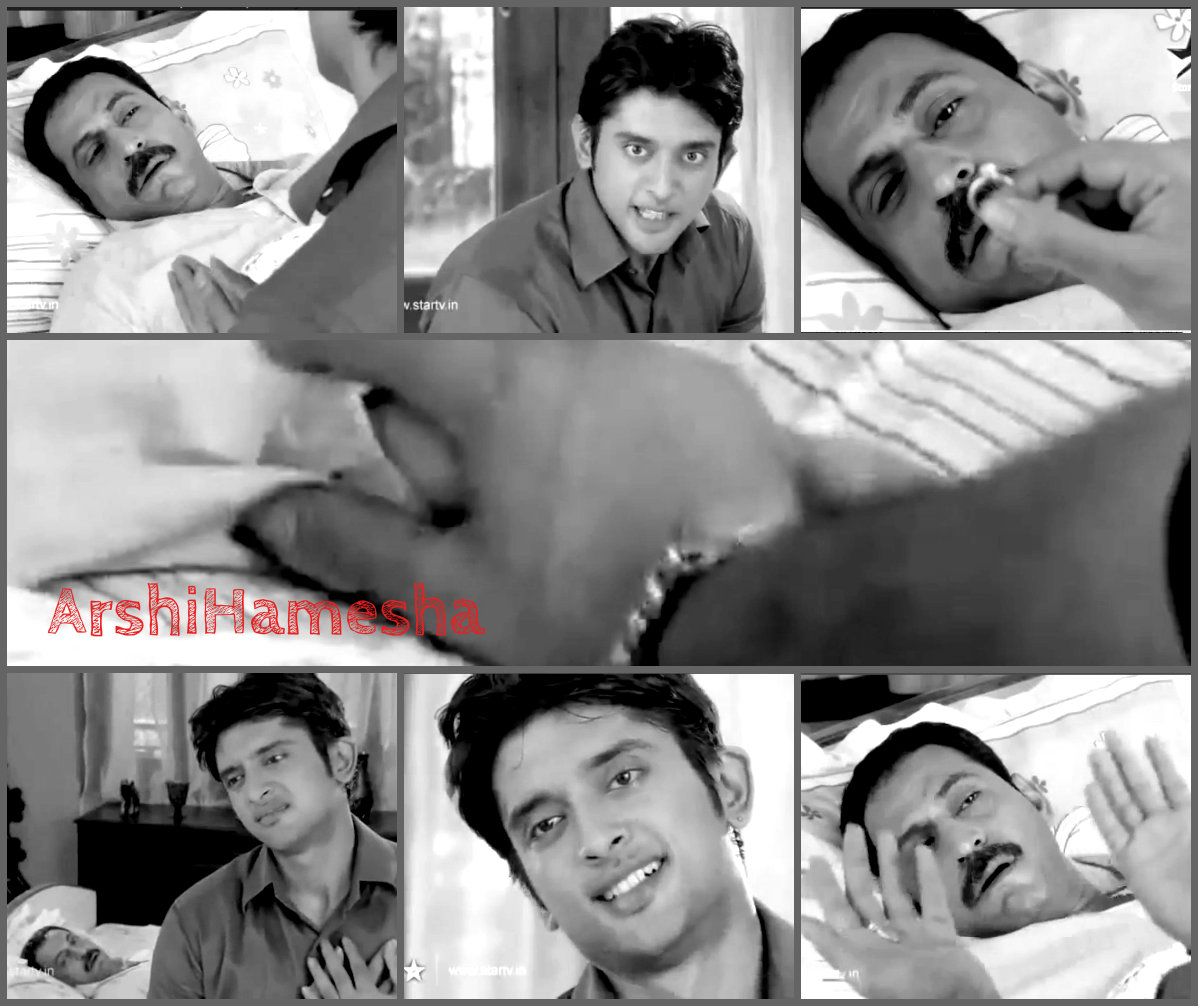 A new day with hopes and regrets has risen as Arnav's mind and heart can't let go off Khushi's fears as her fears are circling him so badly to circle her in his embrace to protect her ,to take her away to write the destiny for her the way she wants which brings a smile and peace to those eyes filled with pearly tears which are unbearable for him.He embraces her in his hallucination within the circle of his closed arms' but its La who can embrace it but can't feel it as she is totally unaware of his inner turmoil right now. His ignorance towards La is totally visible.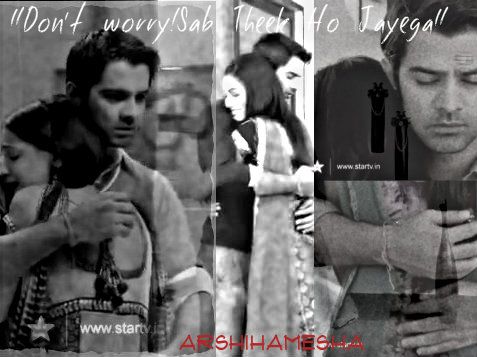 Anjali made his guilt more remorseful "wohi tou mein use dey nahin paya jab use iss sahare ki sab se ziyada zaroorat thi...use bas itne si baat tou sunni thi mujh se keh sab theek ho jayega"[That's what I couldn't do for her when she needed it the most, that's all she wanted to hear that everything will be alright]
Barun and his expressions are mind blowing here.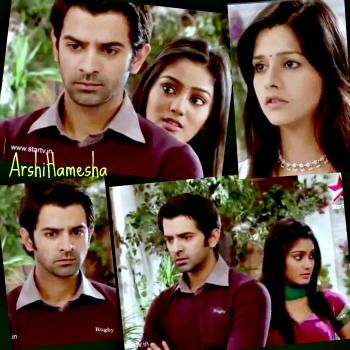 Other side Khushi is ready to take his father at home when Doc gives her hope of manipulative word "chamatkar" [miracle] which can turn her father's destiny for her and at the top he mentions Arnav Singh Raizada and his generosity which brings some colors on her face but one thing is clear His embrace did give her an invisible strength with which she can sail through this ocean of piercing grievous .
"aaj tak aap ne humara haath pakar keh humain sanmbhala hai ..ab humari baari hai...aapki baitiyan itni kamzor nahin hain"[until now you took care of us now its our turn after all your daughters are not so weak.].How beautifully these delusional and manipulative words over and over circling around giving her strength as well as giving others smile of hopes as she has a special discussion with Devi Mayya along with LG's circle of hope[she does not have to mention].Just beautiful!
She comes to her pillar ,her strength again and he again as a man of few words just couldn't circle or embrace some words of hopes for her.Their intense gazes shared million emotions as well as their commotion , dither,and fluster.Hers are more than him but her egoistic self respect does not allow her to admit her stance as there is a hint of complain "you didn't give me what I needed the most" a contriving sentence"sab theek ho jayega" -----The moment he wants to rectify ,Di comes and asks her about her Babuji and all.
Her hands forwards a food container to have her salary.How small and innocent gesture she creates but without any smile or silly antics the same way she did the other day when he handed her the food after stopping her from all the silliness .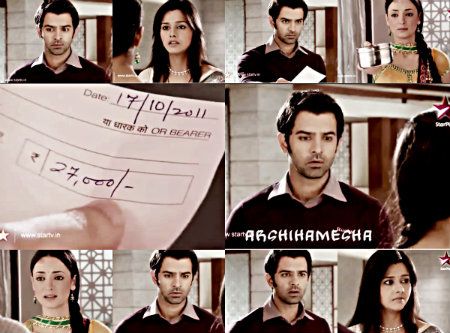 He so wanted her in the same avatar, so badly ,he wants his strength and her smile back .Period !either by manipulative and crafty words or by materialistic money
but he wants his biggest deal, his Khushi back--------and how he will do that--- Continue in 101st epi with my fav
Tu Hi Bata Mere Maula, Tu Hi Bata Mere Rabba
Faasle Meelon Ke Hain, Dono Hai Alag Disha,
Kabhi Ye Mil Payenge, Nahin Kisiko Hai Pata,
Nahin Kisiko Hai Pata
Symbolism and Connection:27oooRs check...27[by adding all together] It is the symbol of the divine light.Connection is simple as the above Sufiyana Kalam ,all Devine forces are working to bring these two soul mates together.Period!
MOMENT OF THE DAY
http://www.youtube.com/watch?v=oPCjK21A2do