VIJAYANAMA SAMVATSARA UGADI / GUDI PADWA SUBHAKANSHALU.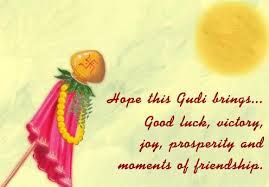 The moment we think about festivals in India, we are treated to an imagery of myriad, blast of colours, sweets, music, family, friends, laughter and endless chatter. This is no different for Kannadigas, Telugus and Marathis who are all set to welcome the new year called Ugadi or Gudi padwa which literally means the beginning of the new year
For any person from these three states, the day begins with a traditional oil bath with all of them celebrating the advent of Ugadi almost in the same way. The women folk decorate the entrance to their house with mango leaves and draw colourful rangoli patterns and conduct pooja for health and prosperity. They distribute a mixture of 'jaggery and neem' leaves symbolizing that life always has a mixture of good and bad in it.
One this day, andhra people have ugadi pachadi ehich is a mixture of Neem buds/flower, its bitterness signifying sadness, jaggery and ripe banana pieces for sweetness, signifying happiness, green chilli/pepper for its hot taste, signifying anger, salt for fear, tamarind juice for its sourness signifying disgust and raw mango for its tang, signifying surprise.
Every Ugadi, the Marathis mark the new year with Gudi Padwa. Wherein a bamboo pole is decorated with flowers, neem leaves and mango leaves, a bright cloured cloth, may be a sari is tied to the end of the pole and finally the pole is crowned by a sliver or copper pot which is placed in an inverted position. Now Gudi is done to perfection. This is usually hoisted outside the house, in case people are living in apartments, on a window, terrace or a high place so that everybody can see it.
One thing that is very typical of Marathis is hoisting of the Gudi (flag).
While the Kannadigas and the Telugus do not have this practice, but for the Maharashtrians, Gudhi is believed to ward off evil, invite prosperity and good luck into the house.
Mythologically Gudhi symbolizes Lord Rama's victory over Ravan and his return to Ayodhya after 14 years of exile.


Edited by aarush123 - 10 April 2013 at 10:04pm