Madhuri Dixit on Asia Spa magazine cover: Doesn't she look like a 25-year-old?
Tags: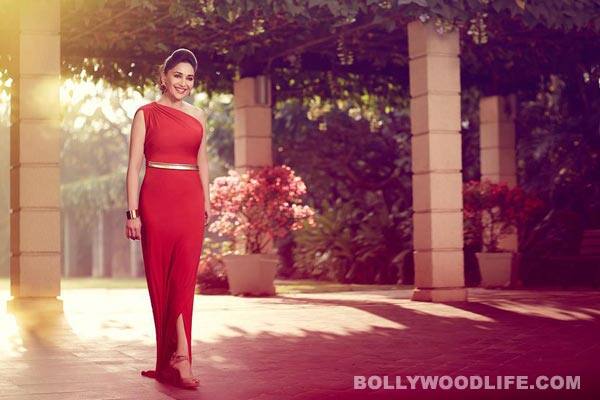 Asia Spa
Sign up for the BL newsletter!
The actor was featured on the cover of a lifestyle mag recently. From posing in a high-street gown to sporting a stylish Hawaiian look, we see Mrs Nene in her super glam avatar
Madhuri Dixit abandoned her usual traditional look for a more sophisticated style, all for the cover shoot of a glossy. The actor is very Greek Goddess – like in the pictures. Even though summer is all about pastel colours and refreshing hues, MD seems to be enjoying settling for a colour (a blood red gown) that's not exactly the style flavour of the season. The gold belt and the updo suit the moniker that a group of Madhuri fans have given the actor on a social networking site. They called her the Empress – and we couldn't agree more! She truly looks like a style queen! And you can't take your eyes off those huge ruby earrings….
We also like the peachy shade she has chosen for her carefree Hawaiian style. The tousled hair, the flower perched on the side of her hair lends the graceful beauty a very 'sexy' look. It reminds us of one scene in Dil To Pagal Hai in which SRK urges MD to let her hair down, loosen up and go all wild while dancing. The picture reflects the same situation in a way, as if King Khan has magically appeared out of nowhere and pushed the actor to give her best style shot and just have some fun with the shutterbugs…